Forming a housing strategy for Yellowknife's growing seniors population – NNSL MEDIA
The population of Yellowknife is expected to grow over the next decade, but no demographic more so than people 50 years and older, according to the NWT Seniors Society and AVENS: A Community for Seniors.
In recent weeks, much attention has been focused on the development of 102 housing units at the AVENS' complex that will provide much-needed supportive and independent living. The facility is expected to begin taking in residents by the end of 2022.
But AVENS' CEO Daryl Dolynny said this week that residents have to keep in mind that this will only be one key piece of an overall bigger puzzle in the community that he hopes to help solve.
Leading up to the long-term housing project, Dolynny, several partners on his board and seniors advocates in the community have been examining what's going to be needed to provide adequate and safe housing for the older population.
Since 2001, Yellowknife's seniors population – marked by people 60 years old and older – has grown by 221 per cent, according to AVENS. The estimate is that as Yellowknife's overall population grows by 3.6 per cent between 2020 and 2029, the largest portion of that will be among older people.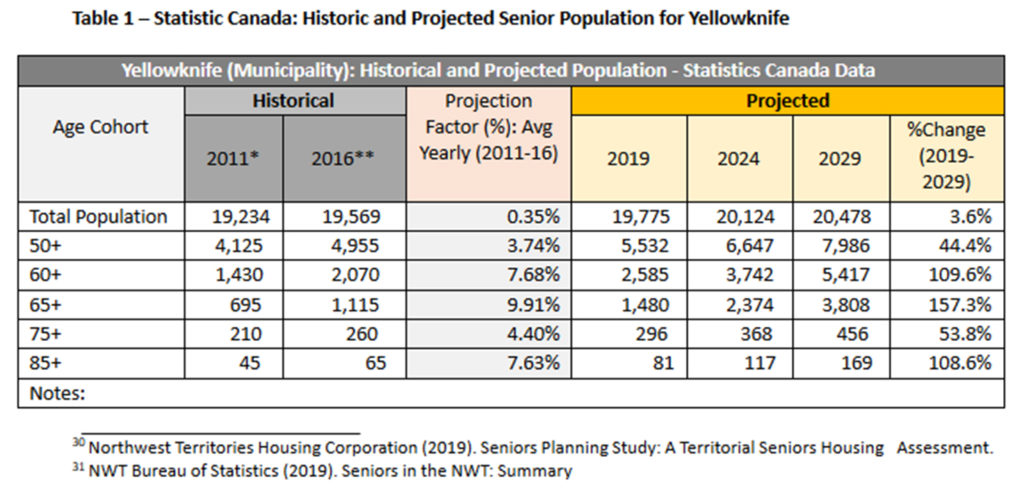 According to census data, the total Yellowknife population is expected to grow by 3.6 per cent by 2029, which would result in 20,478 people overall.
The largest proportion of the population base will be people 50-years-old and older at 7,986. The second largest proportion will be those 60 years old and older at 5,417 people.
"The growth percentages start doubling at 60+ and 65+," said Dolynny. "This is very statistically significant in such a small population base."
As a result, Dolynny said there has to be continued support for seniors to remain in their homes or, as the government puts it, "aging in place."
This translates into the need for government subsidies and programs to assist with the cost of living. The Government of the Northwest Territories provides fuel subsidies and an income supplement as well as home repair programs to help with senior accessibility and mobility in their own homes, according to Suzette Montreuil, executive director of the NWT Seniors' Society.
This year's territorial budget includes $800,000 for Seniors Aging in Place Retrofits and Repairs and $2.2 million toward the Senior Home Heating Subsidy.
Both Dolynny and Montreuil say that income support programs remain important because cost-of-living pressures become more acute as residents get older.
"The reason for (affordability pressures) is that there is an income drop that the Elders will see," Montreuil said, citing 2016 Statistics Canada Census numbers.
"The median income of people 65 and older in 2016 in the Northwest Territories is $29,820, but for those between 55 and 64, the median is $67,800 in 2016. That is more than a half of the income, which says a lot."
Published at Wed, 17 Feb 2021 18:38:00 +0000