Covid vaccine offered to all care homes in England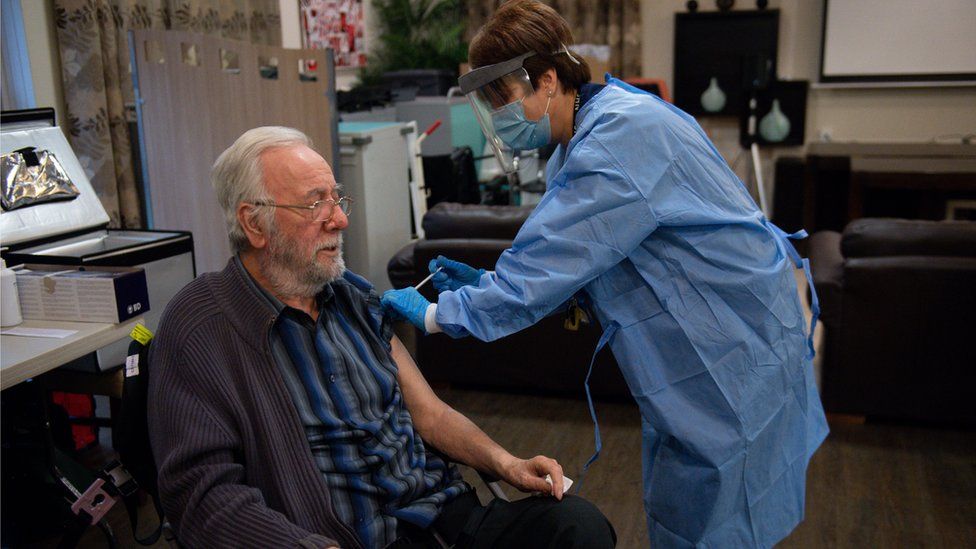 A Covid vaccine has been offered to residents at every eligible care home in England, the NHS has announced.
Prime Minister Boris Johnson described the achievement, expected to be confirmed by official figures on Monday, as a "crucial milestone".
A target of 15 February has been set for the UK to vaccinate care home residents and carers, people over 70 and frontline care workers.
On Saturday a record 598,389 first jabs were given across the UK.
It means nearly nine million people have received the first dose of a vaccine, with around 490,000 having received two jabs.
NHS England said more than 10,000 care homes with older residents had been offered vaccines, although a "small remainder" of homes had visits deferred by local public health directors for safety reasons during local outbreaks.
These will be visited by vaccinators as soon as NHS staff are allowed to do so, it said.
The Joint Committee on Vaccinations and Immunisation (JCVI) sets which groups are prioritised for vaccinations, with residents in care homes and their carers in the top group.
All those over 70 years old, clinically extremely vulnerable people and frontline health and social care workers make up the top four groups which the government has said should be inoculated by mid-February.
When will I get a Covid vaccine?
Labour stands by teacher vaccinations policy
How many people have been vaccinated so far?
Mr Johnson said vaccines were the "route out of the pandemic" but warned there will be "difficult moments to come" with the number of cases and people in hospital still "dangerously high".
"Today marks a crucial milestone in our ongoing race to vaccinate the most vulnerable against this deadly disease," he said.
Dr Nikki Kanani, NHS England's primary care director, said: "It has been a privilege to vaccinate some of the most vulnerable people and the wonderful people who look after them. Many have had little contact with the outside world throughout the pandemic and so it has been truly humbling for all, giving them hope and importantly protection against the disease."
NHS England chief executive Sir Simon Stevens said the vaccination campaign was off to a "flying start" as a result of an "amazing partnership working between our GPs, community nurses and care homes".
Fiona Carragher, director of research and influencing at Alzheimer's Society, said it was "great" the milestone had been met but she remained concerned that the staff vaccination rollout "has not been nearly so effective".
"The most pressing question now is how and when can care homes restart safe, meaningful visits. Combined with PPE and testing, isn't one jab enough? If not, what else needs to be in place? Another 12-week wait is unacceptable for people dying of loneliness," she said.
Liz Kendall, shadow social care minister, said that after the "appalling loss of life in care homes" it was "very good news" that vaccines had been offered to all elderly care home residents.
"It is essential that ministers now do everything possible to ensure care home staff take up their vaccines, move swiftly to vaccinate care homes for people with disabilities and crucially, home care staff who care for elderly and disabled people in their own homes," she said.


TESTING: How do I get a virus test?
SYMPTOMS: What are they and how to guard against them?
LOOK-UP TOOL: How many cases in your area?
GLOBAL SPREAD: How many worldwide cases are there?


The news was welcomed by the care sector with Vic Rayner, executive director of the National Care Forum, saying it was "an amazing outcome".
Care UK chief executive Andrew Knight said almost all the company's residents had been offered a jab and "the majority of our colleagues" had been vaccinated, while Nadra Ahmed, of the National Care Association, said the programme had been a "great achievement under extreme and challenging circumstances".
Deborah Alsina, chief executive of older people's charity Independent Age, said it was an "important moment" for people living in care homes who had been "badly impacted through this pandemic".
"But this must begin to give us all hope that there will finally be a significant decrease in the terrible death toll we have seen to date. "
Labour has called for teachers to be moved up the JCVI priority list and said February half-term should be used to vaccinate teaching staff.
The vaccinations committee has said early vaccination of certain professions should be considered – but only once those in the top nine priority groups have been offered a first jab.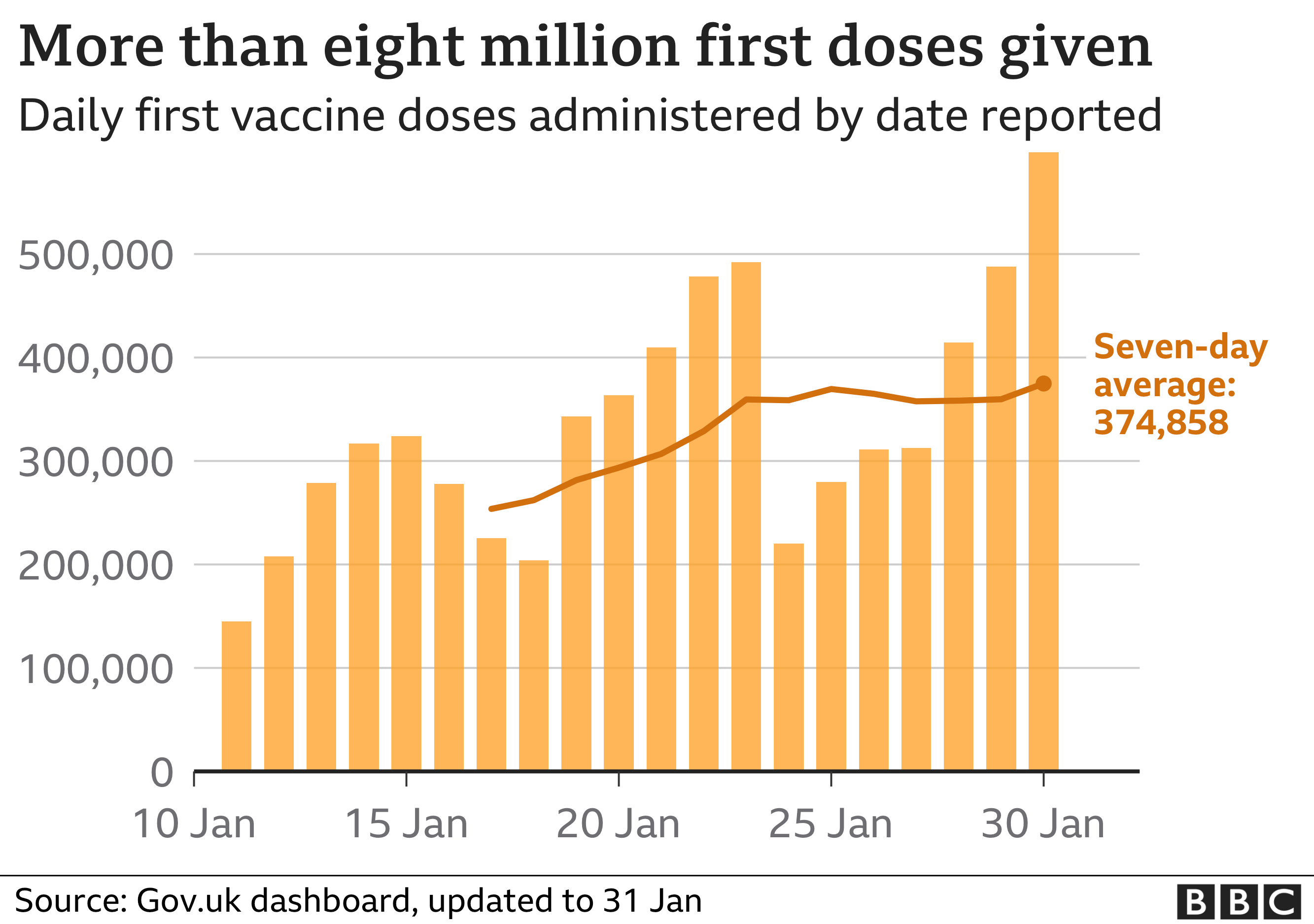 A further 587 deaths within 28 days of a positive Covid test were reported on Sunday.
It takes the UK's total by that measure to 106,158, although the number of reported deaths tends to be lower over the weekend.

LOCKDOWN LEARNING: Need some assistance with home-schooling? BBC iPlayer is here to help
TASTY TIME-WASTING: How are food businesses helping us beat lockdown boredom?

Published at Mon, 01 Feb 2021 00:01:20 +0000