Hoping to make shopping small the next big thing – Highlands Ranch Herald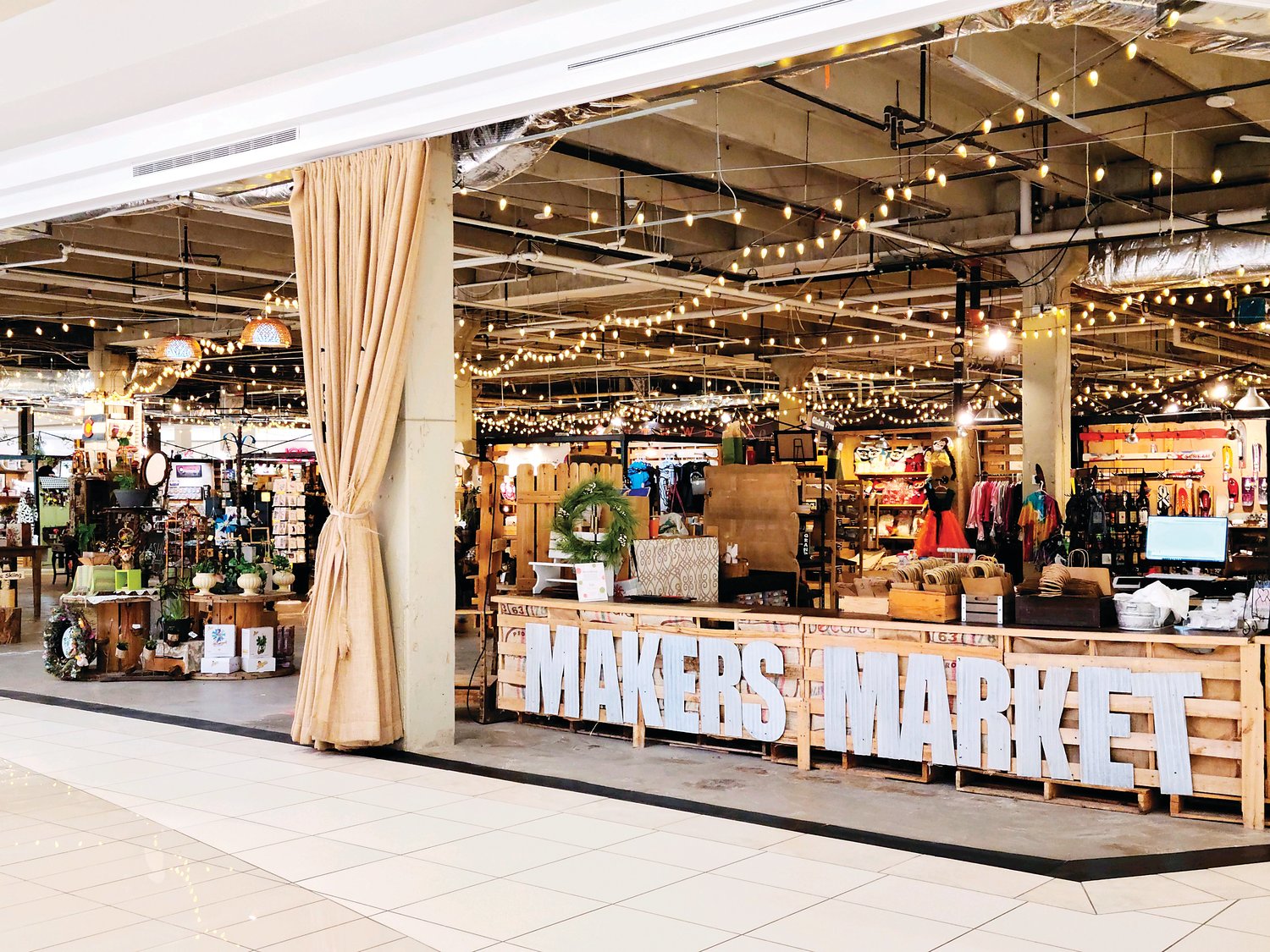 The economy has been battered almost everywhere by the COVID-19 crisis. Unemployment is high. Some retailers and restaurants have been shuttered.
But for Karli Millspaugh, owner of the Makers Market stores in the Southwest Plaza and Park Meadows shopping malls, the shutdowns and cutbacks caused by the coronavirus pandemic were a challenge she chose to meet head-on.
"Here's the interesting thing about me: I don't take no for an answer very well," Millspaugh said.
She said when the pandemic hit she didn't have a website, infrastructure for shipping, or anything, really, to help her navigate the online sales that would be necessary to keep her businesses afloat. But with 150 merchant vendors with booths in her stores and 28 employees counting on her, she had to dive right in, making things happen fast.
The Makers Market stores, and her first retail venture, Curate, are concepts based on antique malls, but instead of buildings full of antiques and collectables, vendors sell artisan, handcrafted goods, with food, clothing, jewelry and everything in-between creating a vibrant, eclectic mix of items to attract shoppers. She said the concept is in line with the times, as social media and websites like Etsy spotlight shopping small and supporting independent craftspeople.
Millspaugh came to own the businesses through what the kids these days would call her side hustle.
"I actually started as a vendor myself, refinishing furniture and selling it at places like the Paris Street Market in Aspen Grove," she said. "People starting asking about where my brick and mortar was, so I started researching places I could sell on a more regular basis."
Millspaugh said she found a couple of small stores in Littleton that matched her concept, but neither were a great fit. She soon turned her attention to Unlisted Market in Littleton, got a booth, eventually offering the marketing and promotion skills she used in her full-time day job, to the owner. Before long, she became a partner in Unlisted, and in 2019 took over ownership, changing the location and the name, to what is now, Curate, located in Centennial.
The Makers Market stores had been running since 2015, and Millspaugh took ownership of them in January of 2020, bringing this story back to where it started.
March 16, 2020, is a date Millspaugh remembers well. That's the day she had to close her stores due to the COVID-19 regulations affecting nonessential businesses. Curate was closed for nearly two months, the Park Meadows Makers Market location was shut down for about 10 weeks and her Southwest Plaza location wasn't able to reopen for almost three months — an eternity in the life of a retail store.
But thanks to her ability to roll with the punches the virus threw at her small chain of stores, Millspaugh has been able to survive, and even thrive, in the current atmosphere. Launching a program called Curate Care Packages allowed her not only to keep her rent paid, but just as important to her, to extend a lifeline to her merchant vendors. The idea was simple — use her vendors' merchandise to offer customers curated gift packages, with items specially chosen by Millspaugh. The care packages are offered at different price points and so far they've shipped more than 2,000 of them.
According to Millspaugh, the care packages and the Paycheck Protection Program loan she was able to get might have been the difference between riding out the storm and closing the doors on the business for good. In fact, she said online sales of care packages have been so popular that she plans to keep offering them indefinitely. They may have even given some of her vendors a boost in income that's allowing them to surpass pre-pandemic revenues. She said approximately 10% of her vendors have struggled to keep going, even as she was able to offer free or discounted rent during the shutdowns. But overall, business is good and there's a six- to 18-month wait list to get a vendor spot in one of her locations.
Millspaugh's husband, Brent, has even left his former accounting career to help her run the businesses full-time. It's been so busy she long ago had to give up on her furniture-refinishing biz.
"My talent and skill set were needed in other aspects, to help make this business thrive for all of our vendors," she said.
As for the future, Millspaugh plans to continue honing her curating skills, which include placing the right vendor in the right location, when a rare opening comes up, opening workshops to help people find their inner-artisan and figuring out the right marketing magic to spread the word to shoppers who want to support small, locally owned businesses offering boutique products they won't find anywhere else.
"I love looking for new ways to approach things," she said. "One of the vendors said he admires my ability to try new things to see if one will stick. I just can't wait for more of those moments."
Published at Sun, 31 Jan 2021 20:44:09 +0000