Covid in Scotland: New restrictions come into force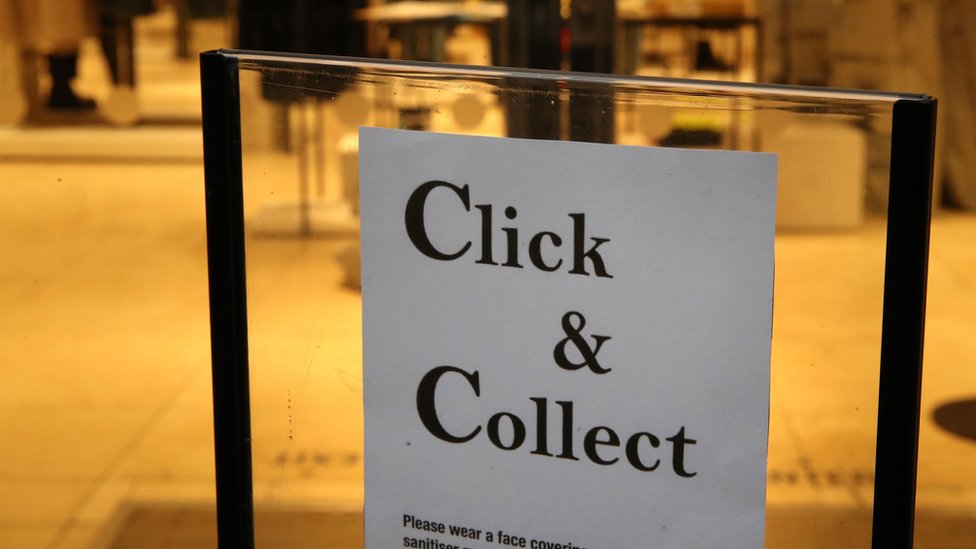 New tighter Covid restrictions have come into force in Scotland with changes for takeaway outlets and click and collect shopping.
Customers buying takeaway food and coffee are no longer allowed inside premises.
Staff must serve from a hatch or doorway.
Now only retailers selling essential items – clothing, footwear, baby equipment, homeware and books – can provide click and collect services.
Customer collections can only be made outdoors, with staggered pick-up times to avoid queues.
The changes are among
six new rules announced by First Minister Nicola Sturgeon earlier this week.


What six rules have been tightened?
1. Takeaway food and drinks
2. Click and collect shopping services
3. Outdoor alcohol consumption
5. Home repairs and maintenance


Ms Sturgeon said they were a "regrettable but necessary means to an end".
The restrictions also include a ban on drinking alcohol outside in public in level four areas. This prevents takeaway pints from being consumed in parks or on the street.
Statutory guidance has also been introduced requiring employers to support staff working from home wherever possible.
Guidance on tradespeople working in homes has now been put into law. Work is only permitted for essential maintenance and repairs.
The final new rule changes an "apparent loophole" in the stay at home regulations. The law now states that people must not leave "or remain" outside unless it is for an essential purpose.
The tightened restrictions come amid concerns that the stay at home message across the UK is not having the same impact it did during last year's lockdown.
"The situation we face in relation to the virus remains extremely serious," Ms Sturgeon told parliament.
"These additional measures, in further reducing the interactions that allow the virus to spread, will help our essential efforts to suppress it, " she added.


RESTRICTIONS: How do the rules compare to last year?
LOCKDOWN: Six months that changed our lives
CASES: Where are the latest cases in Scotland?
WHO? The people who have died with Covid-19


Published at Sat, 16 Jan 2021 00:17:48 +0000