Caroline Wyatt: MS research 'the urgent search for hope'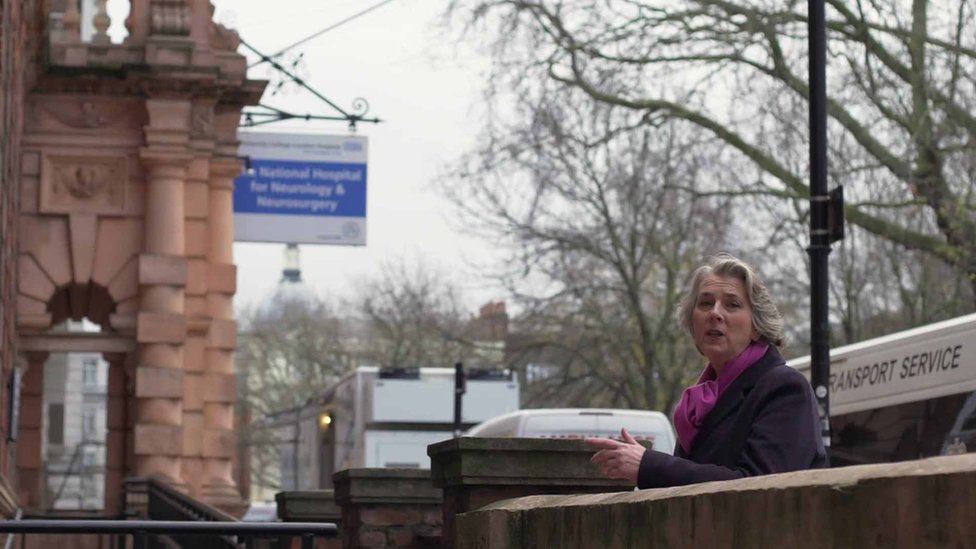 It is a small ray of hope in an often bleak landscape: a UK trial investigating whether an old drug used to lower cholesterol can be used for a new purpose – to help patients with advanced multiple sclerosis.
It's the trial I decided to take part in this autumn, some two decades after I first visited the National Hospital for Neurology and Neurosurgery in Queen Square, in London, showing signs of possible MS.
And unlike many others, it has managed to continue despite the pandemic.
It was when I was in my early 30s, reporting on disasters and wars around the world for the BBC, that I first experienced MS symptoms.
For some time I'd been plagued by dizziness, as well as numbness and burning in my hands and arms. When I started to fall over, I knew I needed help.
A no-nonsense neurologist told me that I might have MS after a scan showed a bright, solitary lesion on my brain.
But it wasn't definitely diagnosed until 2015 when a new lesion on the brain stem left me numb down one side of my body, with double vision and difficulty speaking and swallowing.
With the help of steroids, rest and a change of pace, I slowly recovered much of my ability to speak and see.
Caroline Wyatt: The fight to reverse damage caused by MS
But as I age, the illness has gathered pace thanks to progressive damage to the nerve fibres, known as neurodegeneration.
Few effective treatments exist for this more advanced phase of MS and the hunt is on for drugs that can help once the damage is done.
Hence the urgent need for hope – and gold-standard clinical trials like the one I'm on.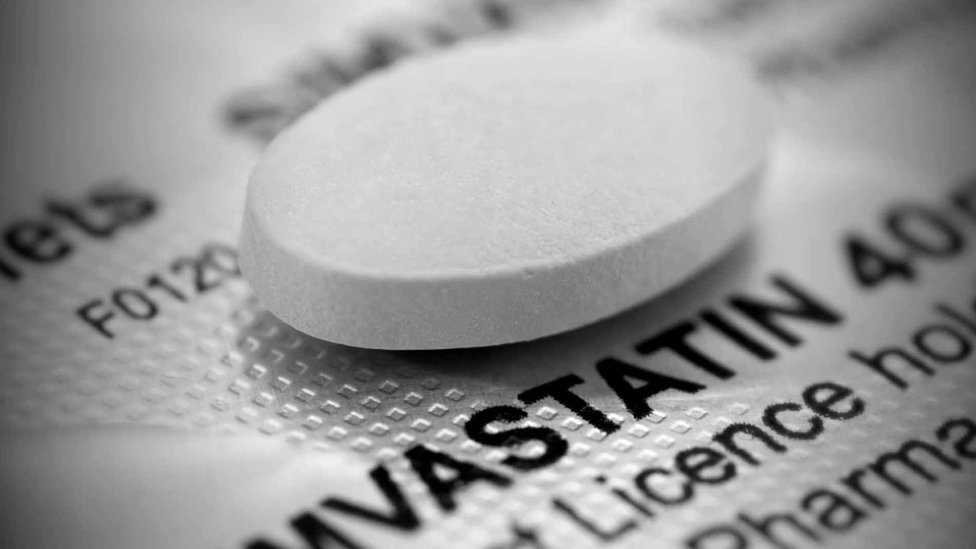 It has already been established that simvastatin may help slow the rate at which the brain shrinks in MS, and so perhaps slow the progression of disability.
MS is a neurodegenerative disease, in which the immune system mistakenly attacks the fatty myelin sheath that protects the nerves in a similar way to insulation around electric wires. As that protection is gnawed away, the nerves can eventually stop being able to send the signals that help us to walk, talk or use our hands.
In my case, the only visible signs of disability are how slowly I walk, and a slight limp. My right foot drags along the ground because the brain's signal telling it to lift isn't getting through properly any more.
But beneath the surface lie many more serious problems, utterly invisible to the friends who tell me – with the kindest of intentions – how delighted they are that I'm looking so well.
I do look well. It's just that my brain doesn't work properly any more.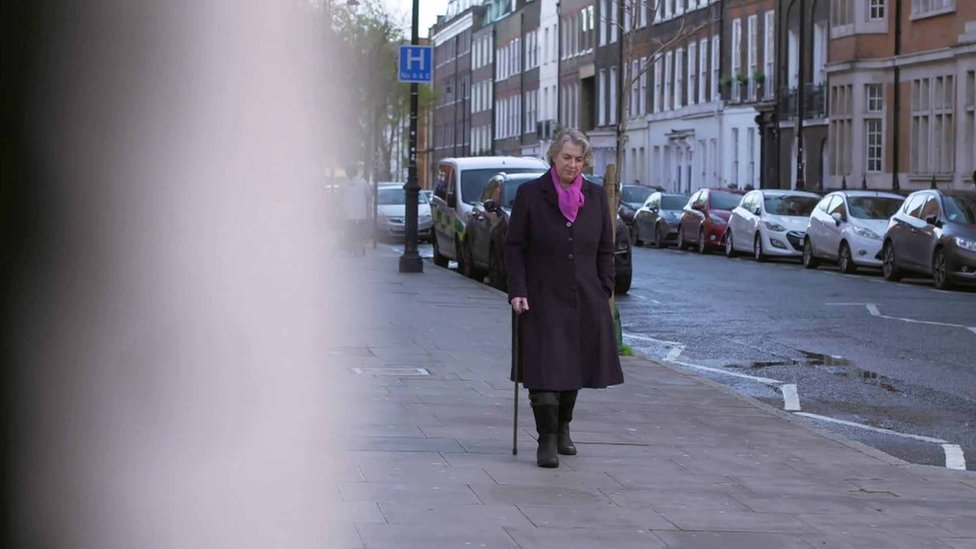 And for me, that means constant disabling fatigue even after a full night's sleep, to bladder and bowel problems, and disturbances to my vision that can make the colourful world suddenly fade to shades of grey.
A noisy open-plan office feels like torture, the sounds magnified by my malfunctioning neurons, which already struggle to ignore the constant whine of tinnitus in my ears.
There's also the nerve pain that makes my hands and feet, as well as my arms and legs, burn or tingle with the same pain you feel when you hit your "funny bone" – but a lot less amusing.
Over the years, my right hand and foot have become ice-cold and increasingly numb, while my fingers don't always respond to my brain's commands to move.
Luckily, dictation software allows my voice to take over once my hands have given up for the day.
'MS has taken everything away from me'
As for so many others, the disease has gnawed not just at my nerves but also at my self-confidence and my ability to navigate my way through the bustling able-bodied world.
Where once I travelled easily to report from the front line, I now worry whether I can make it to the office, or lie awake wondering what I'll do if my limited walking grinds to a permanent halt.
Those are just some of the reasons why I – and more than 800 others still able to walk despite advancing MS – have signed up for the next three years to help find out whether that high-dose simvastatin might make a difference – perhaps keeping us walking for a precious extra year or two – though we don't know whether we're on the drug itself or the placebo.
Nor does Prof Jeremy Chataway, the consultant neurologist who is leading the £6m trial taking place at 30 locations across the UK.
His team wants to recruit another 200 or so people with secondary progressive MS who are able to travel to sites including London or Edinburgh for regular follow-ups.
"There's an urgent need to develop medications that can have an effect on progression in MS, and here we have, with simvastatin, the simplest of possibilities," he tells me.
"We know it very well. It's used in millions of people around the world, so it has a very good safety profile, and we feel that it could have a role in progressive MS – but we have to prove it."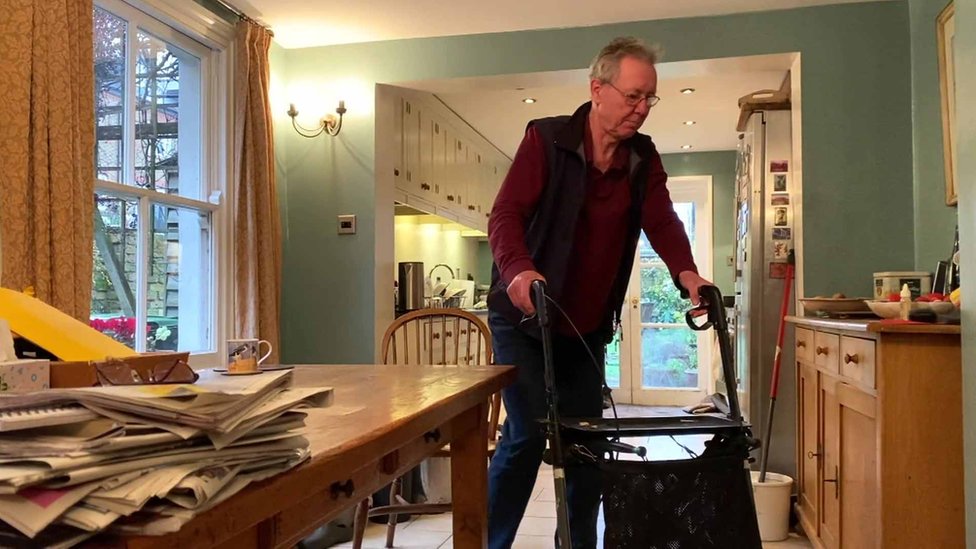 Patrick Burke, 66, has been taking part in the trial for some time now. He's a former computer analyst forced into early medical retirement as his MS got worse.
Patrick was diagnosed in 1995 but had already had symptoms for more than 20 years.
Despite needing a rollator walking aid to help with mobility, he challenged himself to do a one-hour sponsored walk this autumn to raise money for the Chilterns MS therapy centre.
"MS has taken everything away from me. I can't drive, I can't run and I fall over. I fell over this morning while taking a plug out of the socket.
"Now, I go up the stairs so slowly that it's like walking through golden syrup," he says.
Patrick signed up for the trial in the hope that if simvastatin proves to work in slowing down brain atrophy, the drug might help keep him walking for a little longer.
A 'difficult and disappointing year'
Coronavirus interrupted, but didn't stop, the simvastatin trial, which was already well under way when the pandemic struck.
But the start of some other MS trials have had to be delayed.
A study looking at a combination of the widely used diabetes drug metformin and an antihistamine called clemastine, which plans to recruit 50 people with relapsing-remitting MS, is set to take place next year.
Another – the first clinical trial to focus on people in a wheelchair with MS – hopes to recruit 200 people across the UK to see whether a drug called cladribine can slow the worsening of hand and arm function for people with advanced MS.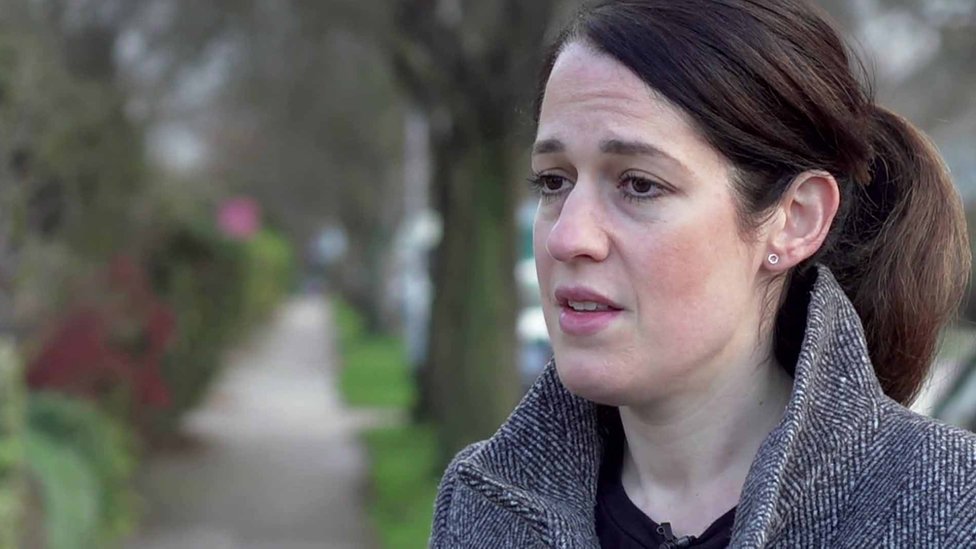 And the pandemic has also had a serious knock-on effect on funding for future medical research, with the cancellation of major fundraising events like the London Marathon.
"This has been a really difficult and disappointing year," says Dr Emma Gray, the charity's assistant director of research.
"The MS Society expects to lose some 30% of its income this year – around £10m – which means trials now and in the future will be affected, and they're vital to stop people becoming more disabled."
For now, there's still no cure for MS.
But if the trial at Queen Square does show that a cheap statin can help slow the destruction of our brains, and the other trials can begin their work in the new year, at least we'll have hope that we may be a few steps closer to stopping the relentless advance of MS.
Published at Fri, 18 Dec 2020 17:00:06 +0000