Vaccine doctors on TikTok: 'Come for the fun, stay for the science'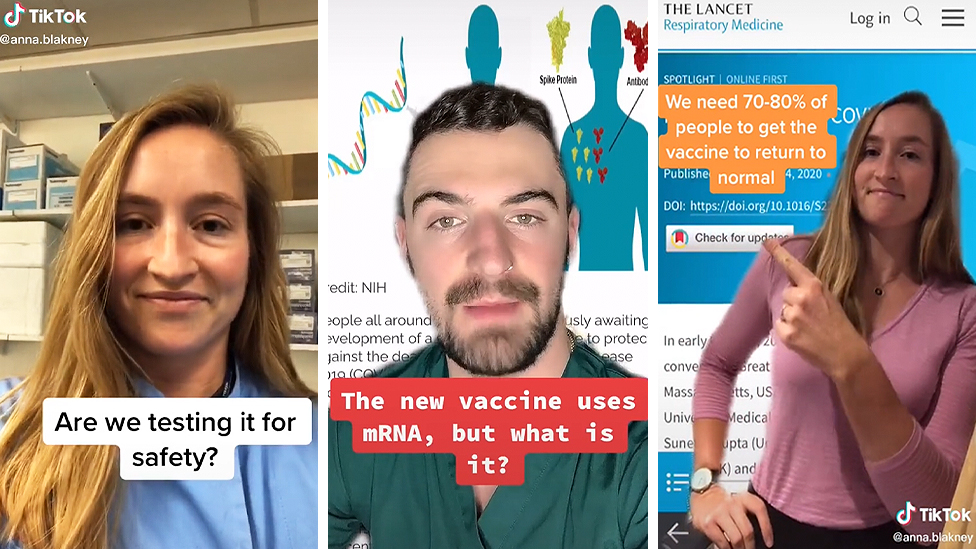 Science and TikTok are two things you might not think would normally go together.
But with vaccines giving us light at the end of the coronavirus tunnel, the two have become important partners.
Scientists working on vaccines have been using TikTok to provide information and reassurance about the safety of jabs.
"My approach on TikTok is come for the entertainment, but stay for the science," Dr Anna Blakney, one of those scientists, tells Radio 1 Newsbeat.
Anna is from the US and part of a team developing a Covid vaccine at Imperial College London.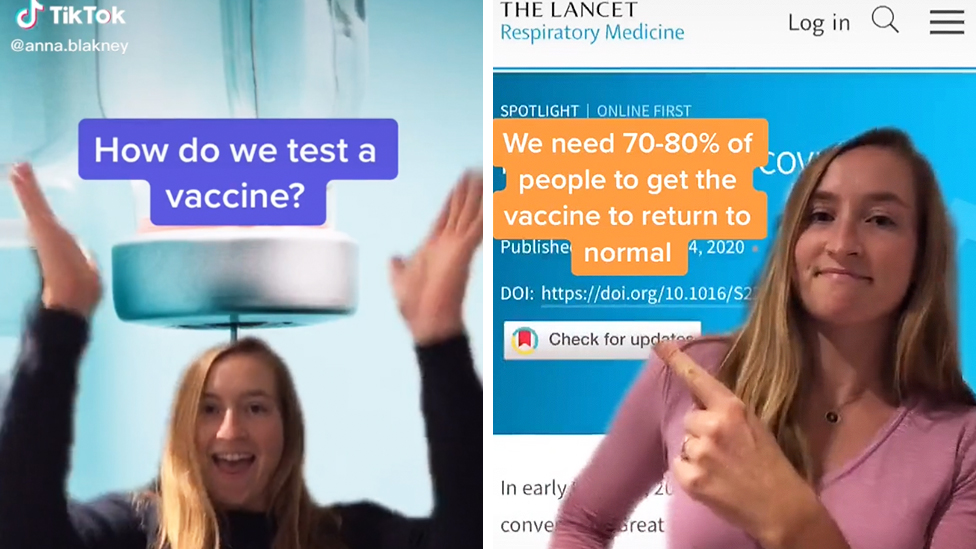 The 30-year-old has become an internet star with her creative vaccine explanations on TikTok, reaching over 200,000 followers and 2.8 million likes.
"I have to stop and think, 'wow, this is bigger than our lab and bigger than myself'," the 30-year-old adds.
'Trust the science more'
Another star in TikTok's science scene is Dr Will Budd – a research doctor from London working on different vaccines.
Will, who's 26, says his goal is to inform people about vaccines and reduce "vaccine hesitancy".
"It's fun videos, 50 or 60 seconds where people can learn just a little bit about vaccines and trust the science more."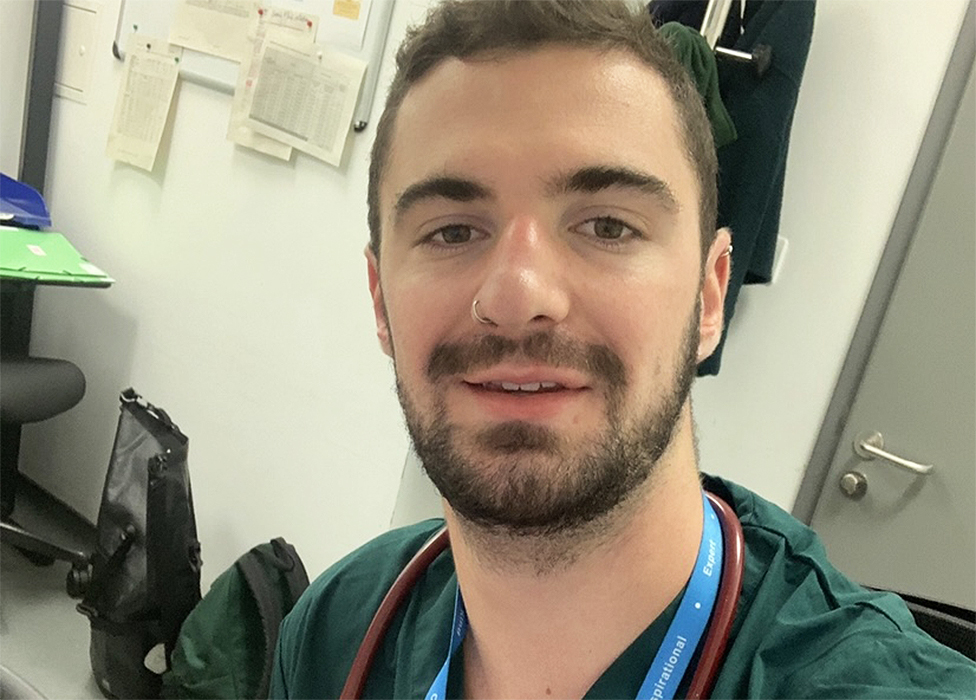 Will shielded during the first lockdown because he had a kidney transplant in 2016, so he understands what it's like "to have that fear of coronavirus".
He knows people understandably are afraid of things they can't quite get their head around.
"I want to help that, so they can decide whether to have it or not after making an informed decision."
The questions they answer
Will and Anna get "a range of questions" from people, mainly around safety and the speed with which it was developed.
"It's usually around how a vaccine works and why it's so quick compared to normal drugs, or how one vaccine works differently to another," says Will.
What you need to know about vaccine safety

Can people with allergies have the Covid vaccine?
How do I know the Covid vaccine is safe?
Anna says "it's really great people have questions and are sceptical".
"The general public may not have the same access to data as scientists, or don't know how to interpret it. So they're relying on somebody else, to make a conclusion for them."
It's all about the trends
Trying to put complicated scientific information in a short video sounds challenging – so just how do Will and Anna do it?
"The basis of TikTok is just copying trends. My approach is to take that and try make it science or vaccine themed," Anna says.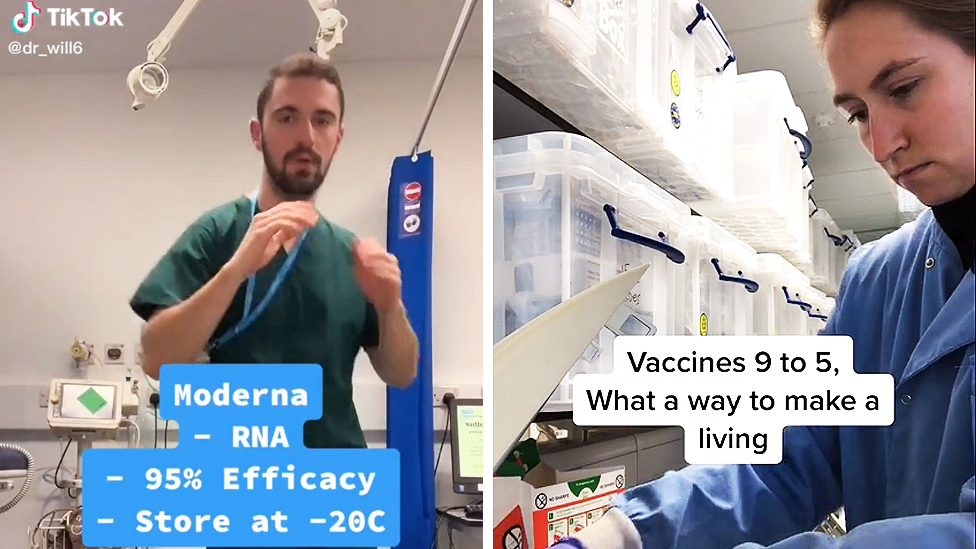 Will's most viewed video is one which includes a dance trend.
And Anna's favourite TikTok so far isn't the post with 15 million views – but one to do with Dolly Parton after the singer made headlines for donating money to research.
"It was a vaccine themed cover of her song 9 to 5. So although my singing is terrible on it, I think it's a clever song."
Will follows "a three-step process" when it comes to answering questions.
"So the first thing I do is to think of two or three key points I want to get across in the video."
He then decides what to put in the background – a graph or news story using the green screen tool – to help with the information he wants to give.
"And I try and make it engaging as well. You don't want someone boring, drilling on about the answer."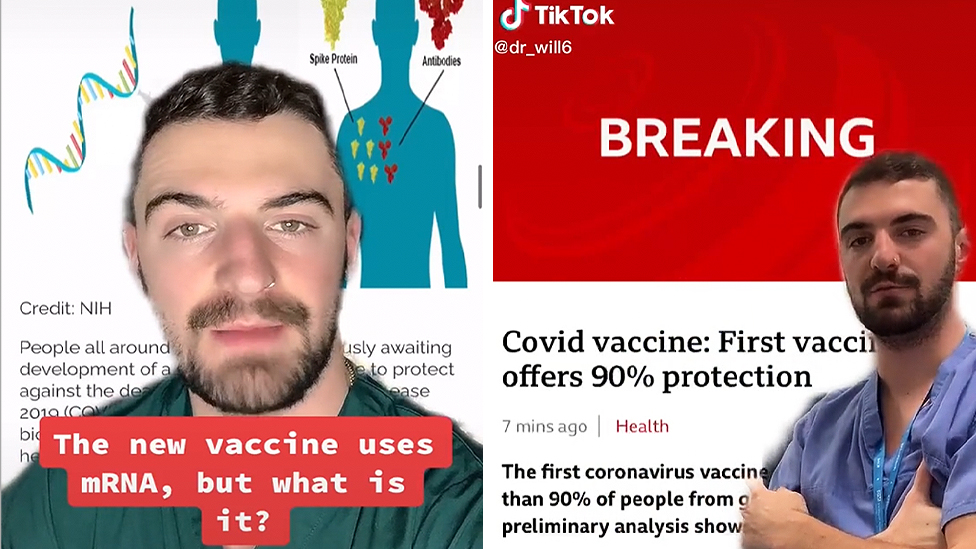 Despite the commitments of her job, Anna spends an hour at the start of each week making four or five videos for the week ahead – and then takes "an hour a day" answering the many questions that people comment with.
As for Will, he's "getting better" with the platform after being "terrible at first", using the spare time he has at work and home.
"I think it's really important. If I didn't believe in it, it would be hard to motivate myself into spending my time doing it."
'Answer conspiracy theories with facts'
Anna and Will also have to deal with conspiracy theories.
"It's hard to respond to them all the time, because they're so unfounded in what they say," Will says.
"So it's important not to get into an argument with people, not to get emotive because that changes entirely what you're trying to say. You try and answer back with facts."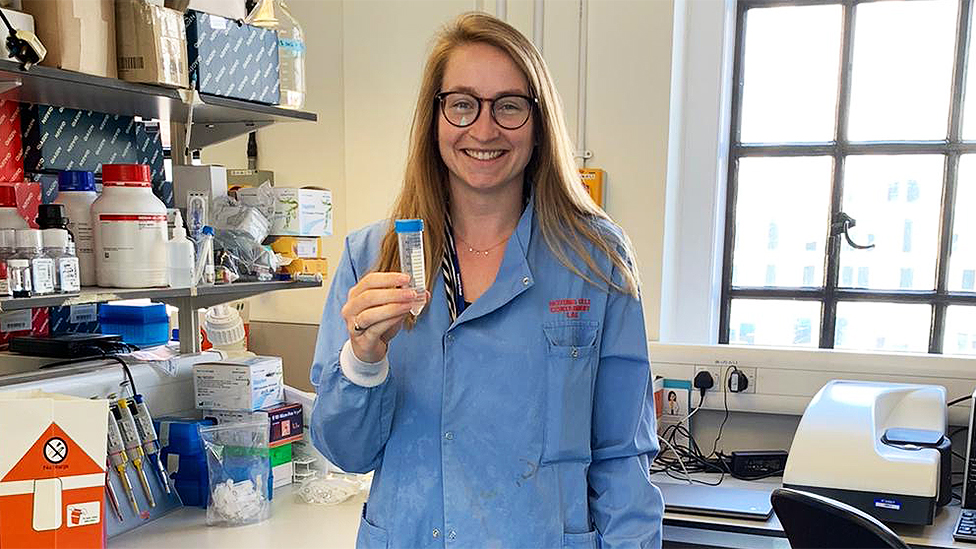 Anna says in the face of misinformation, she tries to "stick to my mission" of answering questions and educating people.
She adds it's important not to categorise people who ask questions or have concerns, in the same way as those who promote conspiracies.
"People just have questions, and they want to have them answered."
"I would love to see more scientists getting involved because I think TikTok is a really impactful way to do that."


Follow Newsbeat on Instagram, Facebook, Twitter and YouTube.
Published at Wed, 16 Dec 2020 00:56:20 +0000