Stimulus Talks Reach Critical Moment as McConnell Says Senate is 'Not Leaving' Without COVID Deal – Newsweek
This week could be a make-or-break moment for a stalled stimulus package, as lawmakers scramble to dole out emergency relief ahead of the holidays.
Congressional leaders are trying to cobble together a deal that could be paired with an annual government funding bill. But lawmakers are on a time crunch.
Congress needs to pass the budget legislation by Friday at midnight, or else approve another stopgap spending measure to avert a shutdown. Leaders want to use the budget as the legislative vehicle to attach a stimulus package to for swifter approval.
However, two of the thorniest issues are still handicapping negotiations—liability protections and money for state and local governments. The relentless logjam forced the bipartisan group of lawmakers who have been spearheading talks to split their $908 billion proposal into two.
Congressional leaders must now determine how to reconcile their differences over the legal shields, which Republicans support, and the relief for states, which Democrats back.
Senate Majority Leader Mitch McConnell warned Tuesday that there will be no Christmas vacation for lawmakers without some sort of stimulus agreement.
"As I've said repeatedly, we're not leaving here without a COVID package. Not gonna happen," the Kentucky Republican told reporters. "We're going to stay here until we get a COVID package, no matter how long it takes. We'll be here until we get a COVID package."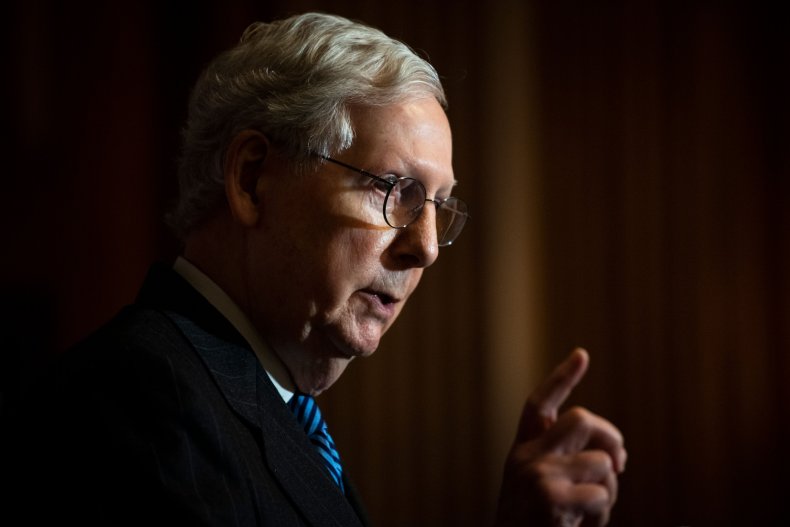 The message is one that leaders from both parties have reiterated for weeks. But McConnell offered a much starker warning, using their fast-approaching deadline to make his case for why Congress should move ahead absent the liability protections and aid for states and localities. He suggested continuing their negotiations on those fronts under the new administration next year.
"The way forward, obviously, is to put aside the two things that are the most contentious on each side," McConnell said. "We all know the new administration is going to be asking for another package. We can live to fight another day on what we disagree on, but we ought to agree to go forward on what we can agree on. That is the way forward."
Congress' top four leaders—House Speaker Nancy Pelosi (D-Calif.), House Minority Leader Kevin McCarthy (R-Calif.), McConnell and Senate Minority Leader Chuck Schumer (R-N.Y.)—met privately for several hours on Tuesday about the budget and COVID relief. As of late that night and after meeting for several hours, the leaders had yet to strike a deal.
"Everybody wants to get a final agreement as soon as possible. We all believe the country needs it," McConnell said as he exited Pelosi's office for the night. "I think we're getting closer and closer."
Schumer, speaking with reporters beforehand, declined to say whether he could stomach excluding money for state and local governments.
"Everyone knows my position. It has broad, bipartisan support, and I'm not going to get into negotiations in anyway that'll occur at 4," Schumer said.
McConnell, who has set aside his red line over liability protections, urged Democrats to do the same with funding for states in part by citing one of Pelosi's top deputies who made a similar suggestion over the weekend to drop the most contentious provisions in order to "get the essentials done."
"If we can get [state and local aid], we want to get it. But we want to get aid out to the people who are really, really struggling and are at grave risk," House Majority Leader Steny Hoyer (D-Md.) told CNN on Sunday. "We'll have time to get stuff done that we didn't include because we couldn't get political agreement, we'll have time to do that."
The bipartisan group that was pushing a $908 billion package has since split their comprehensive measure into two.
The first includes all of the bipartisan provisions that both parties can, for the most part, agree on, such as supplemental unemployment insurance, small-business aid and vaccine funding. The second deals only with the liability shield and state and local aid.
Congressional leaders will have to reach an agreement within the next day or two, if they still hope to pass some sort of relief by week's end.
Published at Tue, 15 Dec 2020 21:28:23 +0000