Covid: UK isolation period shortened to 10 days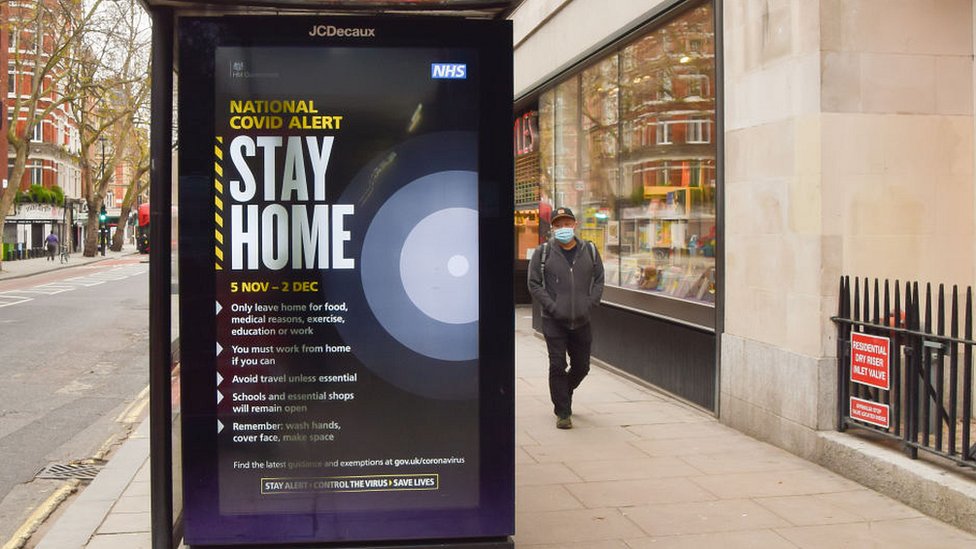 Self-isolation for contacts of people with confirmed coronavirus will be shortened from 14 to 10 days across the UK from Monday.
The change will also apply to people instructed to quarantine after returning from high-risk countries.
And it means anyone who has been self-isolating for 10 days or more will be able to end their quarantine on Monday.
Those with symptoms or a positive test are already expected to isolate for 10 days.
The change
has already been announced in Wales, but this new announcement will apply to all four nations.
A statement from the four UK chief medical officers (CMOs) said: "After reviewing the evidence, we are now confident that we can reduce the number of days that contacts self-isolate from 14 days to 10.
"People who return from countries which are not on the travel corridor list should also self-isolate for 10 days instead of 14 days."
Each of the four nations has its own lists of "travel corridor" countries which are exempt from the quarantine rules. While in the main, they include the same countries, they can differ slightly.
Covid: What is self-isolation and who has to do it?
NHS Covid-19 app adds self-isolation payments
Wales' Covid self-isolation period cut to 10 days
The CMOs added that self-isolation was "essential to reducing the spread of Covid as it breaks the chains of transmission".
The NHS app in England will not update its 14-day counter until next Thursday.
Because there will be a time-lag before it updates, anyone who has been advised to isolate by the app can leave isolation if their countdown timer hits three days between Monday and Thursday.
People are most infectious around the time they first develop symptoms and by day 10, only about 2% will still be capable of passing on the virus to others.
The change in the rules reflects this low risk, which was judged not to justify asking people to self-isolate for longer periods.
Deputy Chief Medical Officer for England Dr Jenny Harries said the science was based on "a continuous accumulation of evidence through the pandemic".
She said the "tail end" of an infection was the period someone was least likely to transmit infection, "so allowing somebody out of self-isolation a short time before that is a reasonable balance between managing the risk to the public but allowing us not to intrude on their lives".
Aim of the change
One study suggested that less than 20% of people fully complied with self-isolation – although it's been pointed out this doesn't distinguish between people breaking the rules slightly by going for a walk on their own, and those who ignore it entirely.
Economic hardship has been identified a key factor in people not being able to isolate.
But it is understood the main aim of the change was not to encourage more people to comply.
Instead, the chief medical officers, say it reflects the highest-risk period, when people are most likely to be infectious.
A pilot in Liverpool is look at testing the contacts of an infected person every day for a period after exposure, and not asking them to isolate unless they test positive.
This will be seen as the most attractive option as, if it doesn't increase infections, it will prevent significant numbers of people including school children from having to stay at home.
But it's not thought this will be able to be rolled out until early next year, provided the results of the pilot are positive.
Published at Fri, 11 Dec 2020 12:21:40 +0000