Covid-19: Care home residents in England allowed two visitors from 12 April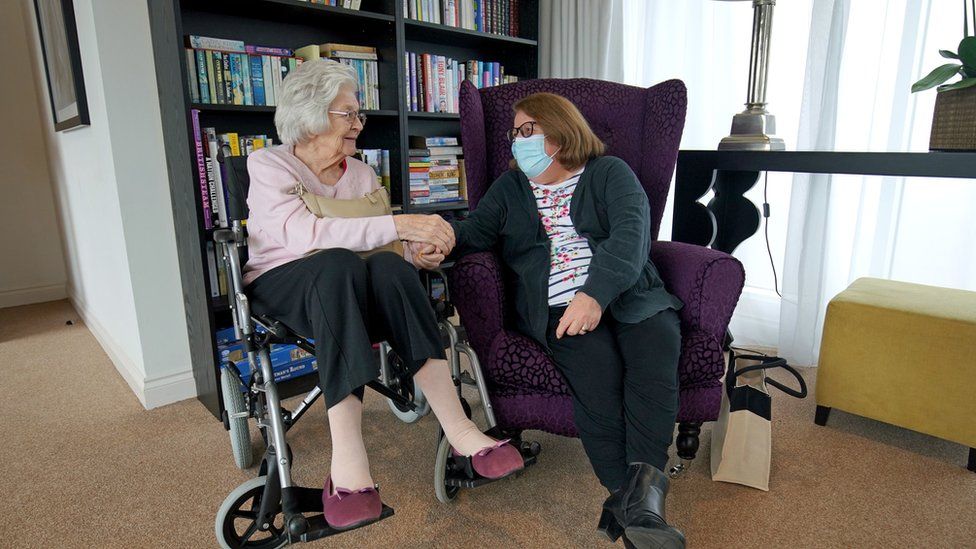 Care home residents in England will be allowed two regular visitors indoors from 12 April, the government has said.
Currently people in care homes can have just one face-to-face visitor, but as part of the next step of lockdown easing it will be extended to two.
They will be able to hold hands- but visitors must be tested and wear PPE.
Visitors will also be able to bring babies and young children with them, meaning some residents could meet grandchildren for the first time.
People living in care homes were first allowed one regular, nominated visitor again in early March – leading to many loved ones finally being reunited after lockdown.
The government has now said that from 12 April – which is the date for the planned next step of lifting lockdown – visitor numbers can be increased because of a drop in community infection rates and the vaccine rollout.
'Normal by summer'
Babies and toddlers will also be able to accompany visitors, and will not be counted as one of the two.
However, the age of young children included has yet to be announced and the government said full guidance will be published later this week.
The government also said that in the coming weeks, some visitors will be able to take tests at home rather than having them done at the care home.
"Our aim is to make visiting to care homes as normal as possible by the summer," said the government's care minister, Helen Whately.
She said the government continued to "follow the science", but that "things are looking up".
Prime Minister Boris Johnson added: "I'm particularly pleased to allow residents to have more visitors, including grandchildren, given the isolation and concern felt by so many this past year."
In addition, outdoor visits – as well as those inside pods or behind screens – will be able to continue for people who are not nominated as a regular visitor.
What are the current rules on care homes in England?
What can I do now… and what comes next?
Meanwhile, the essential care giver scheme – whereby relatives or specially trained assistants to residents with particularly complex needs have greater access to a home – will also continue, the government said.
The scheme was set up to help residents with advanced dementia, some autistic people and residents with a learning disability who needed a particular person to provide certain aspects of their care.
More than £340m of government funding has been earmarked to extend rapid testing to care homes and free PPE (personal protective equipment) until March 2022.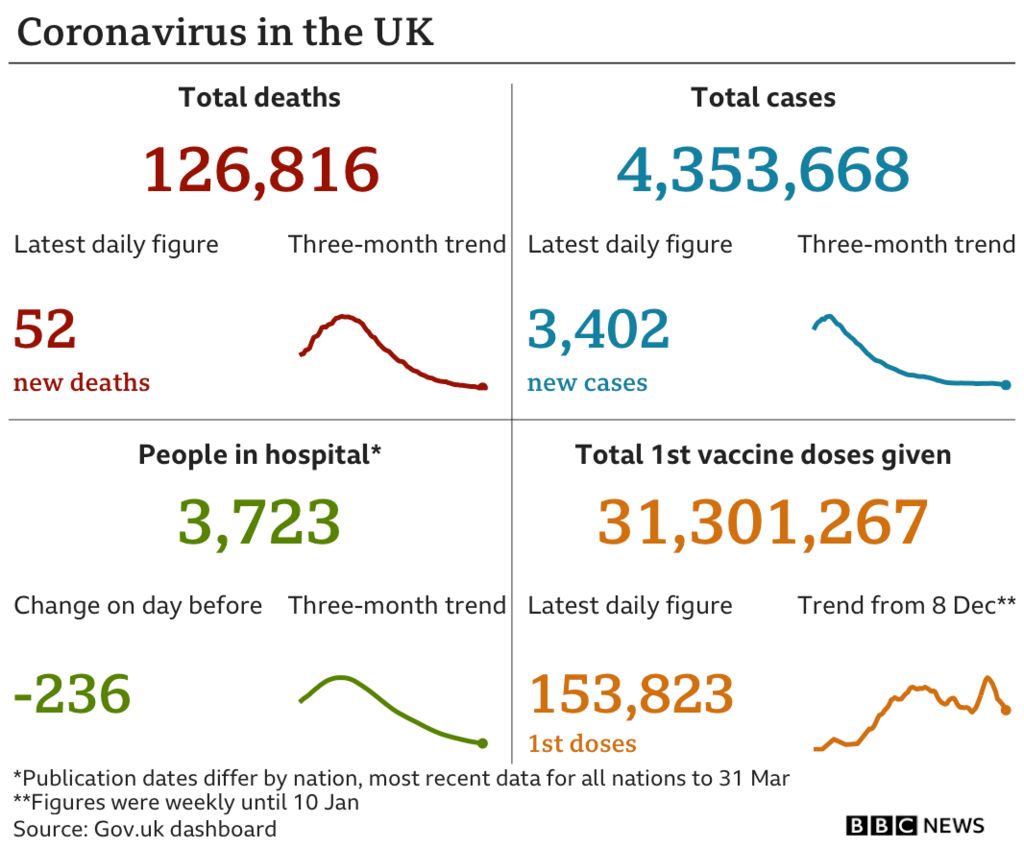 The announcement on visits was welcomed by Mike Padgham, the chairman of industry body the Independent Care Group – but called for residents aged over-65 to be allowed to take trips outside homes.
According to the latest government guidance – which is facing a legal challenge – trips to see family or friends "should only be considered" for under-65s while national Covid restrictions apply because they increase the risk of bringing Covid into a home.
But campaigners say the ban is unlawful.
Mr Padgham, who runs four homes in North Yorkshire, said: "It is hard to object to a party of over-65s going out in a minibus, for example, to enjoy a change of scenery and some fresh air, provided they were careful.
"We would like to see the government give greater guidance on this going forward."
In Scotland, care home residents are allowed to choose two people to visit indoors once a week, while in Wales, indoor care home visits are allowed for one visitor.
In Northern Ireland, government guidance states that where possible, visiting should be facilitated where there are well ventilated designated rooms or visiting pods – but families are still being denied visits, the nation's older people's commissioner has claimed.


VACCINE: When will I get the jab?
NEW VARIANTS: How worried should we be?
COVID IMMUNITY: Can you catch it twice?
LOOK-UP TOOL: How many cases in your area?


It comes as a further 52 people died within 28 days of testing positive for coronavirus, according to UK government figures released on Friday – although the data does not include Wales.
The number of cases also increased by 3,402 – the lowest daily rise reported since mid-September, although again the figures do not include Wales.
More than 4.9 million people are now fully vaccinated with both doses, while in total 31.3 million first doses have been given.
As the Easter Bank Holiday began on Friday, Boris Johnson urged people to obey the rules and not mix indoors, even if they are vaccinated.
The UK's medicines regulator confirmed that seven people have died from unusual blood clots after getting the Oxford-AstraZeneca vaccine – but it is not clear if they are just a coincidence or a genuine side effect of the vaccine
More countries – the Philippines, Pakistan, Kenya and Bangladesh – were added to the England's travel ban "red list" amid concerns about the spread of new variants
Police forces across the UK have warned people to follow the rules ahead of the bank holiday – but in Cardiff, huge crowds of hundreds of people gathered in the city's bay area
Published at Fri, 02 Apr 2021 23:13:11 +0000