Ambulance delays led to 'secondary Covid victims'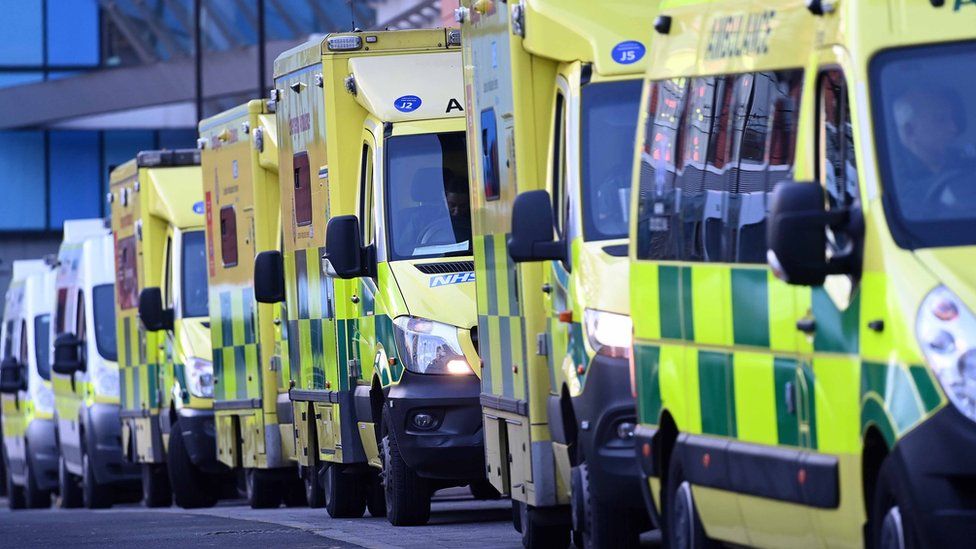 Ambulances waiting outside busy hospitals over Christmas led to "secondary Covid victims", the Royal College of Emergency Medicine has said.
Information requests show that the number of hours ambulances spent waiting to offload patients rose by 63% in London and 48% in the West Midlands.
BBC News has spoken to the wife of a man who died of a stroke, having waited three hours for an ambulance.
The NHS said capacity had been freed up despite increasing Covid-19 infections.
NHS England said the number of individual ambulances waiting more than 30 minutes across the whole of England from the end of December to the beginning of February, had fallen.
A spokesperson said: "Despite seeing a significant increase in the number of patients with coronavirus at the end of December, the NHS has worked together to free up capacity and enable quicker patient handovers."
Robert's story
Rose Rwagasore was working as a nurse treating coronavirus at North Middlesex Hospital in north London on New Year's Eve, when her teenage children called her late in the evening to say their father, Robert Wabwire, was unwell, with a sudden headache and vomiting.
Despite calling 999, no ambulance had arrived. Increasingly concerned, Rose spoke to her husband on the phone and recognised his speech was slurred, a common warning sign of a stroke.
Rose drove home but her husband deteriorated further, and she performed CPR.
"It is literally five minutes to the hospital", she says. "But because now he could not move, we couldn't get him in the car."
The first of three ambulances arrived more than three hours after the initial call. The family had rung 999 four times.
The desired response time for patients with symptoms of a stroke is 18 minutes.
Robert, 48 years old, had died by the time paramedics arrived. Rose says she feels his death could have been prevented.
"I can't really expect that an ambulance can take such a long time," she said.
"The children were alone in the house with their father who was unwell."
London 999 calls as high as Covid first wave peak
Ambulance wait times in England 'off the scale'
England care home residents to get one visitor each
Ambulance waits
Ambulance Trusts record handover times if the wait outside hospital exceeds 30 minutes.
BBC News has learned that ambulances outside Robert's local hospital, North Middlesex, spent, on average, double the time waiting during the week he died, compared with the equivalent week the year before. In the week Robert died the wait was 197.8 hours. For the corresponding week in 2019 it was 94.1 hours.
In London overall, ambulances waited for 4,164 hours in the two weeks spanning Christmas and New Year – a 63% increase on the 2,550 hours for the same time period in 2019.
In the West Midlands, there was a 48% increase on last year – 3,954 hours for the fortnight from 28 December 2020, compared to 2,673 hours for the same time period in 2019.
In other parts of England, waiting times showed an improvement on the previous year.
Richard Webber, from the College of Paramedics, said handover delays meant patients calling 999 may have to wait longer.
BBC News has learned of other serious incidents in December and January:
A patient with signs of sepsis and recent abdominal surgery waited for more than six hours
A patient had a cardiac arrest and died following seven calls to 111 and 999 and having waited more than four hours for an ambulance
A patient with heart palpitations faced a lengthy wait for paramedics and then suffered a heart attack
'Ghastly'
Royal College of Emergency Medicine vice-president Adrian Boyle said: "All that's happened is Covid has taken a very fragile system and basically pushed it over the edge.
"The idea that there are patients who have called for help [and] a paramedic has made a judgement that this is a person who is seriously ill, and they get to the hospital and the whole system that's designed to help them is unable to help them…I think that's absolutely ghastly."
The London Ambulance Service said December 2020 was its busiest ever month, and it responded to more emergency calls than during the peak of the first pandemic wave. West Midlands Ambulance Service said it had "substantially increased the number of staff available to respond to patients".
A Department of Health and Social Care spokesperson said: "Covid-19 has put the NHS under acute pressure and our heroic paramedics, nurses and doctors have been doing everything possible to ensure hospitals continue to provide vital services and quality healthcare.
"We recognise the unique challenges facing the NHS and we continue to make sure our health service has the capacity and resources – both financial and practical – it needs to continue to weather the Covid storm."
Published at Sat, 20 Feb 2021 01:52:16 +0000