Hospital waiting list 'may double to 10m by April'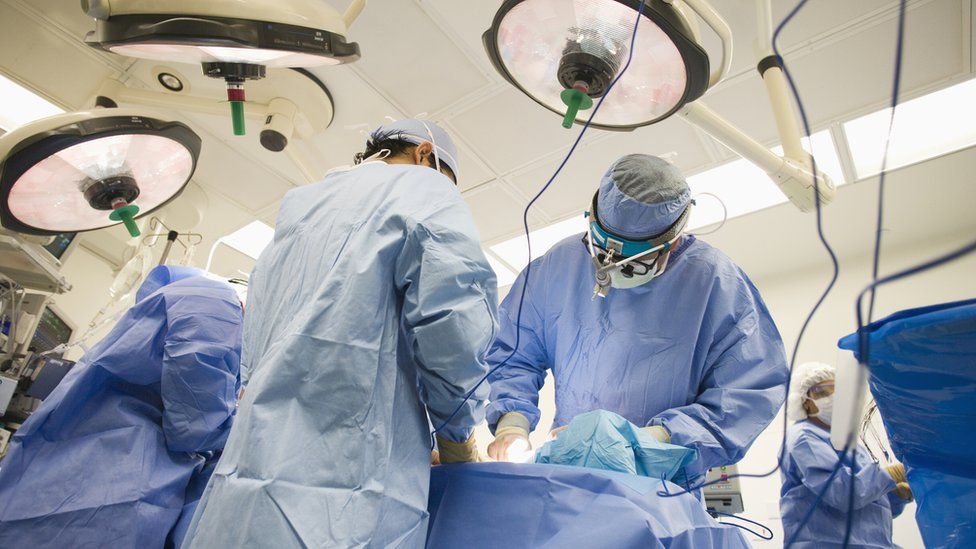 Waiting lists for hospital treatment could more than double by April and hit 10 million in England, the Reform think tank is warning.
A worst-case scenario could see delays continue as a new wave of referrals are made, Reform said.
Treatment referrals by GPs were six million lower in 2020 than the year before, suggesting a mounting backlog.
It comes as health leaders warn the NHS is likely to be "at full stretch" for at least another six weeks.
Chris Hopson, chief executive of NHS Providers, which represents NHS trusts in England, has written to Prime Minister Boris Johnson to say case numbers are "still far too high" to end virus curbs.
He said: "The evidence on Covid-19 cases, NHS capacity, progress with vaccinations and readiness to combat Covid-19 variants all show that it is much too early to start lifting restrictions."
Setting out the conditions they believe are needed to allow current restrictions to relax, trust leaders outlined four tests that could be applied.
Among the tests are: a "significant" drop in case numbers; a return to normal NHS capacity; solid progress with vaccinations; and a "robust and effective" strategy to identify new virus variants.
NHS long waits 100 times higher than before Covid
Ambulance wait times in England 'off the scale'
'Years' before NHS waiting lists back to normal
Mr Johnson is due to outline a roadmap for easing the current national lockdown in England on Monday.
Meanwhile, the head of the UK's vaccine taskforce, Clive Dix, told Sky News all adults could be fully vaccinated by August "or maybe sooner if we need to".
'Mammoth task'
Reform – a centre-right think tank that focuses on public services – praised the work of frontline NHS staff, but said more now needed to be done to tackle the growing backlog in care.
Community diagnostic centres for cancer, cardiac and other conditions should be set up to restart screening programmes halted by the pandemic, coupled with a renewed focus on prioritising those most urgently in need of care currently on waiting lists, it said. And for routine treatments, it said more use should be made of the private sector.
Reform's Eleonora Harwich said: "We must never have the equivalent of a 'National Covid Service' again.
"This is a system problem and in no way detracts from the heroic effort of NHS staff battling Covid-19.
"However, the cessation of so much non-Covid care means patients are facing more serious health conditions or disabilities, and some will die prematurely."
Layla McCay, director of policy at the NHS Confederation, which represents hospital bosses, accepted the NHS faced a "mammoth task" to tackle the backlog – although she questioned the waiting list prediction of 10 million people by April.
She said the real problem was that the NHS was under-funded and had been operating "at the top of its capacity for far too long".


LOOK-UP TOOL: How many cases in your area?
LOCKDOWN RULES: What are they and when will they end?
SOCIAL DISTANCING: How can I meet my friend safely?
OXFORD JAB: What is the Oxford-AstraZeneca vaccine?


Responding to accusations that the NHS has become a Covid-only service, Ms McCay pointed out cancer services were now operating at pre-pandemic levels.
Prof Neil Mortensen, of the Royal College of Surgeons of England, said tackling the backlog would require both the use of the private sector, and extra investment in the NHS.
A further 10,625 new coronavirus cases were reported on Tuesday, alongside another 799 deaths within 28 days of a positive test.
Over 16 million people have now received at least one dose of a coronavirus vaccine across the UK.

GROWING UP GAY: Olly Alexander explores the mental health issues faced by members of the LGBT+ community
CELEBRITY SPECIAL 'EATING WITH MY EX': Ex-couples reunite for dinner with awkward questions and confrontation

Published at Wed, 17 Feb 2021 01:42:34 +0000