Covid: Virus cases are going down across the UK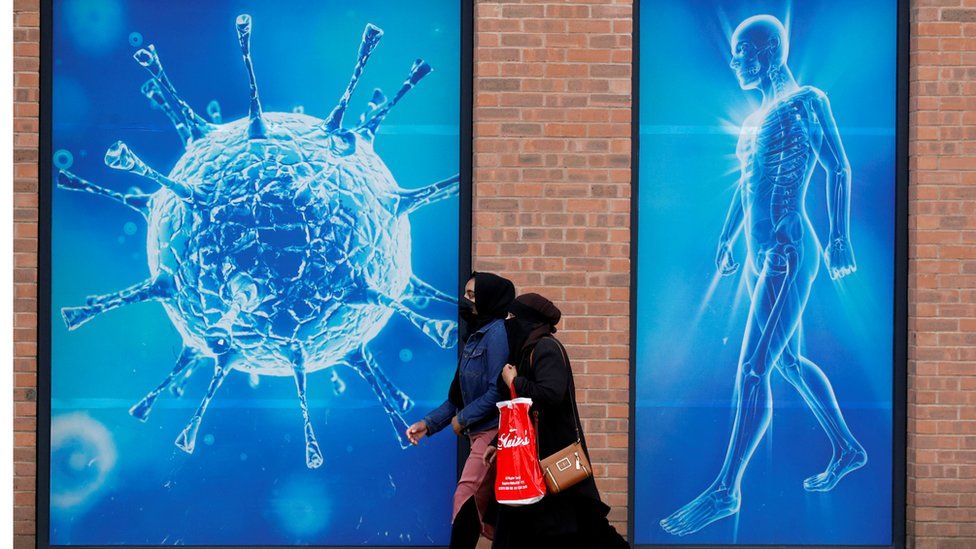 Levels of coronavirus are going down in all four nations of the UK, latest figures from the Office for National Statistics (ONS) show.
The data provides more evidence that lockdown is working to control even the more infectious variants of the virus that are circulating.
It is based on 661,931 tests from people in the last six weeks, whether or not they had symptoms.
Experts warn that infection levels still remain high, however.
It is not clear yet when lockdown will begin to be lifted. Scientists advising government say the lower the cases can get, the better. Unlocking too soon risks another surge of the virus, even though more people are being vaccinated against the disease every day.
Prime Minister Boris Johnson has said he will outline plans for easing any restrictions in the week of 22 February.
Getting schools back will be the immediate priority, the government says.
The PM's official spokesman did not rule out that one option being considered is social distancing being maintained until the autumn: "The latest data and evidence clearly shows that we remain in a difficult situation with the pressure on the NHS still very significant.
"We will set out a gradual and phased approach towards easing the restrictions in a sustainable way."
Check virus cases where you are
One in 80 people in England has the virus
In Northern Ireland, it is one in 75
In Wales, it is one in 85
In Scotland, it is one in 150
London continues to have the highest proportion of people likely to test positive for coronavirus in any region of England, with around one in 60 estimated to have had Covid-19 in the week up to 6 February.
The ONS's data is slightly out of date – covering the week up to 6 February – so may not reflect the situation right now.
Meanwhile, more than 13.5m UK people have had at least their first dose of a coronavirus vaccine.
The ambition is to offer a vaccine to around 15m people in the top four priority groups – which includes people over 70, health and social care workers and people who are extremely clinically vulnerable and shielding – by Monday 15 February.
Wales says it has already achieved this. England, Scotland and Northern Ireland are expected to announce the same soon.
The 13.5m figure includes some people outside of these initial groups.
Some regions of the UK have begun inviting groups planned to be reached later in the month, such as the over-60s and people aged 16-64 with underlying health conditions.
How many people have been vaccinated?


LOOK-UP TOOL: How many cases in your area?
LOCKDOWN RULES: What are they and when will they end?
SCHOOLS: When will they reopen?
OXFORD JAB: What is the Oxford-AstraZeneca vaccine?


Published at Fri, 12 Feb 2021 12:35:22 +0000