Schools could open if rest of lockdown stays, say researchers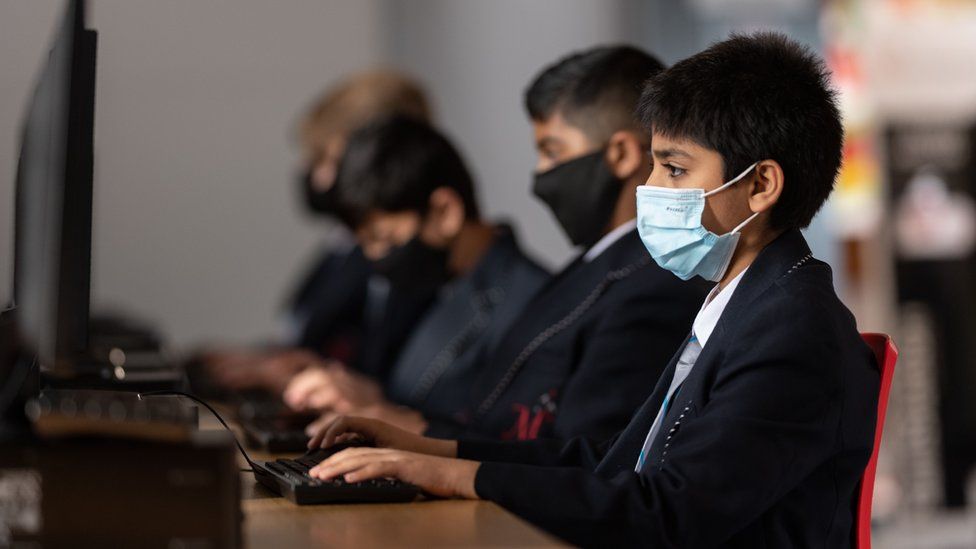 Reopening UK schools to all pupils in early March is feasible, as long as other lockdown measures continue, say researchers who have modelled the likely impact on infection numbers.
The London and Oxford team believes coronavirus cases could be kept in check while letting pupils have face-to-face lessons in the classroom.
The least risky scenario would be to open primaries and only exam-critical years in secondary schools.
It could keep R below 1, says the team.
That would mean spread of the disease should continue to shrink, rather than grow.
The researchers did the modelling before the recent announcements from Wales and Scotland that youngest schoolchildren, aged three to seven, would likely return to school from Monday 22 February.
Many children of key workers and vulnerable pupils have continued to go to school during lockdown.
Prime Minister Boris Johnson has said 8 March was the earliest date schools in England could reopen, and that "depends on lots of things going right".
Government, rather than scientists, will judge when schools should reopen, but research will help inform the decision.
When will schools reopen?
Coronavirus, schools and children – what are the risks?
Unlocking other parts of society at the same time as opening schools would be a bad idea, in the short to medium term, says the team from University College London, Oxford University and the London School of Hygiene and Tropical Medicine.
If the wider lockdown were lifted in mid-April, new infections could increase sharply, they warn, based on their preliminary study, which is available online.
However, the researchers said that a rapid vaccination programme could potentially prevent this, depending on the transmission-blocking properties of the vaccines.
They included the likely protective effect of vaccine rollout in their calculations, as well as the threat from the more contagious new UK 'Kent' variant of coronavirus that is spreading in the UK.
Lead author Dr Jasmina Panovska-Griffiths said: "Our findings suggest that reopening schools on March 8, while keeping the rest of society locked down, is a plausible alternative to continued full national lockdown and is likely to prevent the epidemic from growing again.
"Opening secondary schools appears to result in higher infection levels than opening primaries so additional strategies may be needed to mitigate this. These could include staggered re-openings as well as expansion of mass-testing at schools, and vaccination of teachers."
Co-author from UCL Prof Russell Viner, who is also president of the Royal College of Paediatrics and Child Health, said: "The UK Government has emphasised that schools should be the first area of society to fully reopen. It is therefore critical to establish how different scenarios of reopening schools might affect infection rate and deaths."
Published at Tue, 09 Feb 2021 14:19:37 +0000