Chinese users flock to Clubhouse amid soaring popularity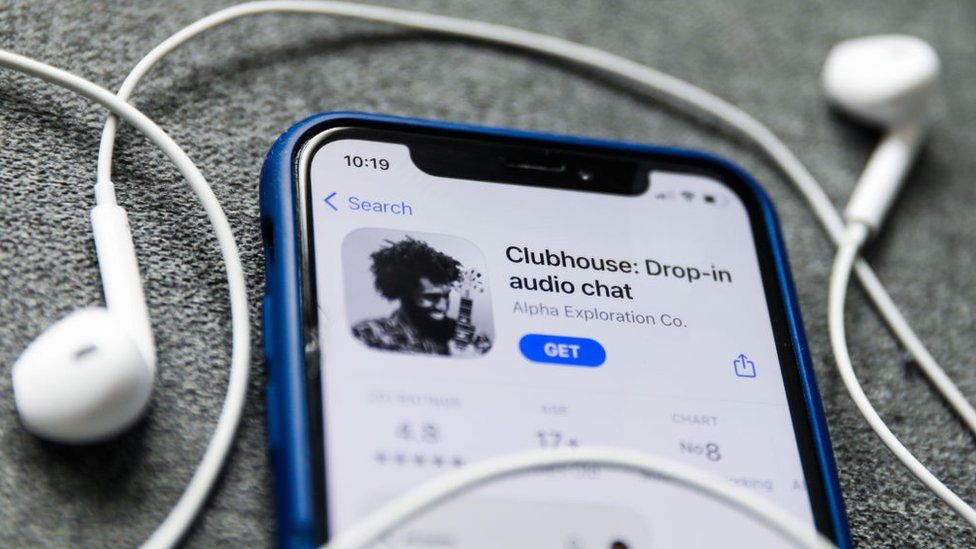 Audio-only social network iPhone app Clubhouse has seen an explosion of new users in the last week, including Chinese people discussing politics.
According to mobile analytics firm Sensor Tower, the app was downloaded 2.3 million times by 31 January.
The chat app is free, but currently invite-only.
However, Chinese users are paying up to $77 (£56) for invitations from e-commerce sites, according to the FT.
Clubhouse was launched in May and valued at almost $100m. The app allows users to join and participate in pop-up public or private audio chatrooms.
Conversations are not recorded, which theoretically ensures privacy, although some interviews of celebrities and influencers have been secretly recorded and uploaded to YouTube.
Elon Musk grills Robinhood boss over GameStop row
US and UK condemn reports of rape in Chinese camps
Uighur camp detainees allege systematic rape
Early adopters were mostly Silicon Valley technophiles and investors, but the app's invite-only nature has created an exclusivity appeal that has seen a raft of US celebrities join, including Oprah Winfrey, Ashton Kutcher, Drake, Azealia Banks, Jared Leto and Tiffany Haddish.
But the app's downloads more than doubled in the last two weeks due to popular tech moguls like Elon Musk and Mark Zuckerberg joining Clubhouse to participate in interviews and talk shows.
After Mr Musk tweeted that he would be speaking live on the app, Clubhouse's shares soared 117% on 1 February.
Freedom to discuss controversial topics
At the moment, Clubhouse is only available on the iPhone and can be accessed in mainland China without the use of a virtual private network (VPN) to bypass China's Great Firewall.
While many of the chatrooms are either private or have been deleted, over the weekend thousands of Chinese users joined chatrooms on Clubhouse in order to freely discuss topics that are considered to be taboo in China, from the Hong Kong protests and the treatment of Uighurs in Xinjiang, to heightening tensions between China and Taiwan.
Multiple Chinese users who witnessed the audio conversations in the app's chatrooms took to Twitter to discuss what they were seeing.
Some fantastically candid things being said. One woman asked, earnestly, how to handle the sense of offense, her instinctive defensiveness, as a Han person confronted with allegations and evidence of the atrocity. Absent so far is any overt denial or apologism.

— Kaiser Kuo (@KaiserKuo) February 6, 2021
The BBC is not responsible for the content of external sites.
View original tweet on Twitter
User Arendt HuTong said on Twitter that he listened to a conversation between Uighurs, journalists and Chinese "that were so sincere and peaceful that it made me want to cry", while in another conversation, young people in mainland China listened to the latest updates from people in Hong Kong and expressed their sympathies.
"For Chinese users, the biggest significance of clubhouse is probably the uncensored communication between ordinary people," he wrote on Twitter (translated from Mandarin).
US-based podcaster Kaiser Kuo said that the chatrooms contained "fantastically candid" comments.
In the @Clubhouse, after my comment on how to be an ally, a fellow #Uyghur broke down in tears. I wanted to embrace him & take away some of the pain. He's so eloquent, fluent in Chinese, & a great moderator. He's still afraid to use his name and show his picture. So heartbreaking

— Rayhan E. Asat ✍️ (@RayhanAsat) February 7, 2021
The BBC is not responsible for the content of external sites.
View original tweet on Twitter
He reported hearing mainland Chinese people discuss evidence of the human rights violations against the Uighurs and whether what their government was doing was right.
And while some of the comments were defensive of China and dismissive of the problem, there were efforts made to listen to anecdotes by others, who spoke of being detained in Xinjiang and having their passports confiscated.
It is unlikely that the Chinese government will continue to permit access to Clubhouse for long, however.
Monetising Clubhouse
Although Clubhouse is currently invite-only, it is already offering a wide range of audio-based activities, including live DJ sets, celebrity talk shows and even speed dating.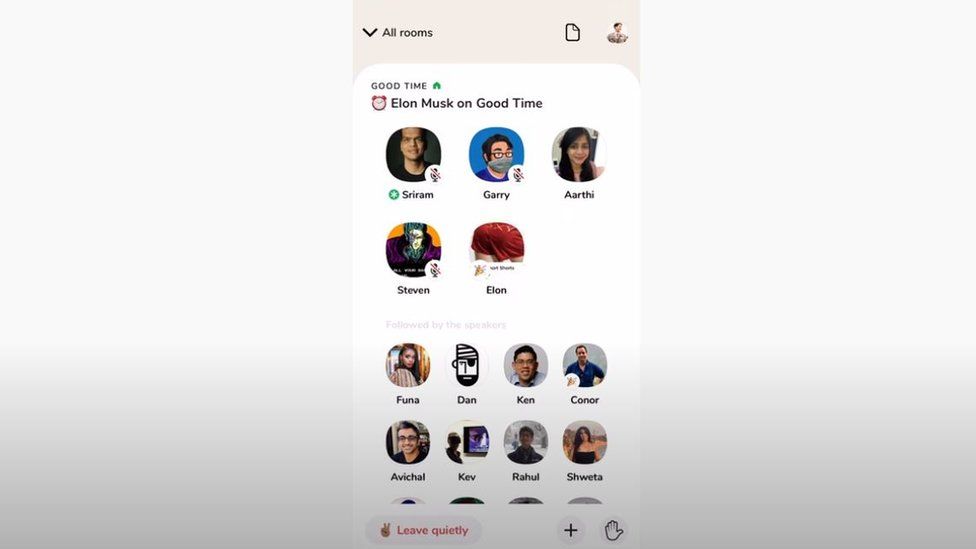 While none of this is yet monetised, Clubhouse has plans to turn popular users into influencers, according to the New York Times.
More than 40 Clubhouse influencers have been invited to a "Creator Pilot Program" where they will attend regular meetings with the app's founders and be given special access to new tools.
But the app has also been criticised for a lack of moderation.
A December article by Vulture declared that Clubhouse was "dangerously close" to becoming a "new Internet wasteland", because conversations can easily veer off-topic from their intended subject matter and debates can turn into attacks – even against celebrities – if the moderators of the chatrooms are not careful.
"It remains to be seen whether opening to the public will upend the precarious balance between chaos and chill that the young app currently enjoys; whether the many celebrity regulars will stick when the exclusivity wears off and anyone can log in and call them out for takes that aren't necessarily very deeply considered; and, most important, whether or not we're only interested in an audio app that is, on a certain level, replicating the experience of meeting strangers on '90s chat lines primarily because we're all stranded at home and lonely," wrote Craig Jenkins.
Published at Mon, 08 Feb 2021 00:02:53 +0000