Coronavirus: Vaccine chief 'optimistic' about over-50s May target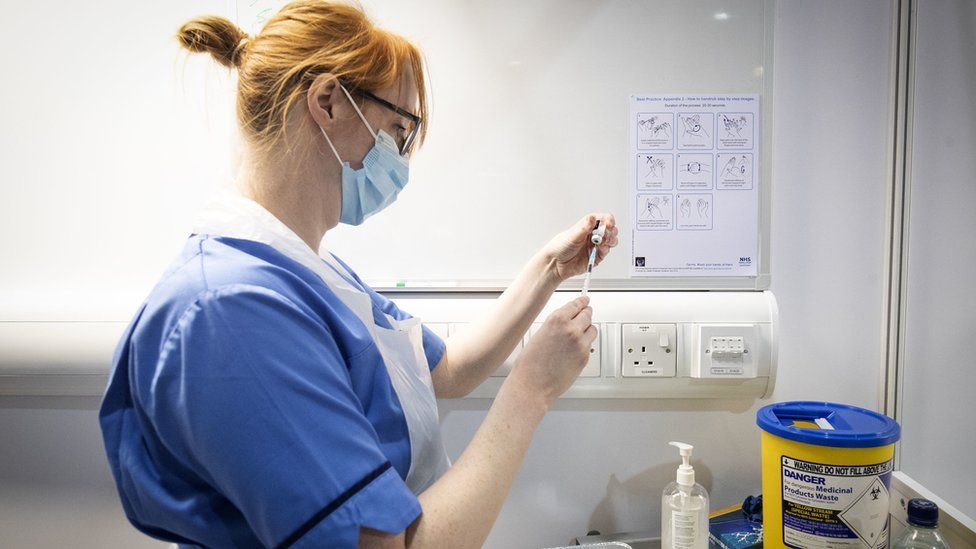 The chairman of the UK's Vaccines Taskforce is "very optimistic" all over-50s will be vaccinated by May.
Dr Clive Dix told BBC's Today programme "every time" the taskforce has been set a target, it has met it.
The UK was "ahead of the game" in terms of anticipating variants of coronavirus and was making "libraries of future vaccines", he said.
He added that the UK would not hoard supplies but would distribute them globally, once the UK target is met.
Downing Street has said everyone in the UK aged 50 and over should have been offered a coronavirus vaccine by May.
Previously, ministers had said it was their "ambition" to vaccinate the first nine priority groups by the spring.
As of Thursday, the UK had given a first jab to nearly 11 million people and is aiming to reach 15 million vaccinations by 15 February.
Oxford-AZ vaccine 'effective against Kent variant'
How worrying are the new coronavirus variants?
Coronavirus variants: The science explained
Dr Dix said: "We will work day and night to ensure we meet whatever the target that's feasible can be met.
"So I'm very optimistic that we will meet the May target."
Questions have been raised around the efficacy of vaccines against variants of the virus – including the one first identified in Kent.
On Friday, Oxford-AstraZeneca said its vaccine gave people good protection against the UK variant.
Variants in South Africa and Brazil have also been identified.
Dr Dix said the UK was "at the forefront of surveying" the variants and able to "second-guess" mutations that have not yet occurred.
They were then able to make vaccines for those variants, he told the programme.
"We'll make libraries of future vaccines, just small amounts, enough to then, if it does occur, do a quick clinical study to see that it works and then start manufacturing it," he said.
Asked whether there could be a vaccine-busting variant at some stage, Dr Dix said: "There's a possibility, but we'll be ahead of the game, we're not going to be waiting for it to happen.
"We now have the capabilities in the UK to be responsive and that capability won't just be for the use of the UK of course.
"Once we've done it, it will actually help the whole world because it will be part of that whole surveillance and reaction".


TESTING: How do I get a virus test?
SYMPTOMS: What are they and how to guard against them?
LOOK-UP TOOL: How many cases in your area?
GLOBAL SPREAD: How many worldwide cases are there?


Published at Sat, 06 Feb 2021 09:36:47 +0000