South Africa Covid variant: Birmingham cases 'not linked to travel'
Two cases of the South Africa coronavirus variant have been detected in Birmingham.
Those 18 and over in the Frankley Great Park ward and part of south Northfield area are being asked to take tests, even if they do not show symptoms.
Health officials said the cases were from a family living in neighbouring homes and were not linked to international travel.
The discovery comes after the variant was detected in nearby Walsall.
Birmingham City Council said the two people tested positive in early January, but it was not until Friday when random tests picked up the variant.
The local authority said testing would be significantly increased in the areas affected.
Dr Justin Varney, director of public health in Birmingham, said the new variant presented a "new risk" and urged all adults to get tested "to minimise the risk of spreading the virus".
He called on people to follow the current lockdown rules and only leave the home if it was essential.
Testing units open in Walsall to trace Covid variant
People in variant areas urged to 'think twice'
What is the variant risk?
The South African variant, one of thousands since Covid-19 emerged, is not thought to be any more dangerous than others circulating in the UK.
But there are concerns it can spread more readily and vaccines may not work quite as well against it.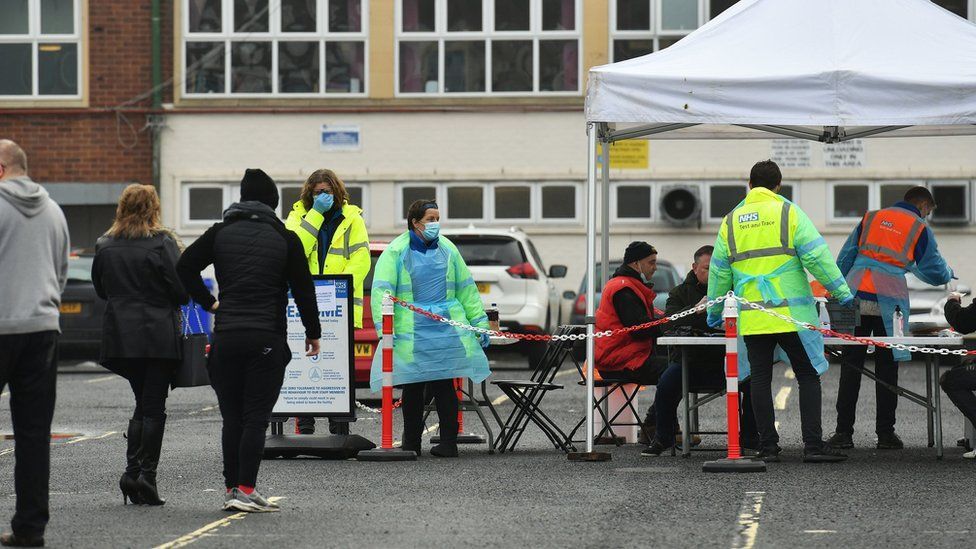 The Conservative MP for Birmingham Northfield, Gary Sambrook, said he had been working closely with public health officials and that the group intended "to hold an online public meeting in the coming days".
Drive-through tests will be available with no appointment for people without symptoms at the St Modwen site on Longbridge Business Park on Thursday.
A further mobile test site will be opened on Friday.
The council said it would also open several designated sites for residents to collect home testing kits.
Businesses have been approached to make testing available to their staff.
A roll-out of enhanced testing has already started in eight areas in England, including Walsall, using mobile sites to trace any further transmission.


LOOK-UP TOOL: How many cases in your area?
SYMPTOMS: What are they and how to guard against them?
VACCINE: When will I get the jab?
FACE MASKS: When do I need to wear one?
THE R NUMBER: What it means and why it matters


Follow BBC West Midlands on Facebook, Twitter and Instagram. Send your story ideas to: newsonline.westmidlands@bbc.co.uk
The BBC is not responsible for the content of external sites.
Published at Wed, 03 Feb 2021 19:59:16 +0000