Covid-19: 'Traumatised' hospital staff need time to recover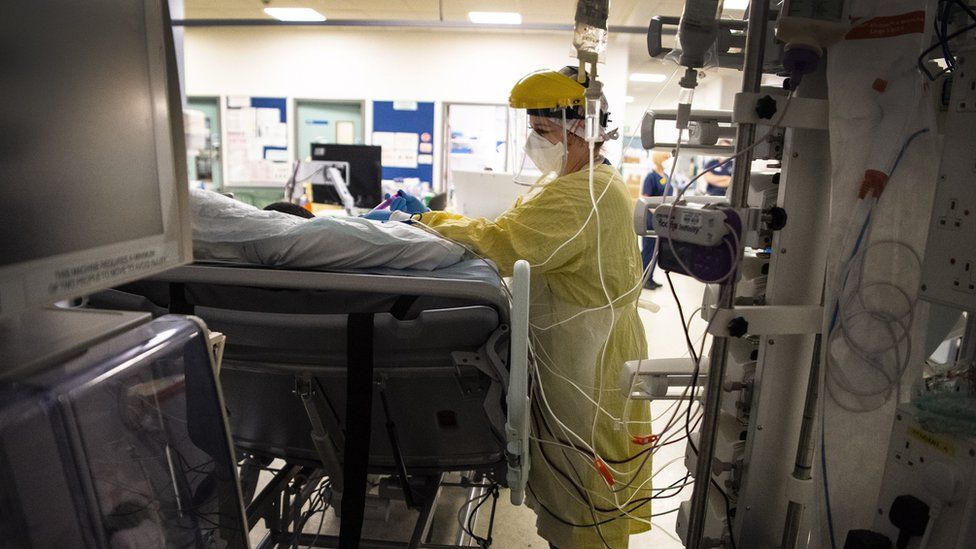 "Traumatised" and "exhausted" medical staff need time to recover before tackling an NHS backlog, says the group representing hospitals in England.
Many staff could resign if their wellbeing is not factored into plans to cut waiting lists, NHS Providers said.
The number of people waiting more than a year for surgery rose 1,613 to 192,000 during the Covid pandemic.
NHS Providers said demand for hospital beds is easing, but the pressure on intensive care units is still intense.
There are currently 34,783 people with coronavirus in hospital in the UK. At the peak of the first wave in April 2020, there were 21,684 Covid patients in hospital.
According to latest government data, there are 3,832 people on ventilators.
Hospitals 'stable' but 'another hard year ahead'
Some critical care wards full across England
NHS staff left 'traumatised' by first Covid wave
NHS Providers estimates that it is going to be at least a month before the NHS gets back to normal winter pressures, and trusts are concerned about the transition into the next phase of the pandemic.
Critical work that has been postponed, including a small number of urgent cancer cases, will be a priority, but there remains a need to tackle a wider backlog of routine operations alongside the vaccination programme.
NHS Providers said trusts will work as fast as possible to tackle the backlog, but leaders cannot do so at the expense of staff burnout.
Last month, a study suggested that many hospital staff treating the sickest patients during the first wave of the pandemic were left traumatised by the experience.
Nearly half reported symptoms of severe anxiety, depression, post-traumatic stress disorder or problem drinking. One in seven had thoughts of self-harming or being "better off dead".



Talk to any NHS manager, doctor, nurse or other member of frontline staff and you will get the same message – people are stressed, fatigued and in danger of burnout.
Morale is low and it does not feel to staff as if there are signs of any let-up.
That's why NHS Providers, representing hospitals and other trusts in England, has warned that just because Covid patient numbers are easing, there should not be any expectation of a return to normal service any time soon.
There is a large backlog of postponed routine operations and procedures – 192,000 in England have waited more than a year for non-urgent surgery.
But NHS Providers says staff welfare must be the priority.
Recovery time and leave have to be factored in before any plan to cut waiting lists is drawn up.
There is a coded warning to ministers that more funding will be needed.
It all adds to another warning that the NHS faces many months of serious challenges, however quickly the Covid challenge recedes.


On Sunday, Rupert Pearse, from the Intensive Care Society, said it was going to be "another very hard year" and warned of the mental health impact on NHS staff.
"I've never been in the Army but I imagine it's a little bit like a second tour of duty," Prof Pearse, a consultant in intensive care medicine at a London hospital, told BBC Breakfast.
Meanwhile, a Covid vaccine has been offered to residents at every eligible care home in England, the NHS has announced, with Prime Minister Boris Johnson describing the achievement as a "crucial milestone".
It came as a record 598,389 first jabs were given across the UK on Saturday.
Nearly nine million people have received the first dose of a vaccine, with around 490,000 having received two jabs.
A further 587 deaths within 28 days of a positive Covid test were reported on Sunday.
It takes the UK's total by that measure to 106,158, although the number of reported deaths tends to be lower over the weekend.


TESTING: How do I get a virus test?
SYMPTOMS: What are they and how to guard against them?
LOOK-UP TOOL: How many cases in your area?
GLOBAL SPREAD: How many worldwide cases are there?



LOCKDOWN LEARNING: Need some assistance with home-schooling? BBC iPlayer is here to help
TASTY TIME-WASTING: How are food businesses helping us beat lockdown boredom?

Published at Mon, 01 Feb 2021 02:53:33 +0000