'Record number' of Covid intensive care patients transferred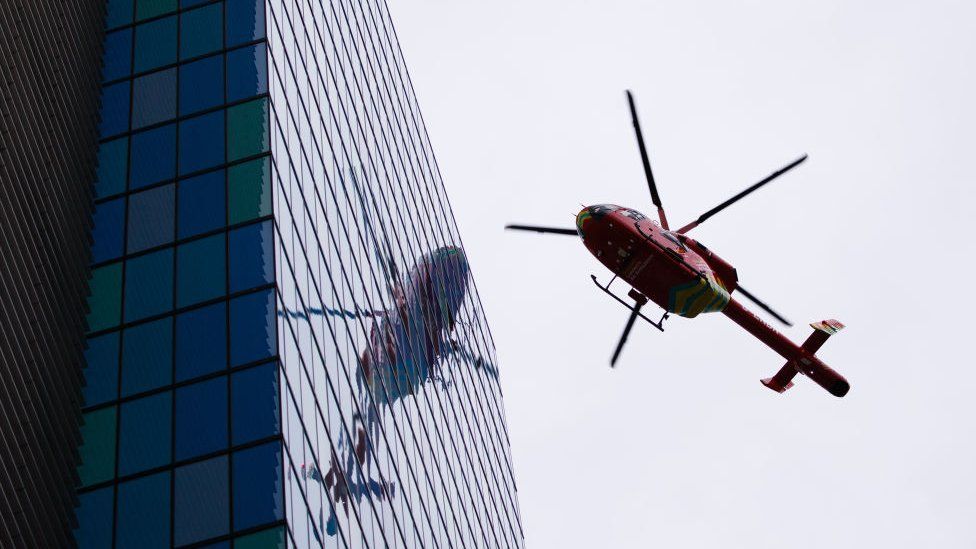 A record number of seriously-ill Covid patients are being transferred from over-stretched hospitals because of a lack of bed space, new figures show.
Around 1 in 10 patients admitted to intensive care are now being sent to a different site, according to the body which audits critical care services.
In total, 392 Covid patients have been transferred this year.
This is more per week than in April 2020 during the the first wave of the pandemic.
NHS England said it has "tried and tested" plans in place to manage significant pressure on hospitals.
More than 4,000 Covid patients are thought to be receiving treatment in an intensive care unit in England, Wales and Northern Ireland, according to ICNARC.
"Transferring patients is not something we take lightly at all," says Dr Stephen Webb, an ICU consultant and president of the Intensive Care Society.
"Many intensive care units are under significant strain at the moment, [so] they've had to spread into new geographical areas, and staff are being stretched to look after more patients than they would normally look after."
Increasing pressure
The number of patients in intensive care with Covid is higher than at the peak of the first wave of the pandemic in April 2020, when 3,982 patients were being looked after.
Separate figures showed 161 Covid patients are currently being treated in critical care in Scotland.
Covid patients in intensive care tend to be younger than those admitted to a standard hospital ward, with an average age of 60 in the second wave of the pandemic.
Pressure on intensive care units caused by record admissions has forced NHS Trusts in England, Wales and Northern Ireland to transfer 392 sick patients to another hospital for comparable care since 1 January.
Most transfers are between hospitals geographically near each other within 18 so-called critical care networks.
But some patients are thought to have been sent longer distances with hospitals in Kent transferring to Devon, Bristol and Leeds.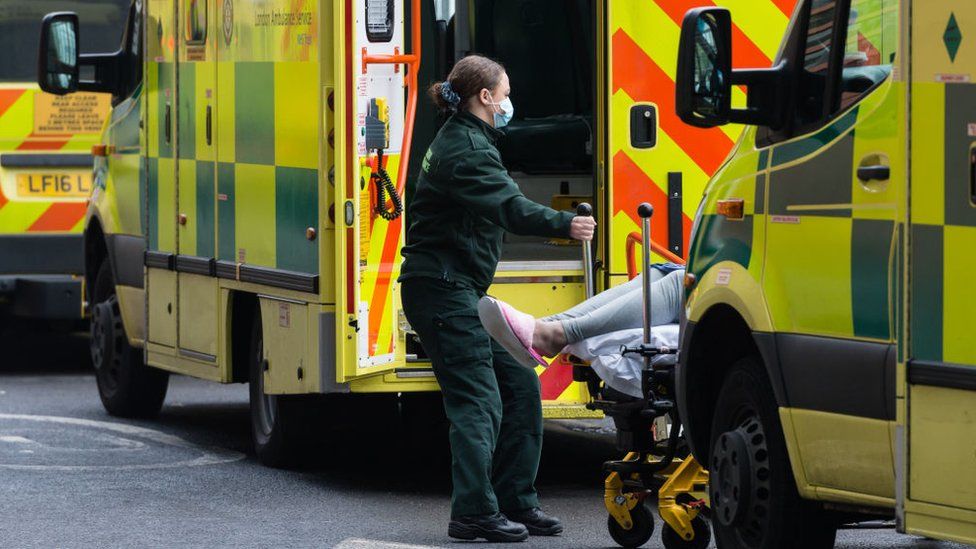 A coastguard helicopter was used last week to fly a Covid patient from the Isle of Wight to Southampton to relieve pressure on the local hospital's intensive care unit.
"In London, the South East and East of England, some patients are moving quite long distances, sometimes over two hours to other regions," said Dr Webb.
"We expect those longer distance transfers may need to continue for some time to come."
Extra beds
Moving patients between ICU units is not unusual in a normal year. There were 2,919 unplanned transfers in England, Wales and Northern Ireland in 2016/17, according to ICNARC.
But guidance for intensive care doctors says transfers for capacity reasons alone should only take place as a last resort.
The latest figures from Public Health England showed average critical care occupancy is at 86%, and as high as 92.7% in London.
These figures are just above the peak of occupancy seen last year, but this doesn't account for the fact that there are a lot more beds open compared to 2020.
English hospitals have laid on an extra 1,780 critical care beds since November, partly by converting standard wards, taking total capacity to around 5,992.
Research from University College London earlier this month found Covid-19 patients in England's busiest intensive care units were 20% more likely to die between April and June last year.
The increased risk was equivalent to gaining a decade in age.
'Less strain'
"Moving to a unit where there's less strain should bring improved standards of care, not only for that patient but also for other patients in that unit under stress," said Dr Webb.
"We undertake these transfers with a great deal of thought and consideration and make sure the family are fully informed of the benefits and the risks of the transfer."
There are some signs that the transfer process is starting to cause difficulties for some hospitals in lower infection areas.
The chief executive of two hospitals in Newcastle said this week they may be forced to stop taking patients from elsewhere in England due to pressure on local services.
In a statement, a spokesperson for NHS England said: "The NHS has tried and tested plans in place to manage significant pressure and this has always included mutual aid practices where hospitals work together to provide the very best care for patients.
"The NHS used the summer months to significantly increase ICU capacity by over 50% and it remains vital that people continue to follow government guidance and do everything possible to reduce transmission of the virus."
Published at Fri, 22 Jan 2021 14:26:02 +0000