Covid: Nearly 2m UK people got first Covid vaccine in last week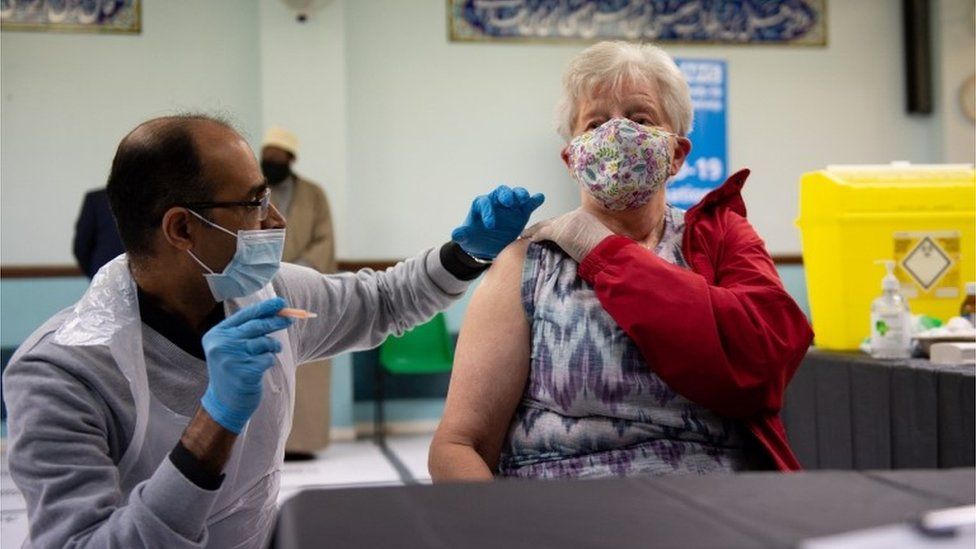 Nearly two million people in the UK have received their first dose of a Covid vaccine in the past week, government figures show.
By the end of Tuesday 4.61 million people had received their initial jab, up from 2.64 million the week before.
Matt Hancock told MPs: "We're giving 200 vaccinations every minute".
But Boris Johnson warned there were "unquestionably going to be a tough few weeks" while the vaccine was rolled out and urged people to observe lockdown.
Speaking during a visit to flood-hit Didsbury in Manchester, the prime minister said it was still "too early" to say when some lockdown restrictions could be lifted in England.
He said figures from an Imperial College London survey showed the new variant of the virus to be "not more deadly but it is much more contagious and the numbers are very great".
The
study suggests there was a rise in infections in the community at the start of the latest lockdown in England.
How will the UK vaccinate millions of people?
When will I get a Covid vaccine?
Religious beliefs causing 'real fear' over vaccine
Meanwhile, NHS England figures show one in 10 major hospital trusts had no spare adult critical care beds last week.
The UK recorded another all-time high of daily coronavirus deaths on Wednesday. A further 1,820 people died within 28 days of a positive Covid test, according to government figures – taking the total number of deaths by that measure to 93,290.
Sixty-five new vaccination centres have opened in England, including a mosque in Birmingham and a cinema in Aylesbury.
Two million jabs a week are needed for the government to achieve its target of offering a vaccine to all over 70s, the extremely clinical vulnerable and health and care workers by mid-February.
'Huge endeavour'
Giving a statement in the Commons, Health Secretary Mr Hancock said the country had an "immense infrastructure in place that, day by day, is protecting the vulnerable and giving hope to us all".
Describing this as a "huge feat", he said the government was making "good progress" towards its target.
Asked about difficulties in getting vaccines to rural areas and whether the Oxford-AstraZeneca vaccine could be prioritised for these as it is easier to store, Mr Hancock said the challenge was that supply was "lumpy", with manufacturers working "as fast as possible".
Shadow health secretary Jonathan Ashworth said new variants of the virus showed vaccination needed to go "further and faster".
He asked if there was a contingency plan in place in case vaccines needed to be redesigned to contain mutations.
Mr Hancock said the early indications were that the new variant was dealt with by the vaccine "just as much as the old variant".
He also said 63% of residents in elderly care homes had now received a vaccine.
Former Conservative health secretary Jeremy Hunt, who is now chairman of the Common's Health Select Committee, asked about establishing "quarantine hotels" to combat new strains, as well as whether there should be further restrictions on household mixing outside bubbles and mandating FFP2 masks in shops and on public transport.
Mr Hancock said the clinical advice was that the current guidelines on personal protective equipment (PPE) were "right and appropriate" and said "very significant measures" had been brought in for international travel.


TESTING: How do I get a virus test?
LOOK-UP TOOL: How many cases in your area?
YOUR QUESTIONS: We answer your queries
THE R NUMBER: What it means and why it matters
TEST AND TRACE: How does it work?


In Northern Ireland more than 160,000 people have received a first vaccine dose, while in Wales, where more than 175,000 people have received a jab, people waiting for theirs have been urged to show "patience" and "perspective".
Scotland's First Minister Nicola Sturgeon insisted her country's vaccine programme was not lagging behind, during First Minister's Questions on Wednesday.
In England the rollout of the vaccine started with people aged 80 and over. In some regions where the majority of these have been vaccinated, the programmes are now moving on to the over 70s.
Home Secretary Priri Patel, who will lead a Downing Street press conference later, said ministers were working to ensure police and other front-line workers are moved up the priority list, while Education Secretary Gavin Williamson told BBC Breakfast he hoped teachers and support staff could be moved up the list.
Meanwhile, pumps and sandbags were brought in to protect supplies of the Oxford-AstraZeneca vaccine from the risk of flood water at a warehouse in Wrexham, north-east Wales.
Young people in Wales have been asked to share their experiences of the pandemic in a survey by the nation's Children's Commissioner.

DOCTOR CHATTERJEE: With another lockdown in place, how can we manage our health and wellbeing without feeling overwhelmed?
RADIO 1 BREAKFAST BEST BITS: What's Greg James been up to?

Published at Thu, 21 Jan 2021 13:01:48 +0000