Covid: Positive antibody tests doubled since autumn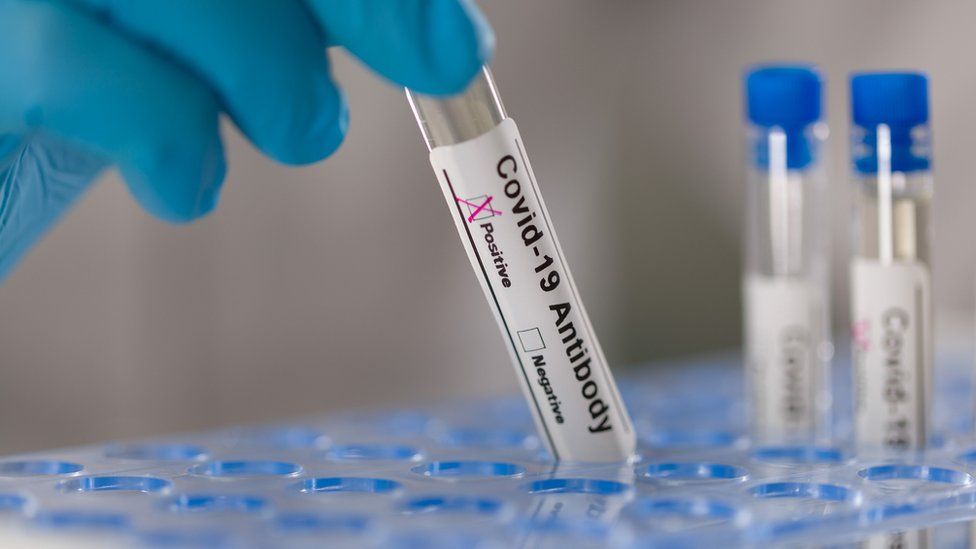 About one in 10 people across the UK tested positive for Covid-19 antibodies in December, roughly double the October figure, data has shown.
Estimates from the Office for National Statistics suggest between 8% of people in Northern Ireland and 12% of people in England showed signs of past Covid infection.
In October, antibody positivity ranged from 2% to 7% around the UK.
And 6,586 Covid deaths were
registered in the UK in the week to 8 January.
That brings the total registered so far close to 96,000.
Nearly a quarter of deaths were people living in care homes – a disproportionate impact on a group of people which accounts for less than 1% of the population.
Back in July, though, care home residents accounted for 40% of deaths.
The ONS regularly tests a representative sample of the population, both for current infection and for antibodies indicating a past infection.
People taking part in the survey are tested whether or not they have had symptoms.
This is used to estimate how common both the virus and antibodies are in the population as a whole.
Antibodies are proteins in the blood which fight off specific infections.
They are developed if somebody catches an infection and their body fights it off, or if they have been vaccinated.
Yorkshire and the Humber topped the chart with 17% of people having positive antibodies, followed by London.
Prof Lawrence Young, a virologist at Warwick Medical School, said: "This study shows that infection with the SARS-CoV-2 virus is much more widespread in the UK than previously realise, with around 1 in 10 people estimated to have been infected by December 2020.
"The implications are that infection rates increased significantly between November and December."
Having Covid may 'protect for at least 5 months'
Can you catch Covid twice?
But Scotland had a considerably smaller growth in antibodies than the rest of the UK, rising from 7% to 9% of the population.
One in eight (12%) people in England had antibodies, up from 7%
One in 10 (10%) people in Wales had antibodies, up from 4%
One in 11 (9%) people in Scotland had antibodies, up from 7%
One in 13 (8%) people in Northern Ireland had antibodies, up from 2%
The fact that more people show signs of having at least some protection against Covid-19 is consistent with the dramatic rise in infections during that period.
But we know that antibodies from natural infection can fade.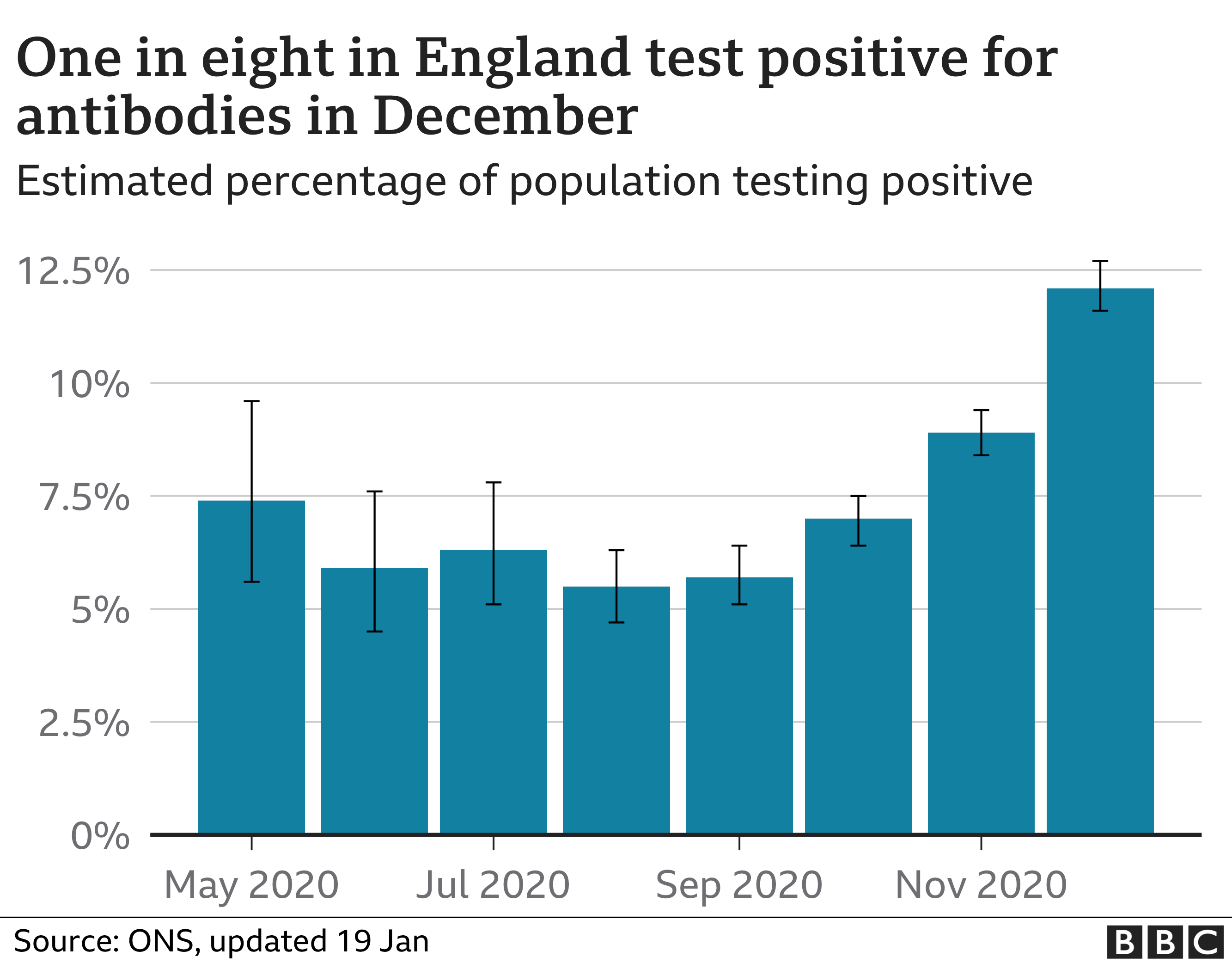 In England, the ONS said, positive antibody tests equated to 5.4 million people aged over 16 having signs of past infection.
That does not tell you the total number of people infected, however, but acts as a snapshot in time.
In London, about 16% of people had antibodies in December, up from 11% in October. But at the last peak in May, an estimated 15% of the population had antibodies. This proportion fell, as detectable antibodies recede with time.
Exactly what this means for someone's likelihood to become infected again, however, is not fully known.
It also remains to be seen how long vaccines will protect people for, before they need a booster jab.
But Public Health England data suggests natural immunity provides at least five months' protection on average, and vaccines often give better protection than natural immunity.
More than 4 million people in the UK have been given their first dose of the vaccine.
Prof Janet Lord, director of the Institute of Inflammation and Ageing at the University of Birmingham, urged caution among those who have already been vaccinated.
Asked whether people who have received the jab can hug their children, she told BBC Radio 4's Today programme: "I would certainly advise not to do that at the moment because, as you probably know, with the vaccines they take several weeks before they are maximally effective.
"It's really important that people stay on their guard even if they've had that first vaccination."
Published at Tue, 19 Jan 2021 12:54:03 +0000