Covid-19: Beating September vaccine target for all over-18s would be a 'bonus' – Raab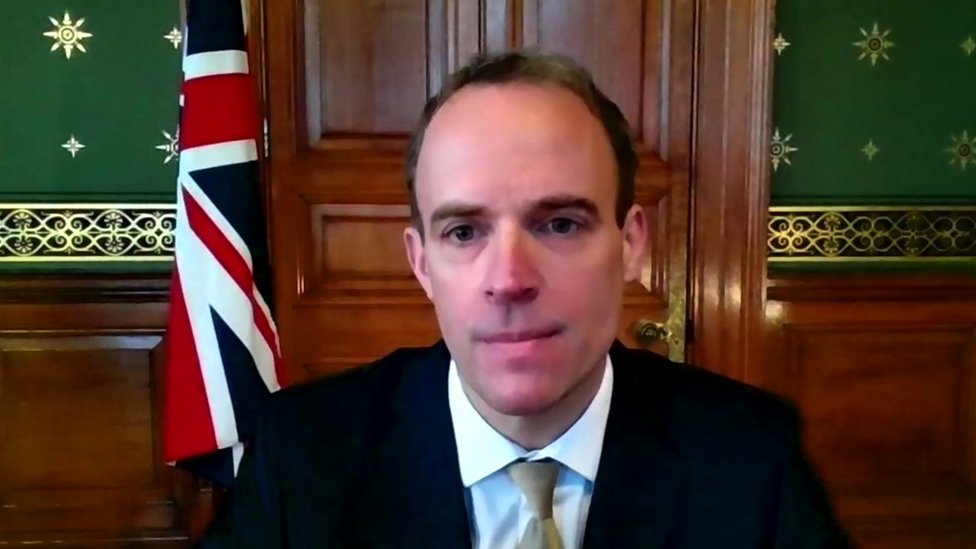 The UK is on track to meet its target of offering a vaccine to every adult by September, and beating that would be a "bonus", the foreign secretary said.
Dominic Raab reiterated that the plan was to deliver 15 million jabs by mid-February and 17 million more by spring.
Asked about reports that every adult could be vaccinated by the end of June, he told the BBC: "If it can be done more swiftly, that's a bonus."
It comes as 24-hour vaccine centres are due to be piloted in the next ten days.
Mr Raab told the Andrew Marr Show that he was not aware of any delays to supplies from manufacturers Pfizer and AstraZeneca and said he was "confident we have the flexibility" to deliver enough doses.
"It is an enormous challenge. We are meeting it," he said. "But we take nothing for granted."
Saturday's figures showed a further 324,233 people received their first of two vaccine doses across the UK, taking the total above 3.5 million.
More people have now been vaccinated than have had positive tests since the pandemic began, with
ten more mass vaccination sites due to open in England on Monday.
When, where and how will I get my Covid vaccine?
EU nations hit by delayed Pfizer vaccine deliveries
How worrying are the new coronavirus variants?
Mr Raab said the risk that new variants could prove resistant to vaccines or more deadly meant the UK had to take the "precautionary approach" of requiring all travellers to quarantine on arrival from Monday, closing the travel corridors which previously been exempt.
"We don't want to find in two or three weeks time that our vaccine roll out is imperilled because we haven't taken the precautionary measures on travel corridors," he said.
Checks by Border Force on the passenger locator forms filled out on arrival would be increased, Mr Raab said, as would the follow-up calls by Public Health England intended to ensure people were isolating for up to 10 days.
Asked whether the UK would introduce quarantine hotels to ensure people maintained their isolation, he said all potential measures were under review but there was a challenge in the "workability" of the proposal.
'Extreme pressure'
NHS England chief executive Sir Simon Stevens told the BBC some hospitals would open for vaccinations 24 hours a day, seven days a week on a trial basis in the next 10 days.
But he said hospitals and staff were under "extreme pressure", saying the pandemic was a "unique event" in the NHS's 72-year history.
Someone was being admitted to hospital with coronavirus every 30 seconds, Sir Simon said, and since Christmas patient numbers had risen by 15,000 – the equivalent of 30 full hospitals.
He said the number of critical care beds had been increase by 50% since the first wave of the pandemic but a "very small number" of patients were still having to be transferred between regions when hospitals were full.
There were sometimes three patients for every nurse in a critical care unit rather than the one-to-one ratio normally expected, he said. But they were receiving the "highest quality care possible".
Published at Sun, 17 Jan 2021 10:54:50 +0000