Covid: 'No question' restrictions will be tightened, says Boris Johnson
Boris Johnson has said there is "no question" the government will announce stricter measures to prevent the spread of coronavirus "in due course".
He predicted "tough, tough" weeks to come, with more than three-quarters of England's population already under the highest – tier four – restrictions.
On Sunday, the UK recorded more than 50,000 new confirmed Covid cases for the sixth day in a row.
Labour is calling for new England-wide restrictions to come in immediately.
Leader Sir Keir Starmer said it was "inevitable" more schools would have to close to lessen the spread of coronavirus.
82-year-old first to get Oxford Covid vaccine

PM: Send children to school on Monday
What could 'tougher' coronavirus measures mean?
UK coronavirus cases up by 54,990 on Sunday
An additional 454 deaths within 28 days of a positive test result were reported across the UK on Sunday, meaning the total by this measure is now above 75,000.
Health Secretary Matt Hancock told BBC Radio 4's Today programme the "old tier system" in England was "no longer strong enough" to contain increasing infections.
Hospitals are coming under increasing pressure, as cases mount up.
Asked what further restrictions would be put in place, Mr Johnson said: "What we have been waiting for is to see the impact of the tier four measures on the virus and it is a bit unclear, still, at the moment.
"But if you look at the numbers, there is no question that we are going to have to take tougher measures and we will be announcing those in due course."
He said the faster-spreading coronavirus variant that has developed in south-eastern England required "extra-special vigilance".



The old tier system is no longer enough…the figures are only heading in one direction.
These are the words of the health secretary and a health minister.
Boris Johnson says stricter measures are coming, which immediately sparks the questions "when?," and "what are you waiting for?"
Downing Street wants to push a tougher message on adherence to the current rules in England while it assesses the latest Christmas data, but is coming under growing pressure to act sooner.
With Nicola Sturgeon about to go further in Scotland and the Labour leader calling for an immediate national lockdown, it's difficult to see how the prime minister can wait much longer.


BBC science editor David Shukman said new measures could include limits on outdoor exercise and a return to the two-metre (rather than one-metre-plus) social distancing rule, as applied during the first lockdown last year.
Speaking on a visit to Chase Farm Hospital in north London, the prime minister argued that closing primary schools must remain a "last resort", adding that the "risk to kids" was "very, very small".
Secondary schools in England are currently closed until 18 January, except for pupils in their final GCSE and A-level years, who are due to return on 11 January.
Asked whether they could remain closed, Mr Johnson said: "We are keeping things under review."
But former Health Secretary Jeremy Hunt urged the government to close all schools and UK borders "right away", while banning "all household mixing".
The Conservative MP, who now chairs the Commons Health Committee, said these restrictions should be "time-limited" to "12 weeks or so", after which the roll-out of vaccines would provide "light at the end of the tunnel".
More than 500,000 doses of the Oxford-AstraZeneca Covid-19 vaccine are now available for use, with the Pfizer BioNTech jab having been issued since early last month.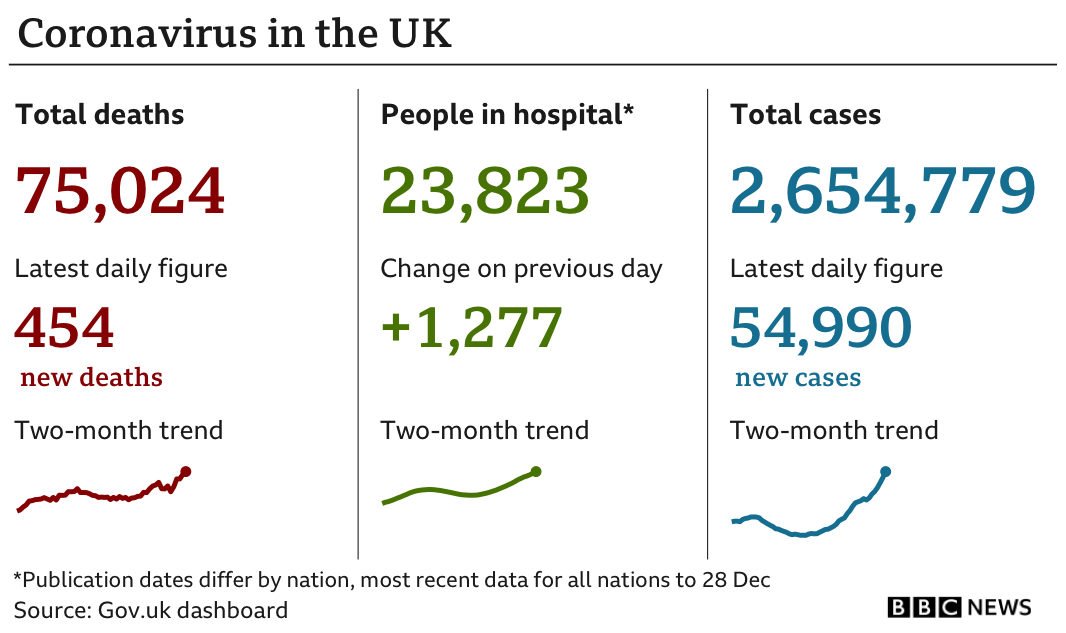 Some 78% of the population of England is now in tier four, under which non-essential shops are closed and people can only leave their homes for a certain number of reasons.
The Scottish government meets later to consider "further action", with all of mainland Scotland currently under its own level four restrictions – only some islands are under less stringent tier three measures.
Wales entered a nationwide lockdown on 20 December, while Northern Ireland is in the second week of a six-week lockdown that began on Boxing Day.


SCHOOLS: What will happen if children catch coronavirus?
TESTING: How do I get a virus test?
JOBS: How will I be kept safe at work?
THE R NUMBER: What it means and why it matters


In another development, an academic has said there is a "big question mark" over whether a vaccine developed at Oxford University will be as effective against a new variant of the virus that has emerged in South Africa.
Prof Sir John Bell, Regius professor of medicine at the university, said the team there were currently investigating this question "right now".
He added it was "unlikely" the variant would "turn off the effect of vaccines entirely", and in any case it would be possible to tweak the vaccine in around four to six weeks.
But Matt Hancock told Today he was "incredibly worried" about the South African variant, saying: "This is a very, very significant problem."
"We have shown that we are prepared to move incredibly quickly, within 24 hours if we think that is necessary, and we keep these things under review all the time," added the health secretary.

BEST OF 2020: Barack Obama reads from his new and compelling presidential memoir
BEST OF 2020: Grounded with Louis Theroux

Published at Mon, 04 Jan 2021 12:45:44 +0000