GOP Lawmaker Accuses Trump and 'Grifters' of Pushing Electoral Challenge to Raise Funds – Newsweek
Illinois Republican congressman Adam Kinzinger accused President Donald Trump and fellow GOP representatives who seek to challenge the Electoral College vote on January 6 of participating in an "utter scam" meant to "raise money and gain followers."
"All this talk about Jan 6th from@realDonaldTrump and other congressional grifters is simply explained: they will raise money and gain followers by blaming everyone else knowing full well they can't do anything. It's sad, and an utter scam," Kinzinger tweeted Saturday.
The GOP lawmaker's statement comes amid reports that Representative Mo Brooks and Senator Tommy Tuberville will challenge the Electoral College vote when Congress convenes in January.
The two lawmakers have previously suggested they would use the Electoral Count Act of 1877 in a last-ditch effort to challenge the results of the 2020 presidential election.
If Brooks and Tuberville successfully band together to oppose the electoral vote, the Senate and House of Representatives would be required to hold a two-hour debate and then vote on whether to approve or deny the objection. For the process to move forward, both chambers would have to agree on the objection in order to throw out contested electoral votes.
Kinzinger's statement joins a growing list of congressional Republicans who view the attempt as futile and politically damaging.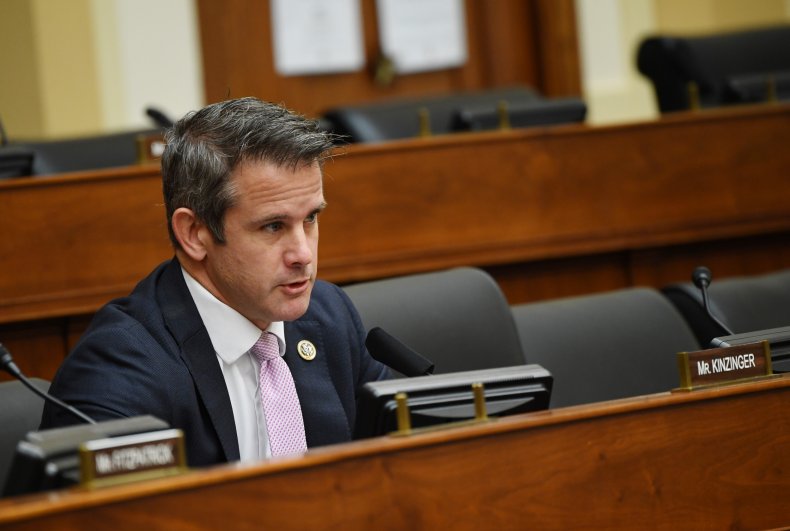 During a December 15 conference call, Senate Majority Leader Mitch McConnell reportedly warned that objecting to counting certain states' electoral votes on Jan. 6 would be a political mistake, especially for senators up for reelection.
Senate Republican Whip John Thune told CNN on Tuesday that opposing the vote would make zero headway.
"I think the thing they got to remember is, it's not going anywhere. I mean in the Senate, it would go down like a shot dog. I just don't think it makes a lot of sense to put everybody through this when you know what the ultimate outcome is going to be," he said.
Thune has also stated that GOP leaders want to "encourage all of our members—new members included—that we got a lot of work ahead of us and that rehashing this takes a lot of time and energy and political capital that could best be used working on an agenda for next year," according to The Hill.
The Electoral College voted to officially confirm Joe Biden as the next president of the United States on December 14.
Challenging that vote in the upcoming congressional meeting will be the final attempt for Trump and his allies to overturn the election results, after months of failed lawsuits and unsubstantiated claims that the presidential race was riddled with voter fraud.
Brooks told CNN on Monday that a "double digit" number of lawmakers attended a meeting at the White House with President Trump in order to strategize a plan.
"In a general sense, how it looks like we're headed, it looks like we're gonna have valid objections filed to the number of states on January 6," Brooks said.
On Saturday, congresswoman-elect and stringent Trump supporter Marjorie Taylor Greene issued her support for the movement and slammed Kinzinger for tweeting against fellow Republicans.
"How does it feel to be quote tweeted with resounding approval by Democrats & Progressives while you call yourself 'Republican' & say #RestoreOurGOP?" she tweeted.
"75+ million 'grifters' know @realDonaldTrump's election was stolen. Don't worry, traitors @ProjectLincoln will donate to you," she added.
Newsweek reached out to Kinzinger for additional comment but did not hear back in time for publication.
Published at Sat, 26 Dec 2020 18:36:03 +0000