Covid-19: UK bans travel from South Africa over variant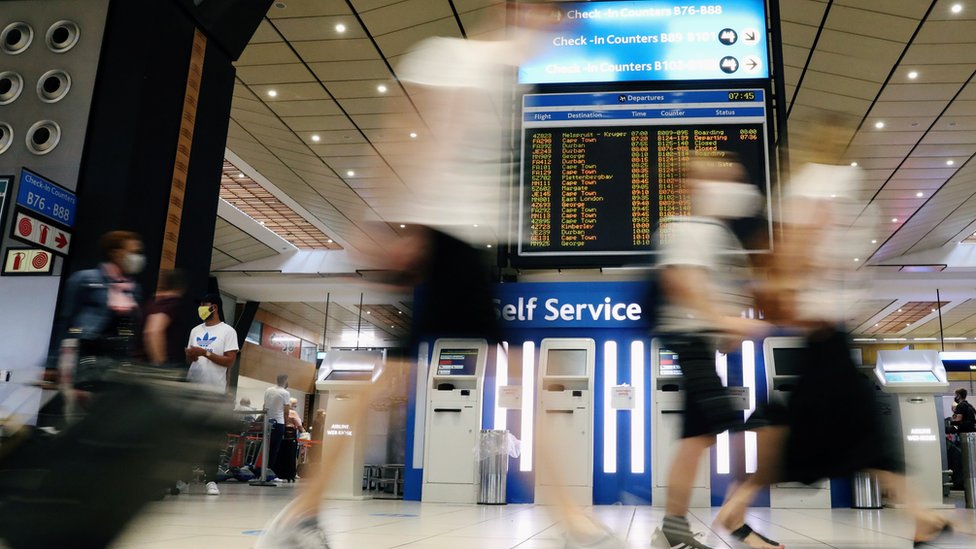 Travel by visitors to the UK from South Africa has been banned amid concern over a variant of Covid-19 linked to the country.
People who have been in or transited through South Africa in the last 10 days are no longer allowed into the UK.
The new rule does not apply to British and Irish nationals – but they will have to self-isolate.
The variant was found in London and north-west England, both in contacts of people who had been in South Africa.
The Department for Transport said the ban reflects the "increased risk" from the new variant, but will be kept under review.
Anyone required to quarantine will need to do so for 10 days, along with members of their household.
UK visa holders and permanent residents arriving from South Africa will not be affected – but they will also need to self-isolate.
New coronavirus variant: What do we know?

Six million people to enter tier 4 on Boxing Day
Covid variant find 'due to work of UK scientists'
What's happening to the numbers in Africa?
New York City orders international visitors to quarantine
The government had already ordered anyone in the UK who has travelled to South Africa in the past fortnight, and anyone they have been in contact with, to quarantine immediately, along with their households.
The travel ban came into effect at 09:00 GMT on Christmas Eve, after the government announced six million more people in England were being moved into the highest tier four restrictions on 26 December.
At a Downing Street press briefing on Wednesday, Health Secretary Hancock said the new variant linked to South Africa was "highly concerning".
Any exemptions to quarantine usually in place – including for those related to employment – do not apply, he added.
The variant was detected for the first time in the UK on Tuesday.
Scientists in South Africa say it is still being analysed, but the data are consistent with it spreading more quickly.
It shares some similarities with another new Covid variant that has already been detected in the UK, although they have evolved separately.
Both have a mutation – called N501Y – which is in a crucial part of the virus that it uses to infect the body's cells.


LOCKDOWN LOOK-UP: The rules in your area
FACE MASKS: When do I need to wear one?
TESTING: How do I get a virus test?
SYMPTOMS: What are they and how to guard against them?
LOOK-UP TOOL: How many cases in your area?


On Wednesday, a further 39,237 people in the UK tested positive for virus – an all-time high – and there were 744 deaths within 28 days of a positive test, according to government figures.
However, cases were thought to be higher in the UK during the spring peak when testing was much more limited.
Meanwhile, more than 6,000 lorries are still being held in Kent in south-east England, with drivers being tested for Covid-19 before they are allowed to cross the Channel. France had imposed a temporary travel ban earlier in the week over concerns about the new UK variant of Covid-19.
Transport Secretary Grant Shapps said he agreed with his French counterpart that the border at the Eurotunnel and Dover and Calais will remain open over Christmas "to help hauliers and citizens return home as soon as possible".
More than 50 other countries, including Germany, Italy, India and Pakistan, are continuing to block travellers from the UK.
On Thursday, China became the latest country to suspend flights to and from the UK.

IDRIS ELBA MEETS PAUL McCARTNEY: Listen to the exclusive interview now…
CHRISTMAS WITH BBC FOOD: All you need to know to make a great Christmas feast

Published at Thu, 24 Dec 2020 09:09:57 +0000