COVID-19 'levelling' but at a high plateau – Times Colonist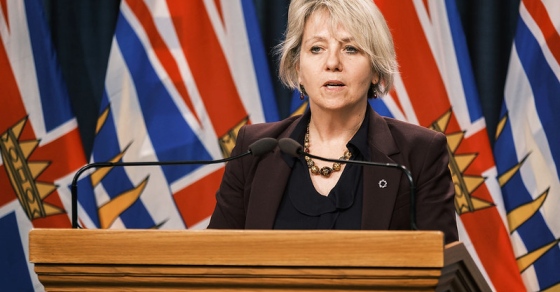 B.C. saw 1,667 new cases of COVID-19 infection and 41 new deaths over the last three days, as officials say they are now seeing numbers "levelling" – but at a high plateau.
Provincial health officer Bonnie Henry said there have been 713 total COVID deaths in B.C. since the pandemic began in March, and the recent spike in deaths reflects the coronavirus' entry into a number of long-term care facilities in the province.
Henry added that officials are tracking the new strand of mutated COVID-19 that has emerged in Great Britain, but there has so far been no evidence that the new variation has entered B.C. or Canada.
Henry noted that – from what she has seen so far – the new COVID-19 variation that has shut down air links in and out of Great Britain has as many as 17 new mutations, but that isn't unusual for an RNA virus like COVID.
She added that while the new variation appears to be more infectious, it does not seem to increase severity of illness or diminish the accuracy of COVID tests.
"We have seen from the very beginning with this virus that it does mutate as we expect with RNA viruses in particular," Henry said. "And this one mutates relatively slowly – we did see the differences between people who brought their illnesses from Washington state versus from Iran or China.
"We've had a number of meetings this weekend to try to understand the impact of this – and whether we've seen this in Canada," she added, noting the travel restrictions placed on U.K. flights on Sunday. "This pause gives us that time to put in protective measures and work together to determine what those measures will be."
B.C. Health Minister Adrian Dix added that the province has received the newly announced proposal from the National Hockey League to start the 2021 season with a Canadian-teams-only division that includes the Vancouver Canucks.
Dix said the plan is being reviewed in co-ordination with provincial health officers in the four other provinces with NHL teams, and B.C. will release its recommendations in the "coming days."
He did note, however, that the new proposal is different from that of the "bubble" model proposed earlier this year to complete the 2020 season – and COVID-19 numbers were much lower at that time.
Given the higher infection rates currently and the NHL's plan to have teams travel from city to city, Dix described the current plan as a "step back" in terms of protection from the bubble model that was deemed successful in completing the 2020 season.
Dix also said the province wants to be fair to other hockey teams and players in its recommendations, not wanting the NHL clubs to receive excessive leniency in being allowed to play in conditions where other leagues may be banned.
Officials have confirmed that COVID-19 vaccines have arrived in every B.C. health jurisdiction, and plans are being developed in terms of who are eligible to get the shots first.
In the meantime, both Dix and Henry appear reluctant to shut down ski hills as Ontario plans to in its upcoming lockdown. Henry reiterated people need to do their part in staying local, but stopped short of saying if a mandated closure of ski hills may be coming.
The response comes after Big White in the Okanagan reported an outbreak recently that forced the cancellation of non-local bookings.
Published at Mon, 21 Dec 2020 23:51:00 +0000