How tech can just about save Christmas Day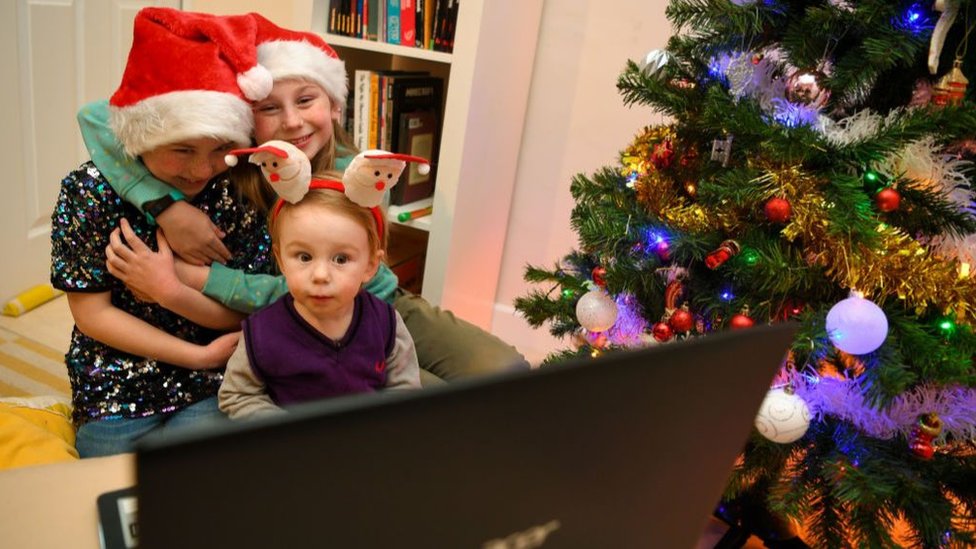 Christmas 2020 is not what any of us would have planned. Covid-19 restrictions and travel bans suddenly imposed on the UK have left millions of Brits cut off from one another and facing a potentially depressing Christmas Day.
These may be hard times, but technology can help.
It has its flaws. It's not accessible to everybody. But the BBC Tech team has pulled together some ideas for digital solutions to aid us in this bleak, midwinter moment.
Zoom, Facetime, Google Meet and others might seem an obvious alternative when meeting in-person isn't possible, but not everyone finds these virtual gatherings rejuvenating.
Thanks to the pandemic, many of us have spent long hours on work-based video conferences during the year, notes Sascha Miller, who is involved in the Germ Defence project, which provides information about Covid-19.
"It's actually quite intense," she notes. Christmas Day video calls might be best kept short and sweet but scattered throughout the day, she suggests.
"I think the smaller bursts will keep you more connected in some ways than trying to have an hour-long conversation."
Families could try to make these gatherings even more fun by setting up a Zoom grotto or similar, with fairy lights or the tree in the background, and a lamp behind the camera to light up people's faces.
Even on a normal Christmas Day, conversation among families can stutter – there's a reason we are so used to turning to board games and pursuits like charades. This year, it's time to take seriously the virtual alternatives.
Among Us is one example, a game for four to 10 players that can take place over Wi-Fi or online. Participants must work out which member of the group is acting as an impostor on a space ship.
You might also try SpeedQuizzing, a fast-paced game for smartphone users that is designed to prevent players looking up the answers on Google. The educational platform Kahoot! also offers online quizzes.
And sites such as Jackbox allow for remote participation in a range of party and trivia games.
Streaming of a White Christmas
Huddling up together on the sofa and watching a classic Christmas movie is, unfortunately, one way you might end up spreading a respiratory virus. But even this can be safely done with other households, says BBC News viewer Katie Reid.
She and her partner enjoy starting a TV programme together at the exact same moment and keeping a phone line open so they can chat and absorb it in unison.
"One of us mutes the TV sound and adds subtitles so we can chat while watching without too much background noise," she wrote on Twitter.
Church-goers may also find that their parish or another nearby church is making a Christmas service available via YouTube.
And there are many arts events staged by local production companies which will be accessible online over the Christmas period this year.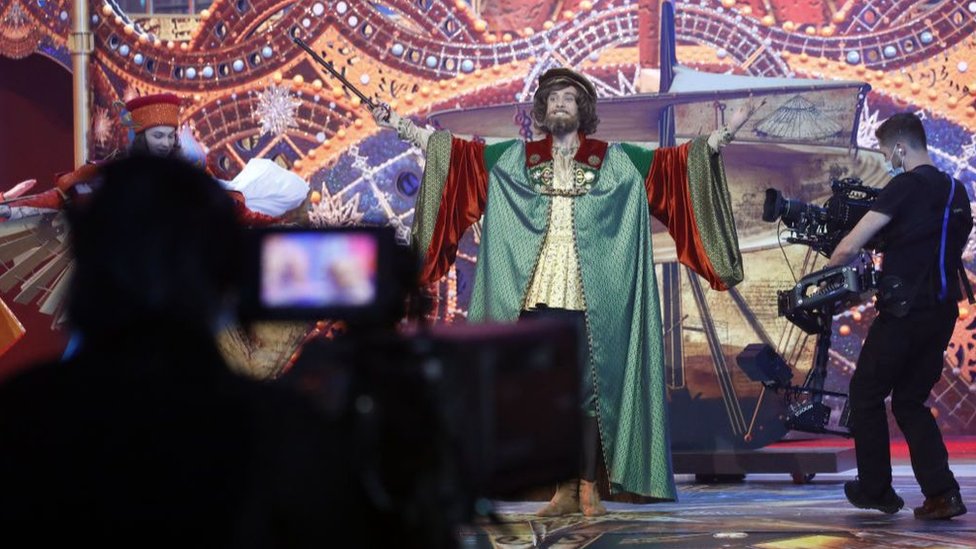 Ben Wood, analyst at CCS Insight, and his family, have bought a virtual ticket to a Boxing Day panto at their local theatre.
"We'll be watching the stars of Aladdin broadcast live into our living room," he says, referring to the event put on by Corn Exchange Newbury.
And Queer House Party, a DJ collective based in London, is throwing a Christmas Day, LGBT+ themed virtual gathering.
Organising a sing-song online can be tricky, since video conferencing services often suffer from latency, perhaps making it difficult to synchronise everyone's angelic harmonies.
However, there are ways around this. Family members or groups could take it in turn singing verses to their favourite carols and songs, or they could participate in online events such as the one planned by Rock Choir, a UK-wide collective of choirs.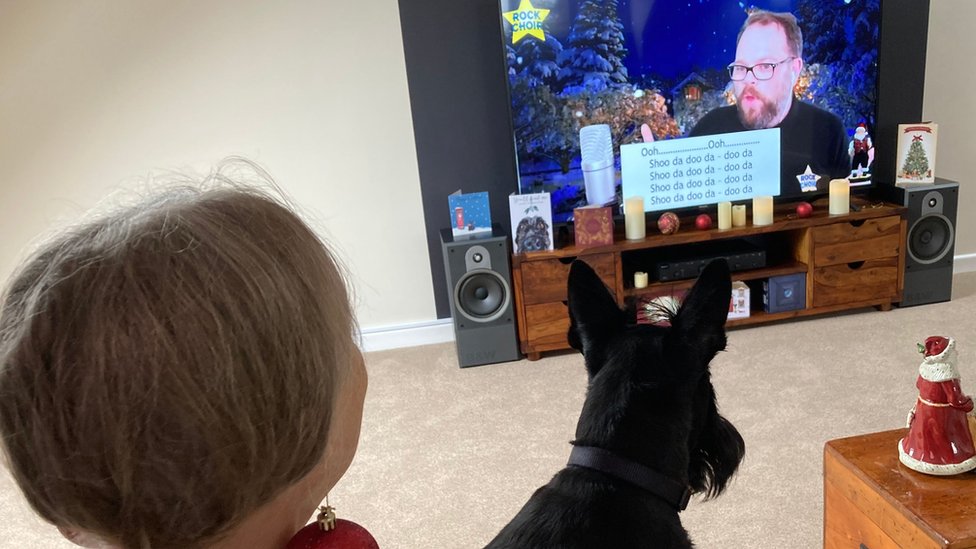 Leader Thomas George will broadcast a live singalong from 09.30 on Christmas Day, via YouTube. Song lyrics are to appear on the screen, so that families can join in at home and send messages to one another on the YouTube chat.
We may find ourselves with more food than we need in the house this Christmas, since many households will have axed plans to bubble with others.
Mr Wood says we can use apps like Olio to share surplus items with nearby folk in need.
And when it comes to our own presents, we might decide to schedule a quick video call of moments when stockings are opened or presents unwrapped.
"One bit of feedback we've had is that some older relatives don't find this modern technology easy – they just don't have it, smartphones and things like that," says Ms Miller.
Don't forget about the good old telephone, she suggests. A few phone calls with elderly relatives or friends who have found themselves isolated could go a long way to lifting their spirits this Christmas.
Mr Wood was cheered to receive a WhatsApp message from a neighbour in her 70s, who suggested the whole street come out to their driveways on Christmas Day and raise a toast to one another. Simple, but effective.
"I thought that was a lovely one," he says.
Published at Mon, 21 Dec 2020 18:06:15 +0000