Long Covid: Hospital patients to get checks at six weeks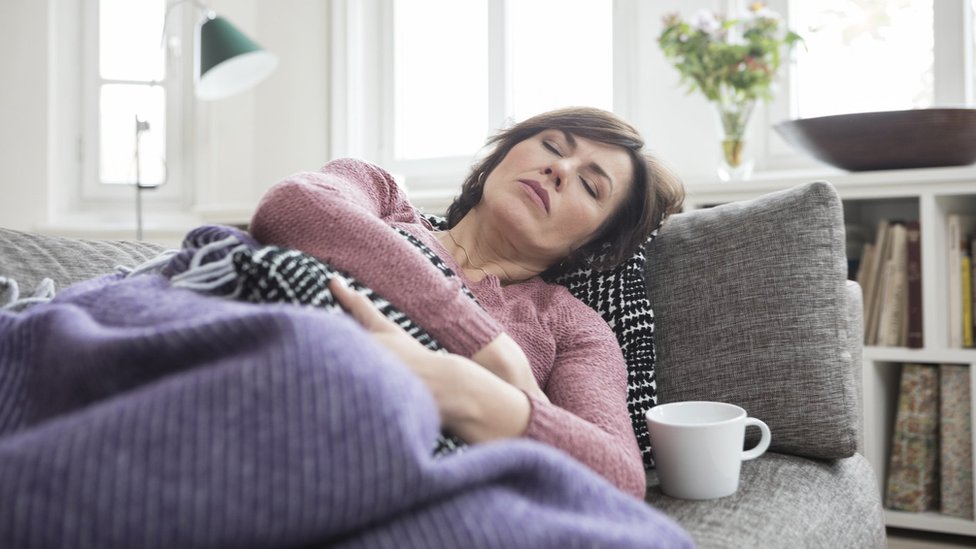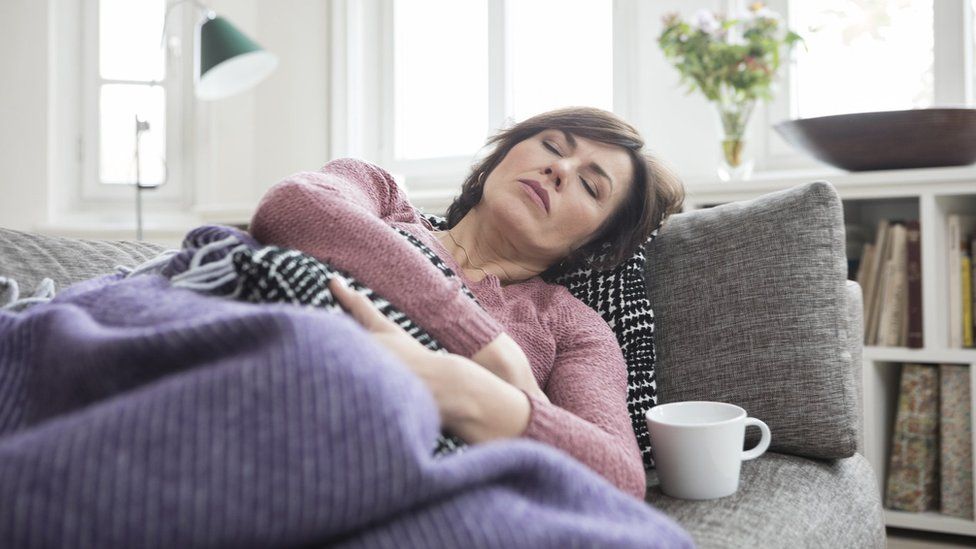 Patients in hospital with coronavirus should be offered a follow-up six weeks later to check for "long Covid" symptoms, doctors are being advised.
The National Institute for Health and Care Excellence (NICE) says the longer-term effects can be "significant".
It has identified 28 of the most common symptoms, from breathlessness and dizziness to chest pain.
"Because this is a new condition, there is still much that we don't know about it," said Paul Chrisp of NICE.
The NHS has opened 69 specialist clinics across England to offer rehabilitation to people recovering from the disease.
What is long Covid?
There is no single medical definition for long Covid. Two people recovering from an infection can have very different experiences.
New guidelines written by NICE, along with its Scottish counterpart SIGN and the Royal College of GPs, list more than two dozen common long-term symptoms including breathlessness, a cough that won't go away, joint pain, muscle aches, hearing problems, headaches, loss of smell and dizziness.
Mental health problems have been reported including depression, anxiety and struggling to think clearly.
Why are some people not recovering?

'My fatigue was like nothing I've experienced before'
'I don't have a life, I currently have an existence'
It can destroy people's quality of life. "My fatigue was like nothing I've experienced before," said one sufferer, Jade Gray-Christie.
Pinning down exactly how many people are affected by the condition has proved difficult.
Figures published by the ONS suggest one in 10 people who tested positive for Covid-19 in a household survey still had symptoms 12 weeks later – but this is still experimental data.
What is the new guidance?
Published to help doctors diagnose and treat long Covid, the new guidance says the symptoms are often unpredictable, affecting patients in different ways at different times.
It says the likelihood of developing longer-term complications is not thought to be linked to either the severity of the original infection or whether the patient has been admitted to hospital.
It recommends that anyone discharged from hospital after Covid should be offered a video or phone call six weeks later to check for new or ongoing symptoms. Those with severe breathlessness or other respiratory problems should be offered a chest X-ray.
Those who do not need hospital treatment but are still concerned about their health eight weeks after infection should also be offered a consultation and referred to rehabilitation or specialist services if needed.
"This [guidance] could help to relieve anxiety when people do not recover in the way they expect, particularly because symptoms can fluctuate and there are so many different symptoms reported," said Dr Chrisp, director of the Centre for Guidelines at NICE.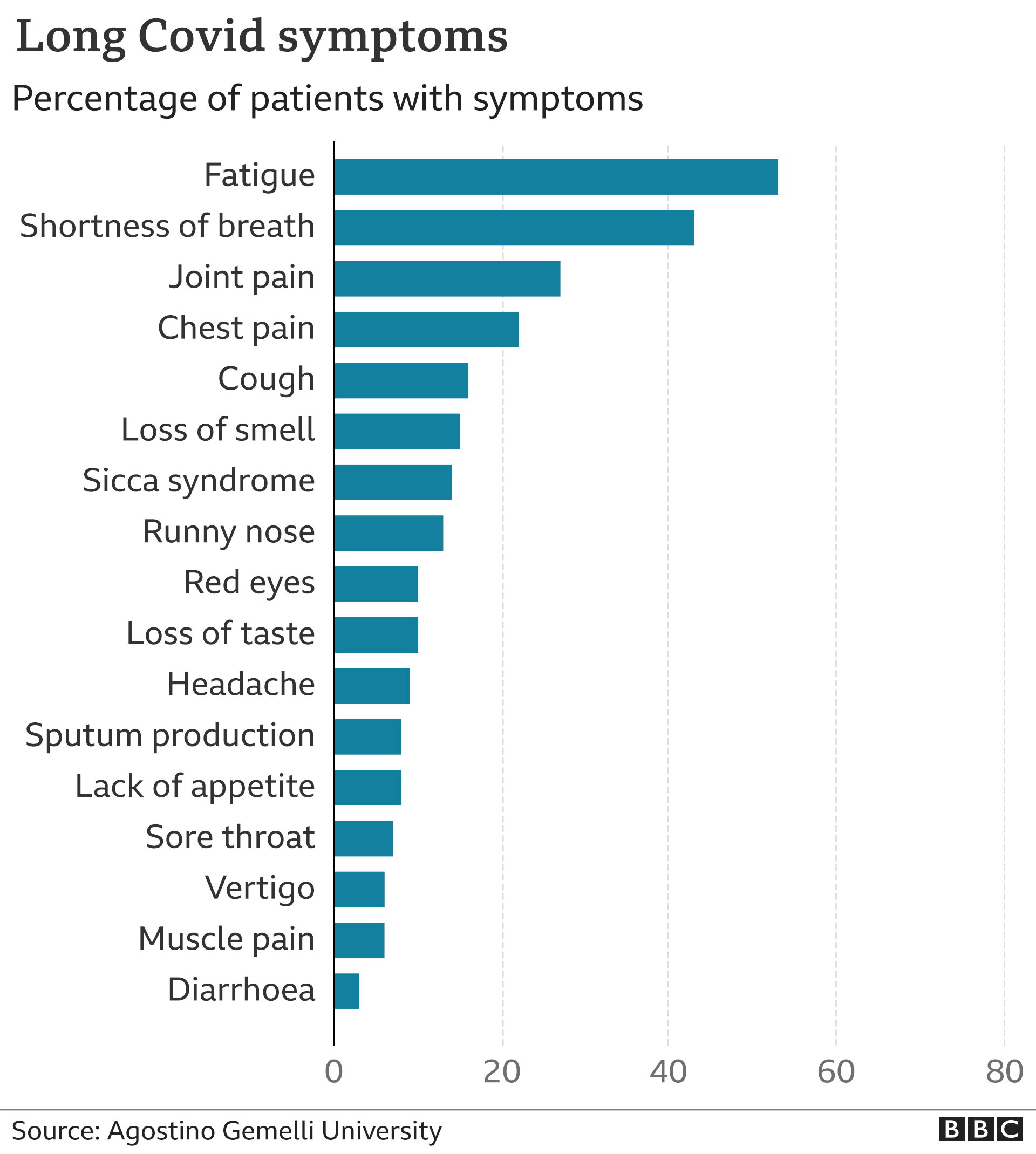 What help is available?
NHS England said it is spending £10m to help fund a network of 69 long Covid clinics staffed by doctors, nurses, physiotherapists and occupational therapists, with another 12 sites planned for January. Patients cannot attend directly but must be referred by their doctor or GP.
In Scotland and Wales, the idea is to adapt existing services and provide more community rehabilitation.
One doctor welcomed the "modest" increase in NHS funding but said more needed to be done to avoid an "epidemic of post-Covid disability".
"All too often the NHS focuses on saving lives but neglects the needs of the survivors," said Michael Sharpe, professor of psychological medicine at the University of Oxford.
"We must not make that mistake this time. We need to mobilise again to reduce the risk of long-term disability in those who survived Covid-19."
Published at Fri, 18 Dec 2020 00:07:26 +0000