Coronavirus creates boom in digital fitness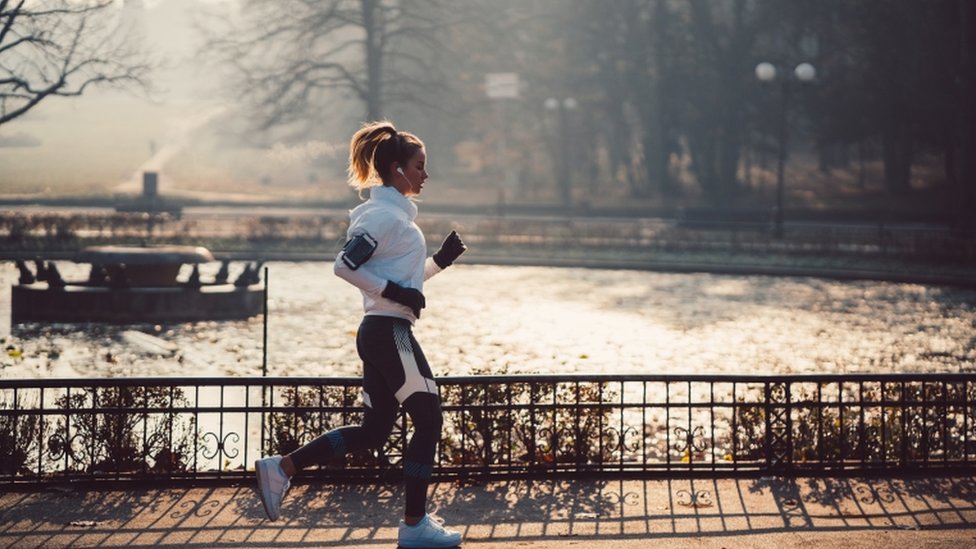 Fitness apps have seen a steep rise in users during the pandemic.
Strava, which now has 73 million users, said each month this year an average of two million had been registering with its app for the first time.
The app uses global-positioning system (GPS) technology to record exercise, allowing users to compare performances.
Meanwhile, fitness app Freeletics, which has more than 90,000 UK users, saw a 50% increase in use between March and June, during the first lockdown.
'Welcome relief'
"Covid-19 has presented many people with the unique opportunity to exercise more, because, practically, people have fewer reasons not to," Dr Charlotte Hilton, of the British Psychological society, said.
"If nothing else, exercise outdoors provides us with some welcome relief from spending so much time indoors during lockdown.
"However, because of the social restrictions that Covid-19 brings, more people may be turning to online exercise communities and apps to enhance their connectedness to other like-minded people who enjoy exercise."
Strava saw a rise in the total amount of activity logged on the app, with running and cycling proving most popular.
Those already using the app increased their workouts by 13%.
A record number of runners completed its May 5km (three-mile) challenge.
And 44% of users completed solo marathons – despite the major organised events around the world being cancelled.
Runners 'gutted' as London Marathon goes virtual

2020 Boston Marathon is cancelled
Rescheduled Paris Marathon cancelled
Strava also saw a spike in the creation of online activity clubs.
And members shared more than 400 million photos of workouts on the app.
Co-founder Michael Horvath said: "During a challenging year, it has been a privilege to connect athletes to what motivates them and help them find their personal best – from solitary virtual marathons to midday walks while working from home.
"Through it all, athletes from around the world cheered each other on, proving that every effort counts and people keep people active."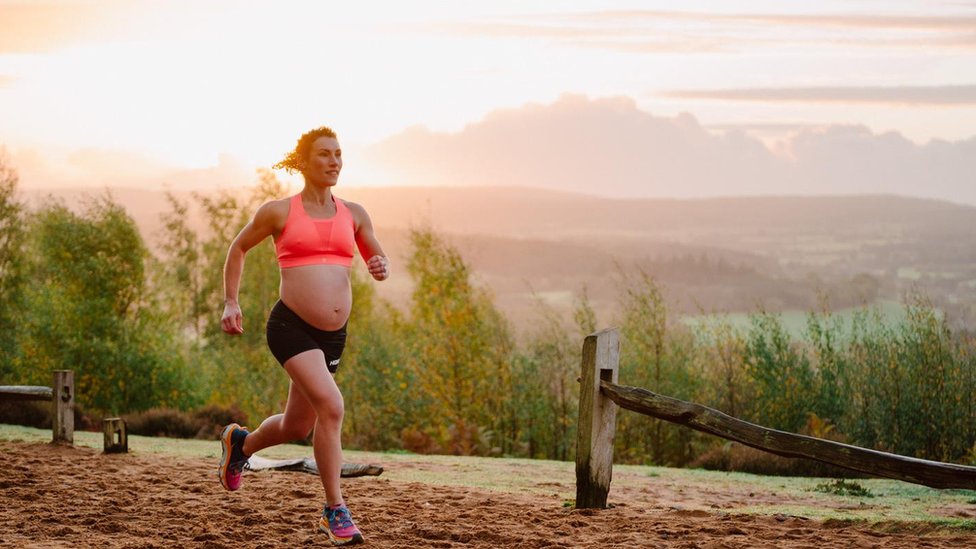 Before the pandemic, Sophie Power, 38, from Surrey, used to train for ultramarathons – running, cycling and boxing regularly.
At the start of lockdown, she found out she was pregnant, as well as looking after two toddlers.
"Free time went out the window, so we exercised together," she said.
"I carried them on my back for strength workouts.
"Strava was brilliant not just for my logging but seeing what all my running friends were doing.
"It definitely made me feel more connected to them.
"Exercise has been crucial for me to cope with the pandemic, just as it is life in general."
Motivational tips
ClassPass – which normally allows users to book in-person exercise classes – organised livestreaming and on-demand workouts during the pandemic.
And 81% of its members had used the digital offering, it said, with yoga the most popular class.
Meanwhile, the Les Mills online community of more than 184,000 members sharing fitness journeys and motivational tips has seen a 900% increase in new sign-ups to its On-Demand fitness service since January.
"At a time when health is everyone's top priority, the Covid-19 outbreak is ushering in an age where people can work out wherever and whenever they want," Les Mills Media chief executive Jean-Michel Fournier said .
"We believe gyms will always be the pinnacle of live fitness experiences.
"And I'm sure everyone will be desperate for social workouts once lockdowns are lifted.
"But the digital fitness boom is helping to break down barriers to fitness for people you might not typically see in the gym.
"And that's really exciting."
Mental health
Sport psychologist Dr Jill Owen said: "At a time of inconsistency and uncertainty, exercise has allowed positive routines to be continued or created with a healthy focus and a sense of community.
"Apps have enabled a sense of 'being in this together', through the pursuit of similar goals, communal encouragement and sharing of ideas.
"It can be hard to exercise when mental health is depleted, but others in a community can share experiences and encourage other ways of getting help alongside making healthier lifestyle changes.
"At a time when physical and mental health is threatened, communal support has been and continues to be a lifeline for many."


SOCIAL DISTANCING: Can I give my friends a hug?
YOUR QUESTIONS: We answer your queries
THE R NUMBER: What it means and why it matters
LOCAL LOCKDOWNS: What happens if you have one?
EPIDEMIC v PANDEMIC: What's the difference?


Published at Wed, 16 Dec 2020 08:01:27 +0000