Thousands more back Dr Timnit Gebru over Google 'sacking'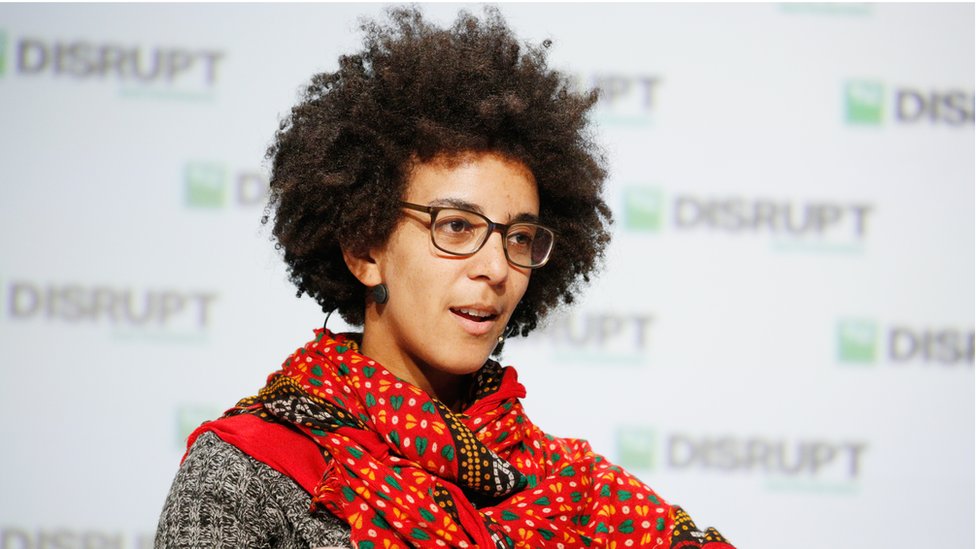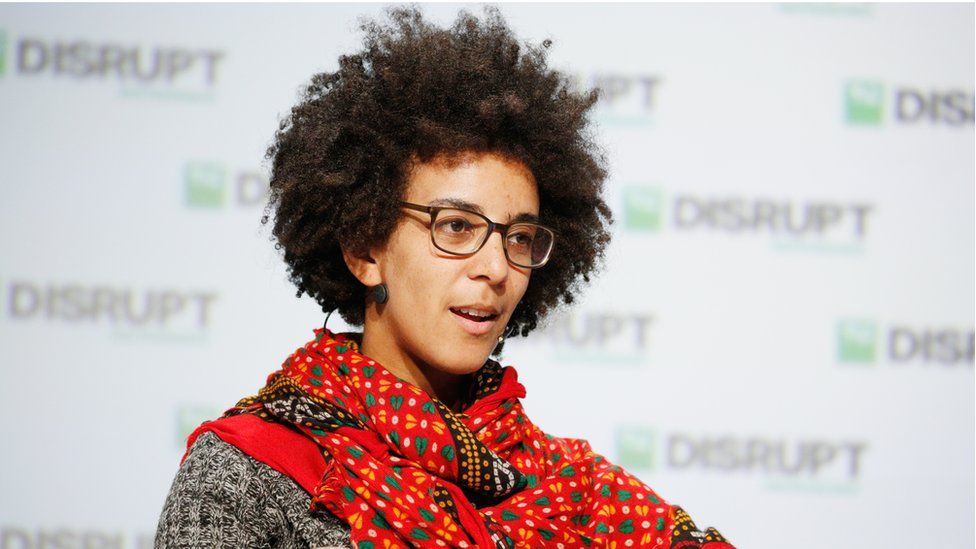 Scientists have expressed support for a leading artificial-intelligence ethics researcher who says Google fired her.
An open letter demanding transparency has now been signed by more than 4,500 people, including DeepMind researchers and UK academics.
Google denies Timnit Gebru's account of events that led to her leaving the company.
She says she was fired for sending an internal email accusing Google of "silencing marginalised voices".
She sent the email after a research paper she had co-authored was rejected.
Google staff rally behind fired AI researcher
The fallout has caused many within the scientific community to question the ethics of conducting research with big technology companies.
'Selective publication'
"I stand with Dr Timnit Gebru," said Tabitha Goldstaub, who chairs the UK government's AI council.
"She's brave, brilliant and we've all benefited from her work.
"This is another example of why independent, publicly funded research into AI is so important."
University College London honorary associate professor Julien Cornebise said "selective publication" had occurred historically with the tobacco industry and cancer, as well as energy industries and climate change.
"AI researchers need to realise where they write their research is important because they might not have control over how it is used and published," he said.
But for many experts conducting advanced research into AI and machine learning, partnering with technology companies such as Facebook and Google was the only option because of their resources and capabilities.
"It's a monopoly of research in this field," Prof Cornebise added.
Ethical systems
Signed by staff at Google, Microsoft, Apple, Facebook, Amazon and Netflix as well as several scientists from London-based AI company DeepMind – owned by Google parent company Alphabet – the open letter urges Google to explain why the paper was rejected.
"If we can't talk freely about the ethical challenges posed by AI systems, we will never build ethical systems," DeepMind research scientist Iason Gabriel tweeted.
(1) If we can't talk freely about the ethical challenges posed by AI systems we will never build ethical systems

— Iason Gabriel (@IasonGabriel) December 5, 2020
The BBC is not responsible for the content of external sites.
View original tweet on Twitter
Dr Gebru is well known for her work on racial bias in technology and has criticised systems that fail to recognise black faces.
On Twitter, users have expressed their solidarity through the hashtag #BelieveBlackWomen.
'Nothing unusual'
"She has been a huge advocate for black people in AI," Donia Scott, a fellow at the Association for Computational Linguistics, said.
"The fact even such a high-profile black woman has been treated like this is telling.
"There is nothing unusual about this for black women."
AI researchers had always looked to Google "as a force for good", she added, but this would now change.
'Highly regarded'
Warwick Business School associate professor of entrepreneurship and innovation Dr Noni Symeonidou,: "If these allegations are true, Google's reaction will only prevent researchers to want to join in the future.
"And it will harm Google's ability to recruit talent and drive innovation."
University College London postdoctoral researcher Julie Lee said she would be shocked if "someone of Dr Gebru's renown and respect" had been be fired "in what seems like such a dispassionate manner… in a year that prompted many companies to release diversity statements supporting the hiring and retention of diverse candidates, particularly black women like Dr Gebru".
Lancaster University professor emerita Lucy Suchman said: "It's remarkable that Google would feel sufficiently threatened by a research publication that they would engage in this act of censorship.
"One can only conclude that Google does not have the capacity within its research organisation to accommodate a black feminist scientist like Timnit Gebru, however highly regarded and widely respected she is."
'Too late'
Dr Jeff Dean, lead of Google's AI division, said there had been "a lot of speculation and misunderstanding".
Dr Gebru's paper had been submitted a day before its deadline, he said, too late for Google's review process, and he claimed it had ignored relevant research.
"Timnit responded with an email requiring that a number of conditions be met in order for her to continue working at Google, including revealing the identities of every person who [we] had spoken to and consulted as part of the review of the paper and the exact feedback," Dr Dean said.
"Timnit wrote that if we didn't meet these demands, she would leave Google and work on an end date.
"We accept and respect her decision to resign from Google."
The AI chief went on to claim there were "some important gaps" in the paper that had prevented Google wanting to be affiliated with it.
But one of Dr Gebru's co-authors on the paper defended its contents.
"Our paper, written in a collaboration among seven scholars with diverse areas of expertise, is deeply rooted in several different research traditions," Prof Emily Bender from the University of Washington told the BBC.
"We ended up with 128 papers cited, which is far beyond what's typical for a conference paper.
"Nonetheless, as is always the case in research, there is surely more we could have cited. My Google co-authors were not given the opportunity to consider whether the specific additional work was relevant to cite."
Published at Mon, 07 Dec 2020 18:55:55 +0000