GOP Gov Brian Kemp's Approval Rating Sinks Among Georgia Republicans Amid Trump's Election Pressure – Newsweek
Georgia Governor Brian Kemp faces a falling approval rating among Republican voters following President Donald Trump's attacks against his state's election results.
According to a Morning Consult poll released Saturday, Kemp's approval rating among Georgia Republicans since Election Day has fallen from 86 percent to 77 percent. At the same time, Kemp's disapproval rating has nearly doubled, going from 10 percent to 19 percent between November 24 and December 3 among 551 registered Republican voters in Georgia.
The declining approval for the first-term governor among his Republican base comes as Trump persists with attacks against Kemp and Georgia's Secretary of State Brad Raffensperger, repeating unsubstantiated claims that widespread election fraud caused President-elect Joe Biden to win the state.
In his latest attack, Trump tweeted Saturday that he would win the election in Georgia if Kemp would "permit a simple signature verification."
"I will easily & quickly win Georgia if Governor @BrianKempGA or the Secretary of State permit a simple signature verification," Trump wrote. "Has not been done and will show large scale discrepancies. Why are these two "Republicans" saying no? If we win Georgia, everything else falls in place!"
The tweet references topics reportedly discussed in a phone call between the president and Kemp Saturday morning, in which Trump pushed the governor to convince state legislatures to select their own electors who would support him and overturn the election results, according to The Washington Post, which cited anonymous sources. Trump has also asked the governor to audit absentee ballot signatures, a request that Kemp has pushed Secretary of State Brad Raffensperger to do for some time.
Kemp, a former secretary of state, told the president that he doesn't have the authority to order the audit and declined to call a special session, The Post reports.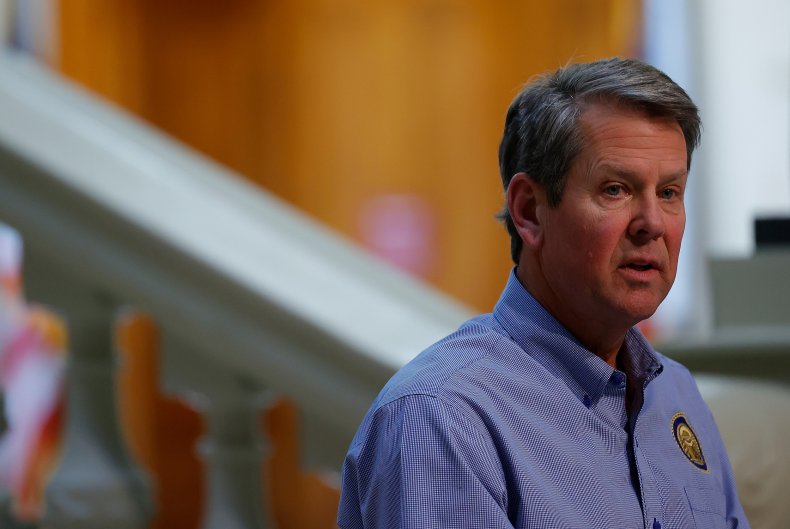 In response to Trump's criticism on Saturday, the governor tweeted: "As I told the President this morning, I've publicly called for a signature audit three times (11/20, 11/24, 12/3) to restore confidence in our election process and to ensure that only legal votes are counted in Georgia." State election official Gabriel Sterling has said there's no evidence the signature matching process was done improperly.
In a November 13 tweet, Trump cast doubt on Kemp's willingness to address unsubstantiated claims of widespread voter fraud in Georgia. The next day, Trump accused Kemp of knowingly preventing the checking and matching of signatures on Georgia ballots under the direction of 2018 Democratic opponent Stacey Abrams.
"They knew they were going to cheat," Trump tweeted. "Must expose real signatures!"
According to the Morning Consult poll, the governor's ratings have also fallen among independent Georgia voters: Nearly half disapprove of his job performance—eight points higher since November 3—and his approval rating has dropped 10 points to 38 percent.
Kemp saw a 6-point decline in his approval rating across the state compared to surveys conducted by Morning Consult from October 25 to November 3. His disapproval rating increased by 5 points. Two years before he's up for re-election, the latest poll shows approval and disapproval ratings on the governor's job performance are split evenly at 46 percent each.
GOP senators David Perdue and Kelly Loeffler, who are each campaigning for critical runoff elections next month that will decide which party controls the U.S. Senate, are enjoying support from the White House and not suffering the same kind of ratings damage.
Despite the consequences of being targeted by the president on social media, Kemp told The Wall Street Journal on Friday that his support for the president hasn't wavered since Election Day.
"Nobody's fought harder for this president than me up to November 3, and no one has supported him as much as I have after the election with the legal rights that he has to contest the election," Kemp said. "But I have to do that within the bounds of the oaths of the office that I took, and that's what I'm going to keep doing."
"I certainly support his efforts to make sure, as many people have said, that every vote that was counted was legal and every legal vote was counted—and that's what this process has been about, that's what the audit and the hand count have been about," he added. "And I'll continue to support those efforts because that's what the law says here in our state."
When asked whether he would call on Trump to concede the election if the final recount in Georgia, finalized on Friday, show Biden as the winner, Kemp dodged the question.
"I'd rather refrain from trying to answer a hypothetical question right now, not knowing, with the investigations and the legal maneuvering that are going on," he said.
Newsweek reached out to Kemp's office for comment but did not receive a response in time for publication.
Published at Sat, 05 Dec 2020 22:43:15 +0000