Covid-19: Vaccine rollout 'ready' for any Brexit outcome
The Covid vaccine will reach everyone in the UK who needs it – whatever the outcome of post-Brexit trade talks, the medicines regulator head has vowed.
Dr June Raine said officials had a clear "goal" and were "fully prepared for any possible outcome".
Asked about a no-deal situation, she told the BBC's Andrew Marr Show: "We have practised. We are ready."
The first jabs are being given this week and Dr Raine said people could have "real confidence" in their safety.
The EU and UK are
trying to reach a trade deal before a 31 December deadline.
Dr Raine, chief executive of Medicines and Healthcare products Regulatory Agency (MHRA), said: "We are ready and we know that whatever the deal we will be able to ensure that people have access."
She said the "goal" of the MHRA was to "make sure that whatever the outcome, whatever the deal, that medicines and medical devices and vaccines reach anyone in all parts of the country in the same way without any interruption at all".
Responding to a question on the same issue, Environment Minister George Eustice told Sophy Ridge on Sky News: "We have got many contingency plans in place and there won't be any effect on the deployment of this vaccine from a no-deal Brexit."
Frontline health staff, care home workers and the over-80s will start getting the Pfizer/BioNTech vaccine, the first jab to be approved in the UK, on Tuesday.
NHS to begin Covid-19 vaccine rollout this week
When will you be eligible for the Covid vaccine?
How do I know the Covid vaccine is safe?
Refrigerated containers holding the vaccine doses have been arriving in the UK from Belgium, and are being prepared to be moved from secure locations to the hospitals.
About 800,000 doses of the vaccine are expected to be available initially.
A report in the Observer says millions of doses of the vaccine will be flown to Britain by military aircraft if there are delays at ports after 31 December, under plans being drawn up by the government.
The Department for Health and Social Care would not comment on the report but confirmed military personnel were working with its officials on the vaccine rollout.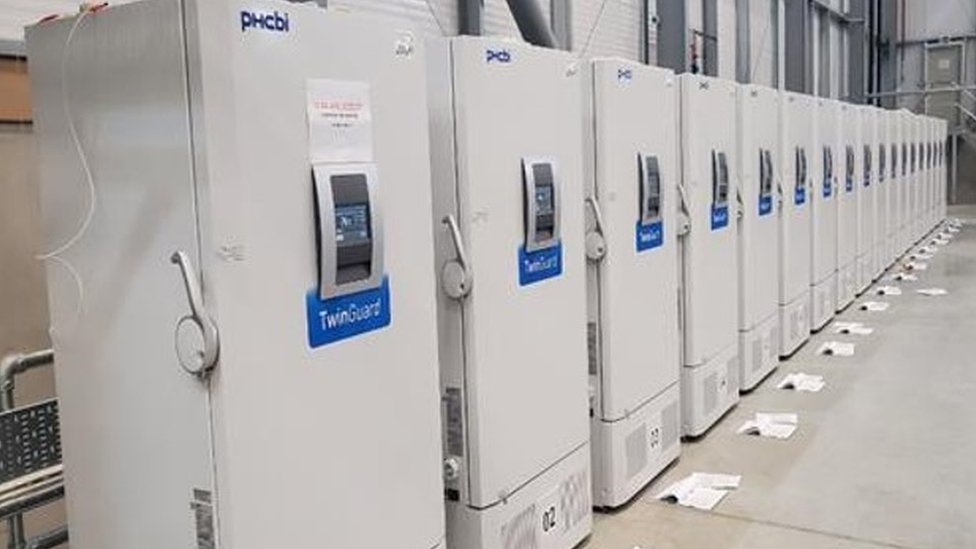 Dr Raine said there "should be no doubt whatever that this is a very safe and highly effective vaccine", adding: "The highest standards of scrutiny, of safety and of effectiveness and quality have been met, international standards."
She said the vaccine "will help us turn the corner. There's really not one of us who hasn't been affected by this pandemic, and our organisation, like every other, has been completely focused on doing our job to be able to help defeat this terrible disease."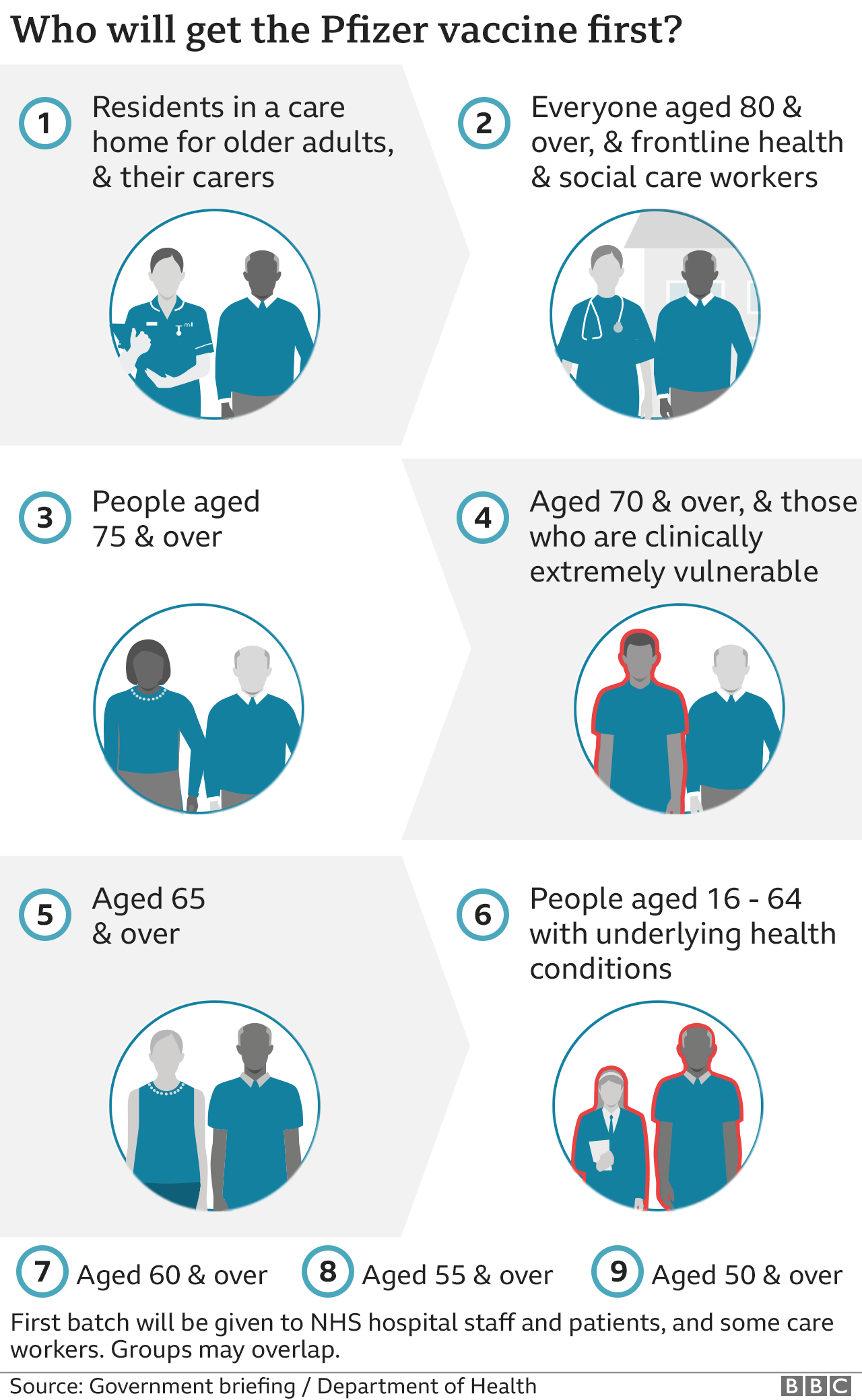 The Pfizer vaccine needs to be stored at around -70C and moved carefully, so at first it will only be administered from specific hospital "hubs" across the UK.
Asked about other vaccines, including the jab being developed by Oxford University and Astra Zeneca, Dr Raine said the MHRA was "working continuously, round the clock…. we can't give time frames".

How are vaccines authorised in the UK?
Regulator the MHRA assesses vaccine trial data for safety, quality of manufacture, and how effective it is at protecting people
It then advises the UK government whether a vaccine is ready to be used
It is part of the Department of Health, and employs more than 1,200 people
Independent experts on the Joint Committee on Vaccination and Immunisation decide how best to use a vaccine and who should get it first
It has drawn up interim advice on priority groups for the Covid vaccine. It also considers how many doses to use
The JCVI has about 20 members – all are experts on vaccines
Read more on vaccine safety here.

Dr Raine said the MHRA would also be "following up all the safety issues after rollout incredibly carefully. Our job doesn't end when rollout starts, and we've got a very advanced and proactive way of doing this."
She highlighted the "yellow card scheme" run by the regulator where patients and health professionals can voluntarily report any suspected safety concerns about medicines.
She added: "My overall message is that the safety profile of the Covid-19 vaccine is really no different from any other vaccine…
"It's as safe as any general vaccine, the kind you might have if you're going on holiday, or of course the flu jab."


LOCKDOWN LOOK-UP: The rules in your area
TESTING: How do I get a virus test?
SYMPTOMS: What are they and how to guard against them?
LOOK-UP TOOL: How many cases in your area?



COVID-19 VACCINE: Professor Van-Tam answers your questions
THE HOME OF PEAKY BLINDERS: Watch every episode of the iconic crime drama on BBC iPlayer

Published at Sun, 06 Dec 2020 13:32:02 +0000