Covid-19: UK surpasses 60,000 deaths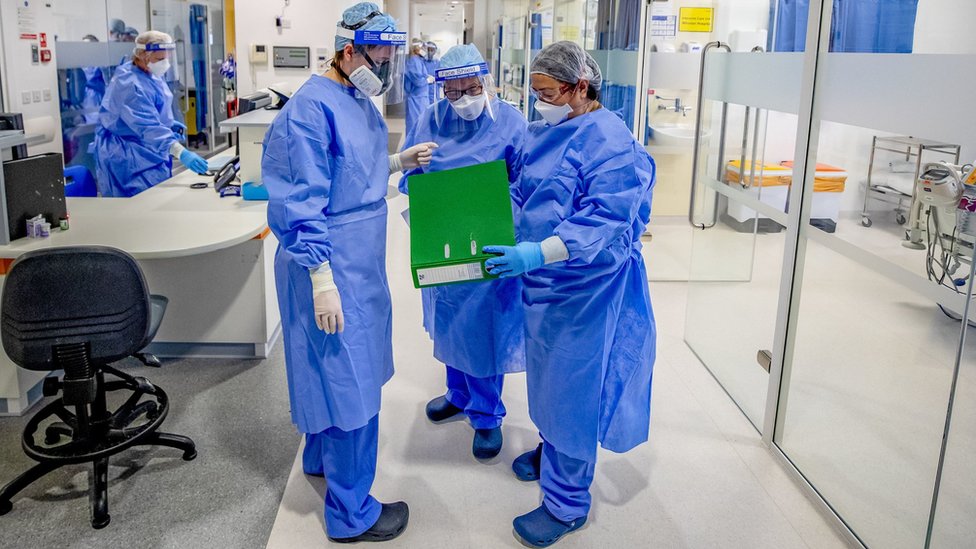 More than 60,000 people in the UK have now died within 28 days of a positive Covid-19 test,
official figures show.
A further 414 were recorded on Thursday, taking the total to 60,113.
Two other ways of measuring deaths – where Covid is mentioned on the death certificate, and the number of "excess deaths" for this time of year – give higher total figures.
Only the US, Brazil, India and Mexico have recorded more deaths than the UK, according to Johns Hopkins University.
However, the UK has had more deaths per 100,000 people than any of those nations.
In terms of deaths per 100,000 people, the UK is the seventh-highest country globally, behind Belgium, San Marino, Peru, Andorra, Spain and Italy.
Coronavirus: Your tributes to those who have died
How many coronavirus cases are there in your area?
Labour leader Sir Keir Starmer described the milestone as "heartbreaking".
"My thoughts are with all those families who will spend Christmas remembering those loved ones who are no longer with us," he said.
The latest daily figures for the UK also showed a further 14,879 people have tested positive for Covid-19, taking the UK's total cases to 1,674,134.


'These are sobering statistics'

Covid news comes in contrasting shades.
In early November, Pfizer and Biontech announced the success of their vaccine trial, which increased hopes of a return to normality. Two days later, the UK's daily reported death toll hit 50,000.
This week's news of regulatory approval for the vaccine is closely followed by that total passing 60,000. This covers those who have died within 28 days of a positive test.
There is a broader definition that includes those who might have died after a longer period from the time of a test, or who weren't tested but whose death certificates involved Covid-19 – this shows around 70,000 have died with the virus.
These are sobering statistics and underline even more the importance of the vaccine for charting a way towards saving lives.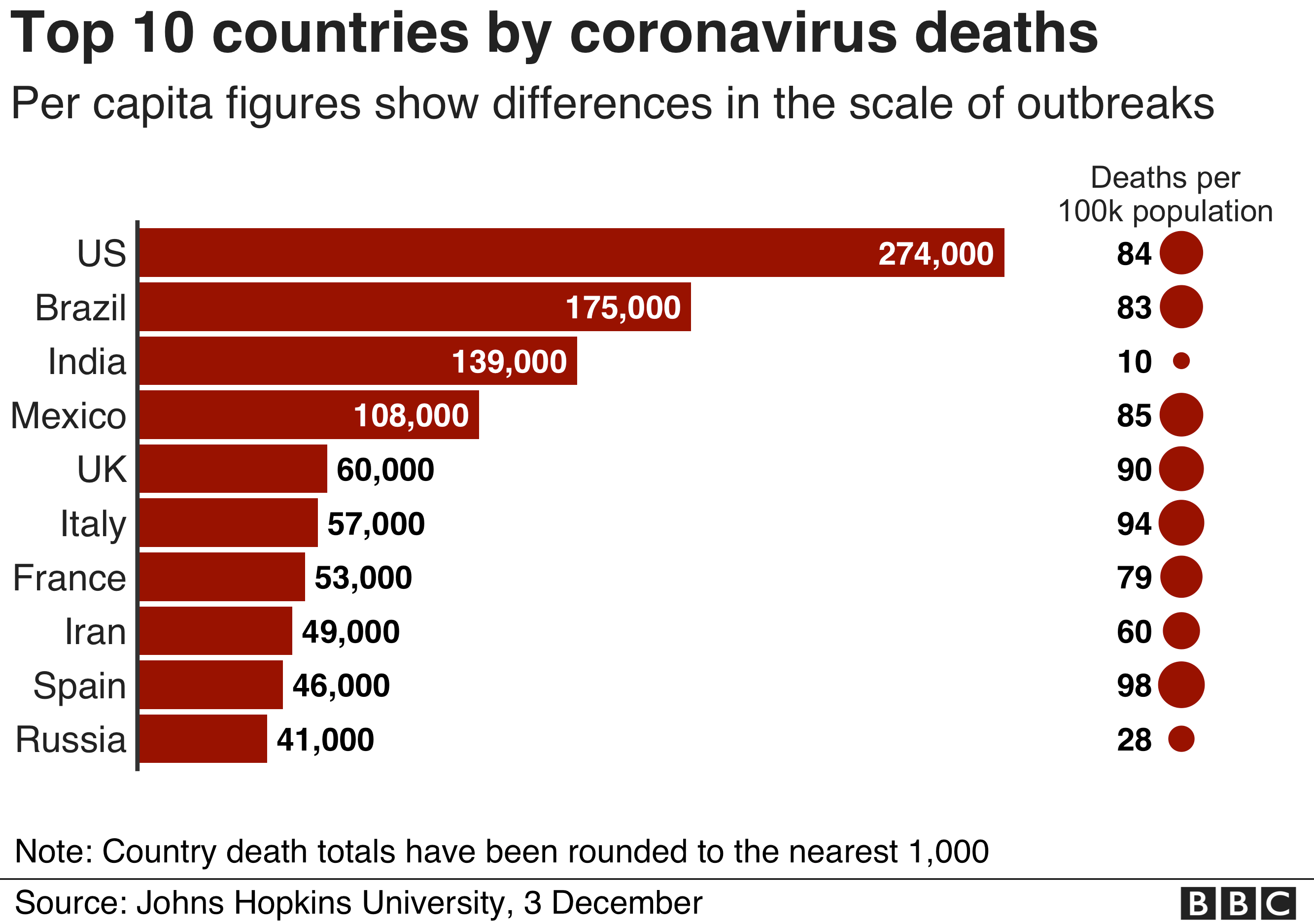 First vaccines 'could cut 99% of deaths' – Van-Tam
Minister: UK got jab first as it's better country
Quarantine rules to be relaxed for business bosses
The government's death figures only include people who died within 28 days of testing positive for coronavirus – but two other ways of measuring deaths give higher overall figures.
The first includes all deaths where coronavirus was mentioned on the death certificate, even if the person had not been tested for the virus. The most recent figures suggest there have been more than 69,000 deaths by this measure.
The second is a measure of "excess deaths" – the number of deaths over and above the usual number at this time of year.
Deaths normally do rise at this time of the year, but the latest data from the Office for National Statistics and its counterparts in Scotland and Northern Ireland – which measure excess deaths – suggest the second wave of the virus has pushed the death rate above the average seen over the past five years.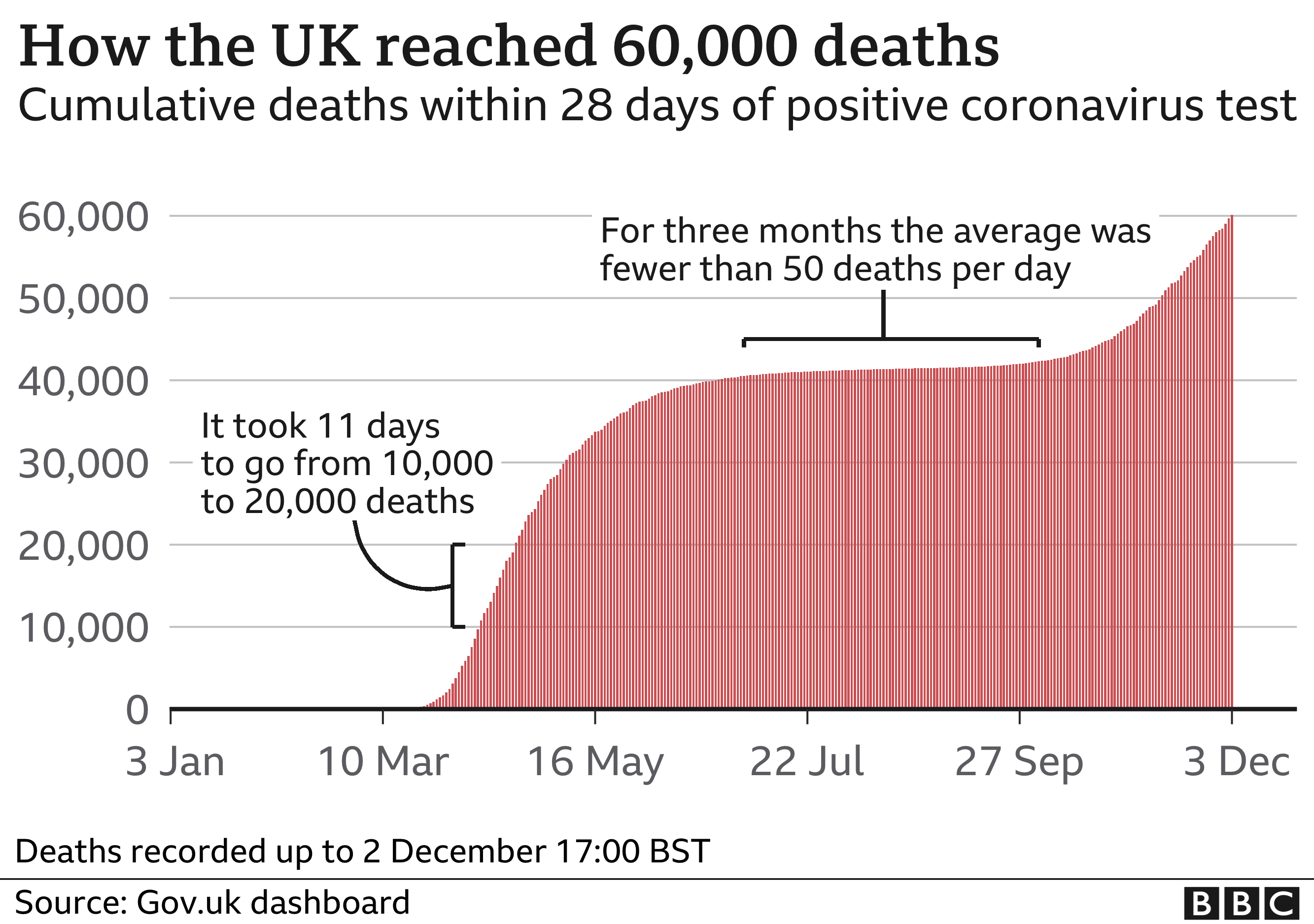 How do the first and second waves compare?
So far, the second wave has been lower and slower than the first wave.
About 80% of deaths involving coronavirus happened before August, and most of those happened in just one month.
Almost 10,000 coronavirus deaths a week were registered in consecutive weeks in April.
In this second wave, it looks like the peak figures – assuming infections keep falling before widespread vaccination takes place – might be closer to 3,000 than 4,000.
And, as in the first wave, those over 75 account for about 75% of the deaths, suggesting that vaccinating over-75s could stem the vast majority of future deaths.
This time around, the spread of deaths around the country has looked quite different.
In the spring and summer, London and the north-west of England each accounted for about 15% of coronavirus deaths in the UK.
But in this wave, London's share is down, closer to 5%, whereas the North West is just under 25%.


Meanwhile, bed occupancy rates have fallen in almost three-fifths of English hospitals since the week ending 8 November – the first week these figures were published.
In the week to 29 November, 87% of beds in English hospitals were occupied, compared with 88% the previous week.
The NHS is meant to keep at least 10% of its beds free so that it can be flexible, allowing it to admit patients and cope with surges in demand.
The number of hospitals reporting more than 90% occupancy has fallen slightly since the first week of November – down from 52 to 45 of the 127 trusts reporting data.
However, Robert Cuffe, the BBC's head of statistics, said pressures on hospitals are not "evenly spread".
Some hospitals like North Middlesex, Southport and Ormskirk, Surrey and Sussex, and Wrightington, Wigan and Leigh have more than 95% of beds taken.
He said: "More hospitals have seen capacity free up this month than have seen it tighten.
"But as we move into the months that, in any year, put the most stress on capacity within the NHS, all eyes will be on these figures."


SOCIAL DISTANCING: What are the rules now?
FACE MASKS: When do I need to wear one?
TESTING: What tests are available?
SYMPTOMS: What are they and how to guard against them?
LOOK-UP TOOL: How many cases in your area?


On Wednesday, the UK became the first country in the world to approve the Pfizer/BioNTech vaccine for use.
The BBC understands that some of the first delivery of the Pfizer vaccine is travelling via the Eurotunnel to the UK on Thursday.
England's deputy chief medical officer, Prof Jonathan Van-Tam, said the first wave of vaccinations could prevent up to 99% of Covid-19 hospital admissions and deaths.
Speaking to BBC News, he said that would be possible if everyone on the first priority list took the vaccine and it was highly effective.
He said it was key to distribute the vaccine "as fast" and at the "highest volume" possible, but he acknowledged there would need to be some flexibility in the list.

YOUR WORK, YOUR MONEY: With so much hospitality closed, where can you find a temporary job this Christmas?
PANORAMA: How do you run a business if Covid-19 takes your customers away?

Published at Thu, 03 Dec 2020 18:58:14 +0000