Slack sold to business software giant for $27.7bn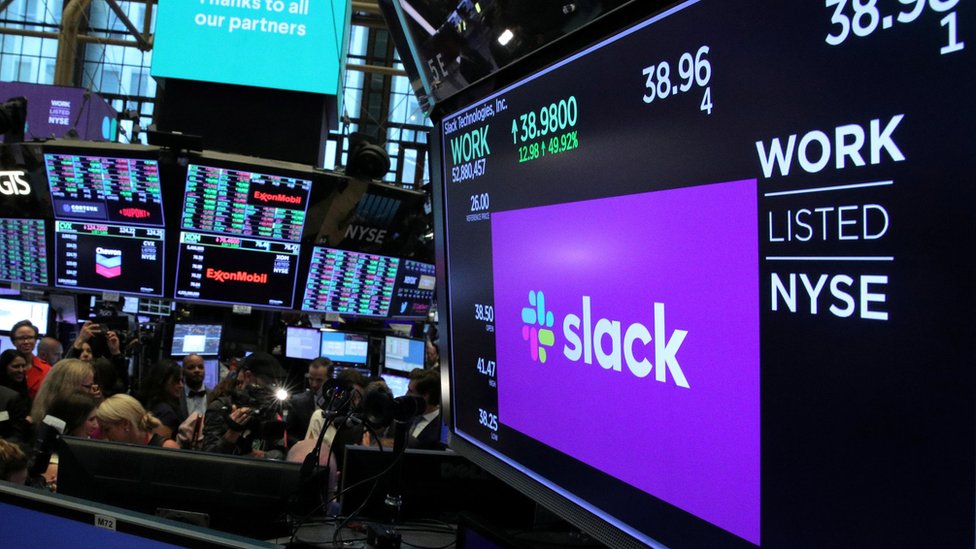 Salesforce has agreed to buy workplace messaging app Slack for $27.7bn (£20bn) in what would be one of the biggest tech mergers in recent years.
Marc Benioff, boss of the business software giant,
called the deal a "match made in heaven".
He has been pushing to expand the company's software offerings and fend off rivals such as Microsoft.
The acquisition comes as the pandemic has increased the focus on remote work and tools, like Slack, which enable it.
Tech analyst Dan Ives of Wedbush Securities called it a "now or never" purchase for Mr Benioff.
"If Salesforce wants to expand beyond its core gold mine of sales and marketing departments … this was the moment and thus represents a major shot across the bow against Microsoft," he wrote in a note to investors after the deal was announced.
Slack, founded in 2009, has won a following with its group chats, which offer an alternative to email.
When it listed its shares publicly in 2019, it was valued at roughly $20bn.
Slack: Why is this money-loser worth $20bn?
Slack makes EU antitrust claim against Microsoft
However, its shares sank after the launch and have missed out on the stratospheric rise enjoyed by other tech firms this year.
The company, which had about 12.5 million users as of late March, has had difficulty making inroads against Microsoft Teams, a similar product that the tech giant unveiled in 2016 and now has more than 100 million users.


Choose your enemies wisely


Four years ago, Microsoft looked into buying Slack.
The deal never happened and Microsoft instead focussed on developing its own platform. Microsoft Teams was created – a clear rival to Slack.
When a trillion dollar company like Microsoft looks to move into your business – you should be worried.
Initially, Slack was confident of the challenge, even taking out a full page advert in the New York Times welcoming the competition in 2016.
Looking back on it, it's hard to see that advert as any more than hubris.
Big Tech can kill smaller companies. Their sheer size and dominance in the market makes them very hard to compete with.
Microsoft started flexing its muscle. It started bundling in Microsoft Teams with its Office Software.
Microsoft Teams is now used by nearly 10 times as many people as Slack.
If Slack thought it was fun to have Microsoft as a competitor in 2016, it definitely didn't in 2020.
Its legal challenges claim that Microsoft uses its heft to unfairly bully the competition.
So, this acquisition should be seen in that context. Slack was being slowly squeezed.
It has now been bought by a much bigger fish – it will be better placed to compete with Microsoft.
But, there will be many who will use this case to lament the plight of smaller tech companies, who simply can't compete with a handful of tech giants.


Taking on a giant
The two companies hope that the tie-up will put them in a better position to take on a number of enterprise software competitors, and in particular Microsoft.
Microsoft's business applications have seen a massive surge as large numbers of people shifted to work-from-home arrangements due to the Covid-19 pandemic.
Microsoft's business suite includes features that are similar to Slack's messaging service.
The tech giant' CEO Satya Nadella remarked earlier this year that "We've seen two years worth of digital transformation in two months"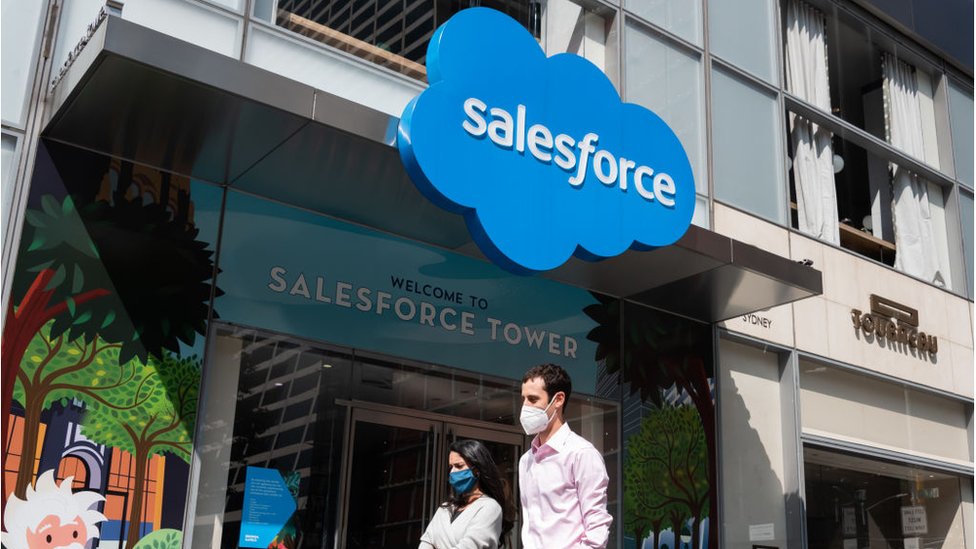 Both Salesforce and Slack have had previous run-ins with Microsoft.
In 2016, Salesforce lost out to its bigger rival when it attempted to buy the business-focused social media service LinkedIn.
This summer, Slack brought a competition complaint against Microsoft in the European Union, saying the firm was abusing its market dominance by bundling Teams into its other products.
Under the terms of the Salesforce deal, Slack shareholders are to receive $26.79 in cash per share – roughly what they were worth at the beginning of November, before rumours of the acquisition pushed the price per share to more than $43 as of Tuesday. They will also receive some shares in Salesforce.
The deal, which will be reviewed by Slack shareholders, is expected to close next year.
Published at Wed, 02 Dec 2020 03:07:17 +0000