Serco: Test and trace firm's boss defends scheme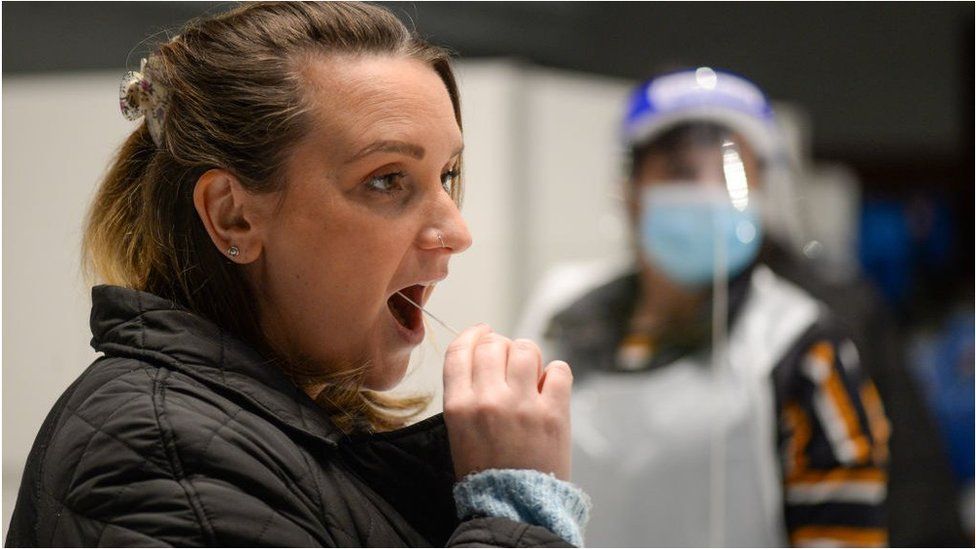 The boss of outsourcing firm, Serco, part of the NHS Test and Trace programme, has defended the scheme.
Chief executive Rupert Soames told the BBC's Today programme: "It (Test and Trace) is now a remarkable success and I acknowledge it has taken quite some time to get there."
He said there were now as many people being tested per week as vaccinated.
Mr Soames also defended the company's decision to restart the paying of dividends to shareholders.
He said that Test and Trace had experienced a "bumpy start", but added that a system of its kind had "never been done before in the UK".
"As of last week there are as many people being tested every week as we've vaccinated, about 2.5 million people a week," he said.
"In the first week of January there were about one million people who were traced through the system."


The private sector's involvement in the NHS response to the pandemic remains extremely controversial.
After I interviewed Rupert Soames, chief executive of Serco, which runs part of the Test and Trace system, on the Today programme this morning, vitriol against the company filled my Twitter feed.
Serco results this morning will give the critics more ammunition.
It has resumed dividend payments to shareholders, something Rachel Reeves, the shadow chancellor for the Duchy of Lancaster, had said would be "grim beyond belief," when it was contemplated last year.
Mr Soames justified the payments by saying that the company had reimbursed all the pandemic support it had received from the government, and that shareholders deserved some payback having supported the company through dark days when it was forced to call on them for funds.
Mr Soames also said profits from coronavirus work amounted to just 1% of the company's profits.
That said, the pandemic has brought the company something of a windfall. How much it has been paid for test-and-trace work had been a mystery, but these results show £350m of revenue in the year, which it describes as a material contribution.
They also provide a reminder of the type of frontline work that most Serco staff do – 90% of them have not been able to work from home during the pandemic. They will each receive a £100 bonus.


The Test and Trace scheme has been criticised for poor performance. In October last year, data showed that, in the week to 7 October, NHS Test and Trace had reached only 62.6% of people who had been in contact with someone who had tested positive for coronavirus.
Local public health teams, who conduct contact tracing for the most complex cases, reached 97.7% of identified contacts in the same period.
Dividends 'fair'
Serco reported pre-tax profits of £153.3m for 2020, up from £80.7m a year earlier, and restarted its dividend.
Mr Soames insisted that work from the pandemic contributed less than 1% of profit, although he conceded that it added £350m of revenue.
Losses in the transport sector – the company runs Merseyrail and the Caledonian Sleeper service between London and Scotland – and from running closed leisure centres depressed profit, he said.
"Dividends should normally be paid by companies, dividends after all are what pay people's pensions," Mr Soames said.
The company halted dividends a year ago to shore up its finances, It has now paid back furlough money it received and refinanced its borrowings.
"On those grounds I think that it is fair that shareholders who over the last five years have come to the rescue of Serco and put £800m of equity into Secro should be allowed a dividend."
Published at Thu, 25 Feb 2021 10:01:35 +0000