UK applying to join Asia-Pacific free trade pact CPTPP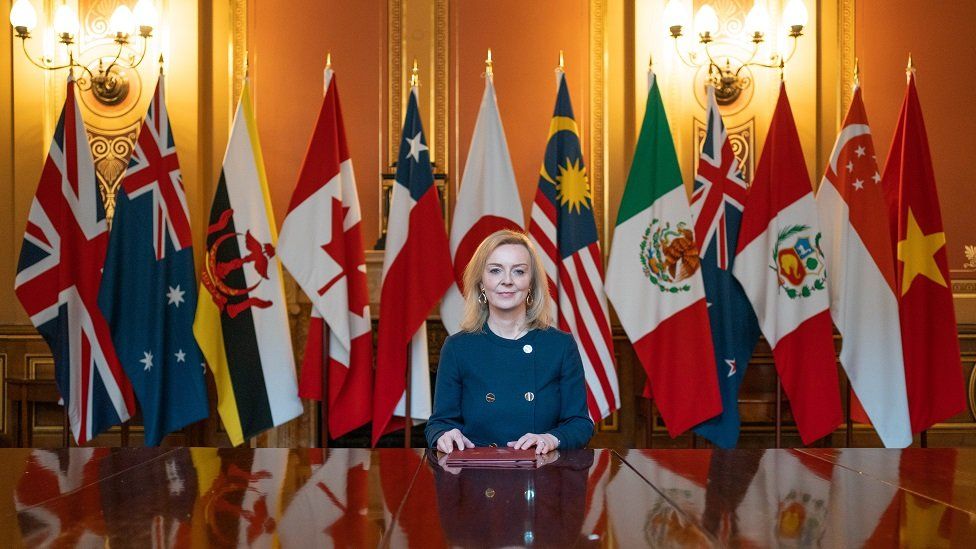 The UK is applying to join a free trade area made up of 11 Asia and Pacific nations, under its post-Brexit plans.
The Comprehensive and Progressive Agreement for Trans-Pacific Partnership – or CPTPP – includes Australia, Canada, Japan and New Zealand.
In total, it covers a market of around 500 million people, generating more than 13% of the world's income.
International Trade Secretary Liz Truss will make the request on Monday, with negotiations expected in the spring.
There are 11 countries in the CPTPP trade agreement formed in 2018: Australia, Brunei, Canada, Chile, Japan, Malaysia, Mexico, New Zealand, Peru, Singapore and Vietnam.
The main purpose of the deal is to cut trade tariffs – a form of tax, like a border tax – between member countries.
It includes a promise to eliminate or reduce 95% of import charges – although some of these charges are kept to protect some home-made products, for example Japan's rice and Canada's dairy industry.
In return, countries must cooperate on regulations, such as food standards. However, these standards and regulations do not have to be identical, and member countries can strike their own trade deals.
The UK is the first non-founding country to apply and, if successful, would be its second biggest economy after Japan.



Exactly a year after it said goodbye to the EU, the UK is eying a new trading club.
It sounds a win-win: those Pacific Rim nations represent 13% of global income and 500 million people – and the UK would retain the freedom to strike deals elsewhere. There'd be agreement on how standards and regulations are set (with minimums to be adhered to) – but they wouldn't need to be identical.
In practice, however, the short-terms gains for households and business would be limited. The UK already has trade deals with seven of the 11 nations – and is pursuing two more. In total, CPTPP nations account for less than 10% of UK exports, a fraction of what goes to the EU.
This deal would however deepen some of those ties – and allow UK manufacturers who source components from multiple nations in the bloc some benefits under "rules of origins" allowances.
But the real boost could come in the future, if others join – in particular the US, as President Biden has hinted. That would give the UK that hoped-for trade deal with America – within a trading bloc wielding considerable power on the global stage.


It already has trade deals with most of the CPTPP countries that rolled over from its EU membership – and it is negotiating with Australia and New Zealand.
In total, CPTPP nations accounted for 8.4% of UK exports in 2019.
The government said it was announcing the deal as the UK marks one year since it left the EU.
It said if the UK joined the CPTPP, tariffs would be cut for UK industries including food and drink, and cars. For example, there would be no tariffs to export whisky to Malaysia and cars to Canada.
There would also be the potential for faster and cheaper visas for business people, it added.
"One year after our departure from the EU we are forging new partnerships that will bring enormous economic benefits for the people of Britain," said Prime Minister Boris Johnson.
"Applying to be the first new country to join the CPTPP demonstrates our ambition to do business on the best terms with our friends and partners all over the world and be an enthusiastic champion of global free trade."
Ms Truss added: "It will mean lower tariffs for car manufacturers and whisky producers, and better access for our brilliant services providers, delivering quality jobs and greater prosperity for people here at home.
"We're at the front of the queue and look forward to starting formal negotiations in the coming months."


Published at Sat, 30 Jan 2021 22:30:13 +0000