Covid: Black over-80s 'half as likely' to have been vaccinated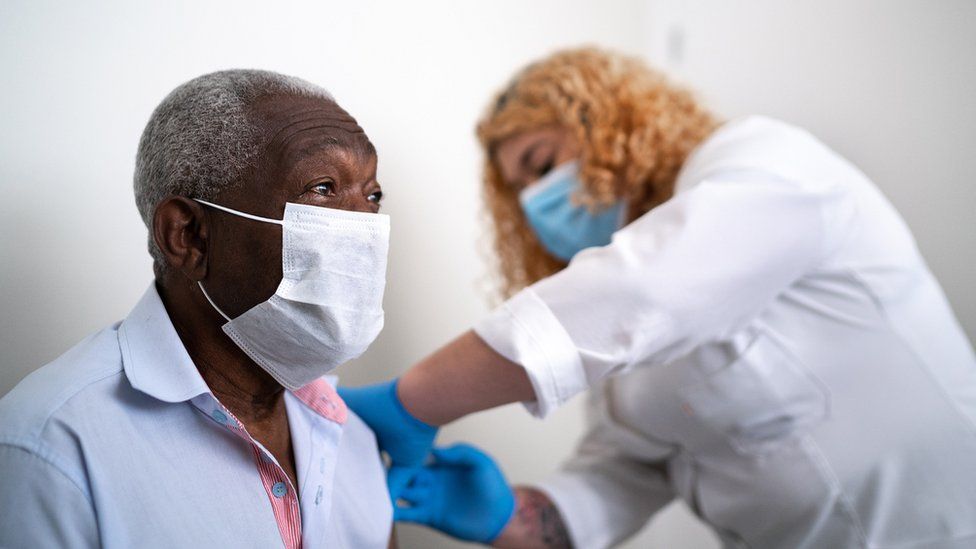 Black people over the age of 80 were half as likely as their white peers to have been vaccinated against Covid by 13 January, a large study suggests.
This is despite the fact black people are four times more likely to die with Covid-19 than their white counterparts.
People living in deprived areas or who have severe mental-health conditions or learning disabilities were also less likely to have received a vaccination.
The study was based on more than 20 million patient records in England.
The OpenSafely study, by the University of Oxford and the London School of Hygiene and Tropical Medicine, found of the million of those over 80 but not living in a care home:
43% of the white people had been given their first dose of the vaccine
30% of the Bangladeshi and Pakistani people had
21% of the black people had
Bangladeshi and Pakistani people are twice as likely to die with Covid-19 as their white counterparts.
Birmingham-based business owner Tru Powell told BBC Radio 5 Live of a "lack of trust between the government and people of colour".
"People of colour have been subject to institutionalised racism within the healthcare system," she said.
"We are five times more likely to be detained under the Mental Health Act and four times more likely to die in childbirth."
'Access barriers'
Study author Dr Ben Goldacre said the gap between people belonging to different ethnic minorities was "striking and widening".
It was "not clear what the drivers of that are," he said.
But there were clues from previous vaccination campaigns and surveys on Covid-vaccine hesitancy.
Evidence presented to government outlined factors including "perception of risk, low confidence in the vaccine, distrust, access barriers, inconvenience, socio-demographic context and lack of endorsement, lack of vaccine offer or lack of communication from trusted providers and community leaders".
'Early days'
There may also be a geographical effect as the vaccine programme is not being rolled out at the same speed in every part of the country.
And the team plans further analysis to look at differences within GP practices.
"It's really important to spot differences early and resolve them," Dr Goldacre said.
"It's been a heroically fast vaccine rollout programme.
"And it's very early days, so these differences may resolve."
But misinformation, some potentially maliciously targeted at certain communities, may also play a role.
Social media
Dr Samara Afzal told BBC Radio 5 Live there were "various myths going around".
"Some people think it's not gone through enough trials.
"Some people think it causes infertility.
"Some people think it's not halal, it contains alcohol.
"There are various messages going around social media."
But the vaccine does not contain more than negligible amounts of alcohol – no more than could be found in a slice of bread.
And the British Islamic Medical Association recommends those who are eligible have it.
'More thorough'
Some limited data has linked catching coronavirus to reducing, in particular male, fertility.
But none of the Covid vaccines in uses contains live virus.
And there is no reason to believe they could affect fertility.
Trials were faster because so many people's time and money was focused on the vaccines at once, allowing certain stages of testing to run in parallel.
US public-health expert Dr Theresa Chapple-McGruder compared it to cleaning a house – if lots of people with previous house-cleaning experience brought mops and buckets to help, it would be faster but no less meticulous and if anything more thorough.
And any issues not brought to light by the trials of tens of thousands of people are likely to be very rare and much more so than the known consequences of catching the coronavirus, which can include death, organ damage, loss of hearing, sight and taste and other long-term health problems.


YOUR QUESTIONS: We answer your queries
GLOBAL SPREAD: How many worldwide cases are there?
THE R NUMBER: What it means and why it matters
TEST AND TRACE: How does it work?
TREATMENT: How close are we to helping people?


Published at Thu, 28 Jan 2021 00:43:22 +0000