Morning Brief: 2020's Best Of Food – LAist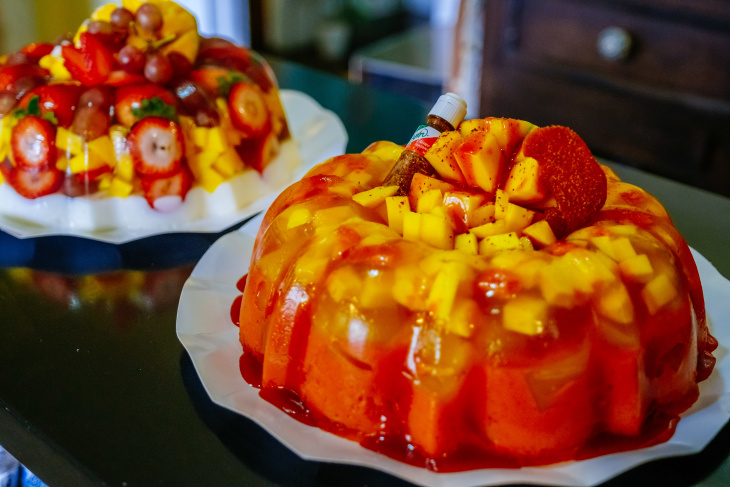 Good Morning, L.A.
This week, we'll be looking back at our coverage of 2020, one of the strangest, most difficult years through which many of us have ever lived. Reporting on it was hard, and at times painful. But amid the tragedy of the coronavirus, there were some bright spots. Today, we'll take a look at our coverage of L.A.'s food world, which was flipped upside down by the pandemic.
2020 was a wild year for food coverage — and not in a good way. It was, by far, the strangest, hardest and saddest year I've ever experienced as a journalist.
We don't yet have any precise data on restaurant closures and job losses, but some industry experts think that fully one-third of Southern California restaurants and bars might close permanently before life returns to normal. Whatever the exact numbers, they don't tell the stories of the thousands of servers, line cooks, dishwashers, general managers and restaurant owners who have — and are still — struggling to scrape by, waiting for the light at the end of an impossibly long tunnel. Reporting on that has been heartbreaking, but not as hard, I have no doubt, as living it firsthand.
Amid the economic and personal devastation of the coronavirus pandemic, I have seen hope. I have seen creativity. I have seen hustle. I have seen people doing wonderful and generous things to feed themselves and the people around them. That's the spirit I'm carrying with me into 2021.
---
2020's Best Of Food
How Carnicerias, Liquor Stores, Tienditas And Latino Supermarkets Are Feeding Their Neighborhoods By Erick Galindo
While some Californians flocked to Costco, local mom and pop shops in places like Eastside Long Beach, HiFi, West Adams and Exposition Park played a key role keeping their shelves stocked and neighborhoods fed during the pandemic. (Read the story)
Officials Are Not Chill About The Community Fridges Popping Up Around LA By Lillian Kalish
A fridge on at Lincoln Heights sidewalk is just one of more than a dozen that have sprung up around L.A. since July, part of Southern California's homegrown response to the pandemic. (Read the story)
The Farm Of The Future Might Be In Compton. Inside A Warehouse. And Run Partly By Robots By Stefan Slater
From the outside, the gray and white warehouse near the corner of Oris Street and Mona Boulevard seems like a thousand other mundane Southern California buildings. But the interior, once completed, will resemble a sketch from a futurist's daydreams. (Read the story)
The Gelatina Gets A Pop Culture Glow-Up By Cynthia Rebolledo
While other desserts — Mexican character cakes, pan dulce and bizcochitos (cinnamon and anise sugar cookies) — have undergone glow-ups in recent years, most young Latinx pastry chefs have ignored the gelatina. Myra Vasquez wants to change that. (Read the story)
Want To Support LA's Black-Owned Restaurants? Here's One Way By Elina Shatkin
Will this list solve racial injustice, police brutality, economic oppression and deep-seeded systemic racism? No, it will not. But it is one small way you can help businesses in your community. (Read the story)
How Hard Is Coronavirus Hitting San Gabriel Valley's Restaurants? By Fiona Ng
From a Monterey hot pot restaurant to a reopening boba shop to a legend of Sichuan cuisine, Fiona Ng, a senior producer at our newsroom's tktk, did a deep dive into the ripple effects of the coronavirus on some of the SGV's favorite eateries. (Read the story)
Asian Grocery Stores In The Time Of Coronavirus By Dakota Kim
Maybe you can't — or just don't want to — pick over jalapeno chips, banana-flavored cereal and whatever items other shoppers have left behind at Whole Foods. What do you do? Drive 15 minutes east to the San Gabriel Valley where you'll find grocery stores with full shelves, short lines and, yes, plenty of beans. (Read the story)
For Restaurants Trying To Ditch Delivery Apps, The Struggle Is Real By Gina Pollack
Restaurants complained about delivery apps that commonly take between 15% and 30% commission on every order long before coronavirus, but the pandemic has intensified their issues. (Read the story)
---
Help Us Cover Your Community
Got something you've always wanted to know about Southern California and the people who call it home? Is there an issue you want us to cover?

Ask us anything.

Have a tip about news on which we should dig deeper?

Let us know.
The news cycle moves fast. Some stories don't pan out. Others get added. Consider this today's first draft, and check LAist.com for updates on these stories and more. Follow us on Twitter, Facebook and Instagram.
Never miss an LAist story. Sign up for our daily newsletters.
Published at Thu, 31 Dec 2020 09:00:00 +0000